24 Must-Have Meatloaf Recipes
Bonus: Get our newsletter & special offers for free. We will not share or sell your email address. View our Privacy Policy

RecipeLion's 103 Cookbooks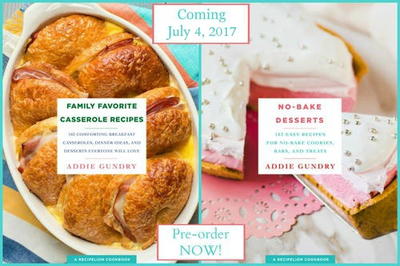 Launching in July 2017, RecipeLion.com is pleased to present... the 103 cookbook collection!
 
The editors at RecipeLion have created brand new, exclusive recipes in our very own Test Kitchen, based on the recipes that YOU, our readers, love the most. With gorgeous, full-color photography and simple, step-by-step instructions, these cookbooks, led by our very own Addie Gundry, are sure to become lifelong favorites in every kitchen. 
 
Inspired by the types of recipes our readers love the most and coupled with our signature easy, elegant style of cooking, these cookbooks showcase how you can make the most popular recipes around from your very own kitchen. From family-favorite casseroles to simple no-bake desserts to everyday dinner ideas and more, these simple dishes will become beloved favorites in no time. And Addie Gundry, who heads up our in-house kitchens and video studios, is a Food Network TV Favorite and shows you how to do it – every step of the way. To learn more about Addie, check out her favorite Test Kitchen Tips.

BONUS: If you pre-order No-Bake Desserts before the July 4th release, you can sign up to receive a FREE bonus eBook, Addie's 4th of July Survival Guide. Click here to find out more!
Family Favorite Casserole Recipes: 103 Comforting Breakfast Casseroles, Dinner Ideas, and Desserts Everyone Will Love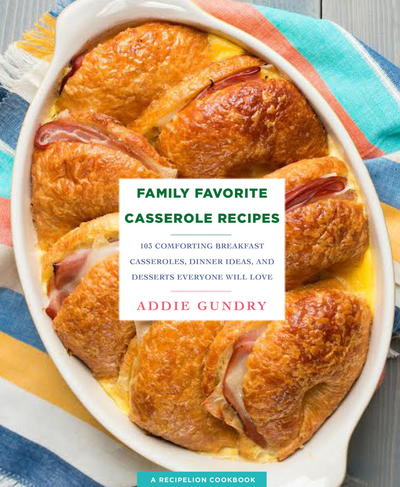 The 103 casserole dishes in this cookbook are simple and stress-free, but each is packed with flavor, making them your go-to family favorites to whip up any day of the week. In Family Favorite Casserole Recipes, Addie Gundry shows that a dish doesn't have to be complicated to be creative. You don't need multiple pots and pans to find flavor. And with the proper tools, tips and techniques, anyone can cook memorable meals. A casserole is something to be shared—something warm, rich, and worthy of a gathering on its own. Every recipe is paired with a beautiful finished dish photograph that will make readers jump at the idea of casserole night. Available July 4, 2017

Check out sample recipes from the book, Cinnamon Roll Casserole, French Onion Soup Casserole, Skinny Cheeseburger Casserole, Strawberry Icebox Casserole, and Philly Cheesesteak Casserole, here!

Pre-order on Amazon

Pre-order on Barnes & Noble

Pre-order on Books-a-Million

Pre-order on IndieBound

Pre-order on Powells
No-Bake Desserts: 103 Easy Recipes for No-Bake Cookies, Bars, and Treats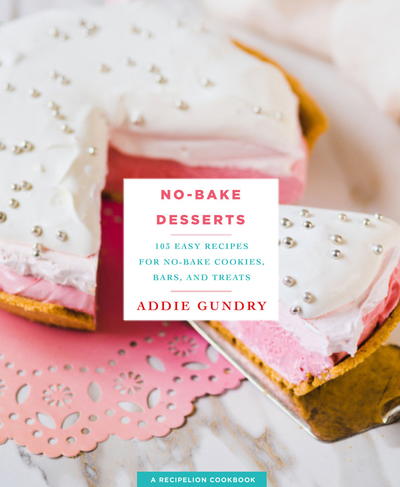 In this second RecipeLion cookbook, Cutthroat Kitchen winner Addie Gundry shows you how to combine your favorite flavors, from fruit and chocolate to nuts and caramel, into 103 easy no-bake cheesecakes, pies, fruit tarts, candies, cookies, bites, bars, fruit desserts, frozen desserts, gelatin desserts, puddings, and adorable single-serving desserts in a jar. And each dessert is no-bake, so there's no need to take up space in the oven. Combining her professional French culinary training with her love of easy entertaining solutions, Addie translates classic favorites from tiramisu to banana cream pie into easy go-to recipes that you'll use all year round. Available July 4, 2017

Pre-order your copy of No-Bake Desserts and receive Addie's 4th of July Survival Guide FREE! Click here to find out more.

Check out sample recipes from the book, Gummy Champagne Hearts, Chocolate Éclair Cake, Funfetti Cake Batter Bites, Strawberry Shortcake in a Jar, Snickerdoodle Balls, and Stuffed Strawberries here!

Pre-order on Amazon

Pre-order on Barnes & Noble

Pre-order on Books-a-Million

Pre-order on IndieBound

Pre-order on Powells
Tags / Related Topics
Your Recently Viewed Recipes