Skinny Cheeseburger Casserole
This cheeseburger pasta casserole converts fast food into a healthy dish your whole family will love.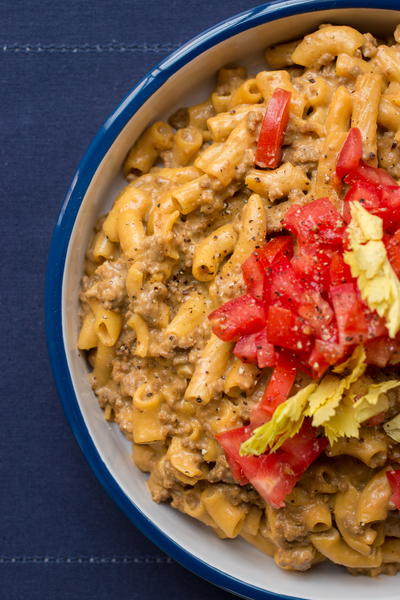 Sate any fast food and burger cravings with this tasty and healthy happy skinny cheeseburger casserole. This easy-to-bake dish replaces traditional unhealthy ingredients with healthier options, allowing you to indulge without all that extra sugar and calories. Even better, this cheeseburger pasta casserole is a kid-friendly recipe. If you're looking for a quick ground beef recipe to serve for dinner, this is the perfect recipe for the whole family.

From the Chef: "Skinny" and "cheeseburger" rarely come together in the same sentence, but when they do, it's a pretty darn good thing. Whole-wheat pasta, rich in fiber, replaces the traditional bun, and adding light cheese and tomatoes instead of ketchup keeps this lower in fat and sugar. Don't be afraid to clean your plate and ask for seconds.
- Addie Gundry

This recipe is from RecipeLion's 103 Cookbook series, Family Favorite Casserole Recipes: 103 Comforting Breakfast Casseroles, Dinner Ideas, and Desserts Everyone Will Love.
Looking for a gluten free skinny cheeseburger casserole?
Just replace the whole wheat pasta with rice, corn, or quinoa pasta.
Serves6
Ingredients
8 ounces whole-wheat elbow macaroni or penne
2 teaspoons olive oil
1 cup finely chopped onion
1 tablespoon finely minced garlic
1 pound ground turkey
1 teaspoon steak seasoning
2 (14.5-ounce) cans diced tomatoes
2 tablespoons tomato paste
1 tablespoon yellow mustard
1 tablespoon dill pickle relish
6 (6-ounce) reduced-fat cheddar cheese
Diced tomatoes
Salt and freshly ground black pepper
Instructions:
Preheat the oven to 350°F.

Bring a large pot of salted water to a boil, add the pasta, and cook until al dente. Drain and reserve.

Meanwhile, in a 12-inch ovenproof skillet, heat the olive oil over medium-high heat. Add the onion and garlic and sauté, stirring, for 1 minute until fragrant. Add the turkey and steak seasoning. Cook, stirring frequently, until the turkey is browned on the edges (the turkey may not be completely cooked but will finish in the oven). Drain any accumulated juices.

Add the canned diced tomatoes, tomato paste, mustard, and relish, reduce the heat to medium, and stir until bubbling. Remove from the heat and stir in the drained pasta. Smooth the top. Cover the top of the casserole with the cheese slices, cutting as necessary to fit. Bake for 20 to 25 minutes until the cheese is melted and the mixture bubbles. Garnish with diced tomatoes, sprinkle with salt and pepper, and serve.
Your Recently Viewed Recipes