Latest Free Recipe eCookbooks
Our selection of free recipe eCookbooks is the ultimate resource for cooking. Each eCookbook includes a collection of recipes on a theme. Whether it's eating on a budget, chicken casserole recipes, restaurant copycat recipes, or our favorite dessert recipes, RecipeLion.com has you covered. You can easily download and print out each eCookbook for easy reference while cooking. For help downloading our eCookbooks, see our help document here.

To view and download the complete collection of free recipe eCookbooks, click here.

If you'd like to check out all our free Holiday eCookbooks, please click here.
Enjoy some of our favorite titles below!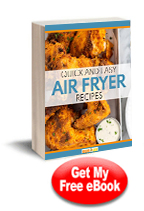 Quick and Easy Air Fryer Recipes — A recipe that can take ages in front of the stove is ready in minutes when you use your air fryer! We're all for making things in the kitchen as quick and easy as possible, and that's why this kitchen appliance is our new favorite!
Easy Cast Iron Skillet Recipes — This collection offers a wide variety of recipes that can be made with a cast iron skillet. From fun snacks and appetizers, to delicious meals for the whole family, to easy dessert recipes - there isn't a recipe out there that can't be made with a cast iron skillet!
Comforting Pantry Meals: 10 Easy Recipes Using Ingredients You Already Have — This free eBook is dedicated to the simple comfort of the pantry meal. On days when you just can't (or don't want to) make it to the grocery store, this collection of easy meals will come to the rescue!