Latest Free Recipe eCookbooks
Our selection of free recipe eCookbooks is the ultimate resource for cooking. Each eCookbook includes a collection of recipes on a theme. Whether it's eating on a budget, chicken casserole recipes, restaurant copycat recipes, or our favorite dessert recipes, RecipeLion.com has you covered. You can easily download and print out each eCookbook for easy reference while cooking. For help downloading our eCookbooks, see our help document here.

To view and download the complete collection of free recipe eCookbooks, click here.

If you'd like to check out all our free Holiday eCookbooks, please click here.
Enjoy some of our favorite titles below!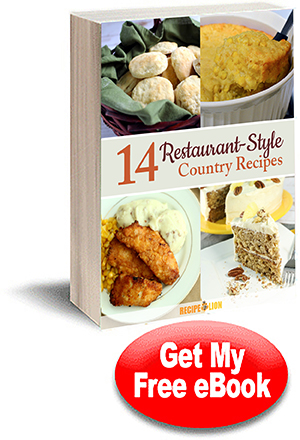 14 Restaurant-Style Country Recipes eCookbook — Some of the best and most comforting dishes around come from the good, old-fashioned cooking of the South. Throughout this 30-page collection, we hope you'll discover once again – or for the very first time – what you love most about country-style cooking.
Bible Food Recipes: 8 Heavenly Meals Inspired by the Bible — Whether you're looking for some divine inspiration when planning meals or simply want to create a heavenly dish that will impress guests at your next event, you can't go wrong with recipes that inspired by the Bible!
Comforting Pantry Meals: 10 Easy Recipes Using Ingredients You Already Have — This free eBook is dedicated to the simple comfort of the pantry meal. On days when you just can't (or don't want to) make it to the grocery store, this collection of easy meals will come to the rescue!