Latest Free Recipe eCookbooks
Our selection of free recipe eCookbooks is the ultimate resource for cooking. Each eCookbook includes a collection of recipes on a theme. Whether it's eating on a budget, chicken casserole recipes, restaurant copycat recipes, or our favorite dessert recipes, RecipeLion.com has you covered. You can easily download and print out each eCookbook for easy reference while cooking. For help downloading our eCookbooks, see our help document here.

To view and download the complete collection of free recipe eCookbooks, click here.

If you'd like to check out all our free Holiday eCookbooks, please click here.
Enjoy the latest in our collection of eCookbooks below!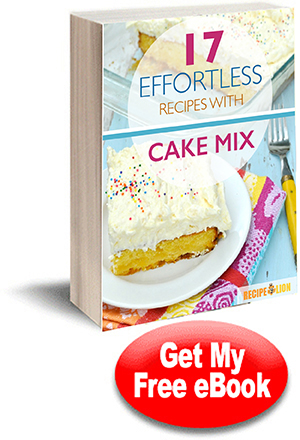 17 Effortless Recipes With Cake Mix — Baking is fun but let's face it, sometimes you just don't have the time to create all the different dessert recipes you want to. With this collection of 17 Effortless Recipes With Cake Mix, baking becomes easy and efficient! Skip all the extra work and still get the same delicious results; try one of these amazing recipes using cake mix and you'll understand what we're talking about!
NEW! 12 of Our Best Anytime Soup Recipes - There are so many varieties of soup out there, however, that it might be hard to decide what you're in the mood for. Whether it be a creamy cup of potato soup with Cheddar sprinkled on top, a cold summertime gazpacho, or a hearty beef vegetable soup straight off the stovetop, we've got you covered.
14 Restaurant-Style Country Recipes Free - We've gathered together delicious recipes that are inspired by some of our favorite country-style restaurants, as well as others that will simply bring some country-inspired flair to your dinner table. With this collection of 14 Restaurant-Style Country Recipes you'll find the best restaurant-style country dishes you can make yourself – and easily too!