Skinny Corn Casserole
This healthy corn casserole is perfect to make for a potluck -- guilt on the side!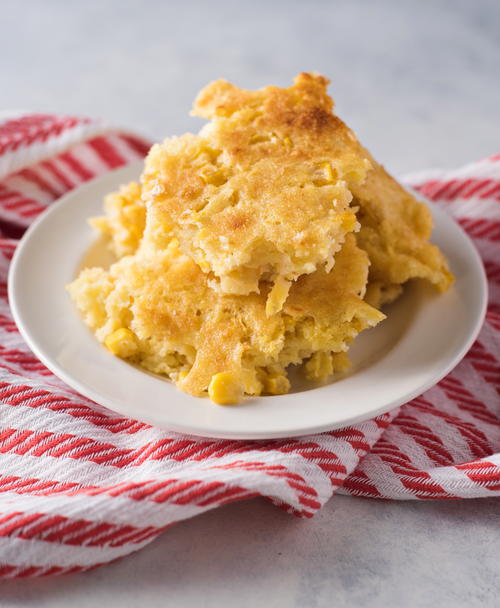 Skinny Corn Casserole
Warm and rich, this Skinny Corn Casserole recipe is just what you've been craving. Corn casseroles are a staple at any potluck, but this recipe is so great because it's actually a healthier version of the classic corn casserole. Don't worry, though -- no flavor is sacrificed here. This recipe uses creamy Greek yogurt and egg whites to add texture and lighten the whole thing up. Plus, this recipe is good for when you need to make a great side dish in a hurry because it uses a shortcut ingredient. (Don't worry. We won't tell!) Bring this recipe to your next family gathering, and it'll be the talk of the buffet table.

From the Chef: The Greek yogurt in this recipe replaces some of the higher-fat ingredient options like sour cream or butter that can usually dominate a corn casserole. That way you get all of the benefits of a healthy veggie side without all the detractions.
- Addie Gundry

This recipe is from RecipeLion's 103 Cookbook series, The Lighten Up Cookbook: 103 Easy, Slimmed-Down Favorites for Breakfast, Lunch, and Dinner Everyone Will Love.
Serves10
Ingredients
1 large egg
1 egg white
3 tablespoons unsalted butter, melted
1 cup plain Greek yogurt
1 (8-1/2-ounce) package corn muffin mix
1 (15.75-ounce) can whole kernel corn, drained
1 (14-3/4-ounce) can cream-style golden sweet corn
Instructions:
Preheat the oven to 350°F. Lightly coat an 8 x 8-inch baking dish with cooking spray.

In a large mixing bowl, whisk together the egg and egg white. Stir in the melted butter and the Greek yogurt.

Stir in the corn muffin mix, whole kernel corn, and golden sweet corn.

Pour into the baking dish and bake for 35 to 40 minutes, or until the center is set and the top is lightly golden brown.
Your Recently Viewed Recipes