40 Easy Dump Cakes, Cake Mix Recipes, and More
Indulge in these delicious cherry, pineapple, and chocolate dump cake recipes (and more!)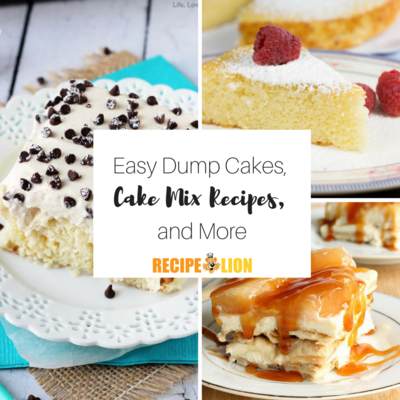 Let's face it: making a cake can take a lot of time and effort. But not all dessert recipes are difficult and time-consuming. This collection of 40 easy cake recipes is proof of that! Keep reading if you're looking for delicious cake recipes that are just as enjoyable to make as they are to eat! 

From effortless dump cakes using cake mixes to beyond easy upside down cakes and so much more, there are plenty of simple dessert recipes to choose from in this roundup of in-a-jiffy sweets!  Fruits, chocolate, Jell-O, and pudding -- it's all featured right here in our collection of super easy recipes for cake.

These cake recipes don't require a lot of prep time and none of them feature fancy ingredients, so you don't have to worry about overly complicated baking instructions.  So if you're cooking for a party or have a large group to feed, look no further than these super-simple crowd-pleasing sweets! Once you try one of these easy recipes for cake, you'll be hooked and coming back to try out the next one! 

Enjoy this quick tutorial for Great Grandma's Famous Jimmy Cake, and find it in our Best Old Fashioned Cake Recipes section below!
Table of Contents
What's the BEST cake you've ever had?
Your Recently Viewed Recipes