Football Cake
Learn how to make a football cake without a football pan!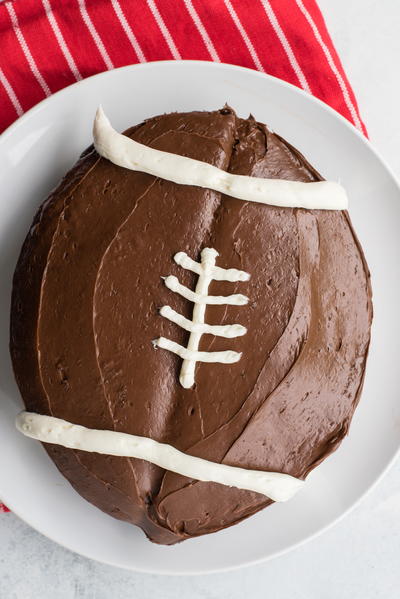 Football Cake
Go team! This whimsical football cake is just what you need to conjure a little team spirit this fall. Whether you're cheering on your favorite college team, settling in to watch the pros play, or just making a cake for someone who LOVES football, this is just the recipe you need.

One of the things we love most about this recipe is that it's so easy! You do not need a football pan in order to make it. You don't even have to make the cake from scratch. As long as you have two round cake pans at home, all you need to do is pick up a chocolate cake mix and some frosting.

Our step-by-step photos make assembling this football cake super easy. It will only take you a few minutes to create, and then you and serve it to your friends and family. No matter who wins the football game... we're sure that you're going to get some big cheers.
Serves12

Ingredients
1 chocolate cake mix (to make 2 8-inch round cakes)
1 container of chocolate frosting
1 container of vanilla frosting
How to Make a Football Cake
Instructions
Bake a chocolate cake, using a cake mix, according to package instructions. Bake in an 8-inch round cake pan. You will be able to make two footballs with two 8-inch cake pans.

Once cake has cooled, remove from pan.

Use a knife to cut a piece of the center of the cake out.

Sandwich the two rounded pieces of cake together to form your football shape.

Frost the cake with your chocolate frosting.

Fill a piping bag fitted with a small round tip with white frosting.

Pipe a 3″ line of buttercream in the center of the football. Pipe tiny little lines over it to create the lacing.

Use the same tip to create the bands on either end of the football. Pipe three lines in a row about 2″ from one of the pointed ends of the football. Use the icing spatula to smooth the lines together to create a thicker band.
Your Recently Viewed Recipes