Friendsgiving Food Ideas
Are you wondering what to bring to Friendsgiving? We've got you covered!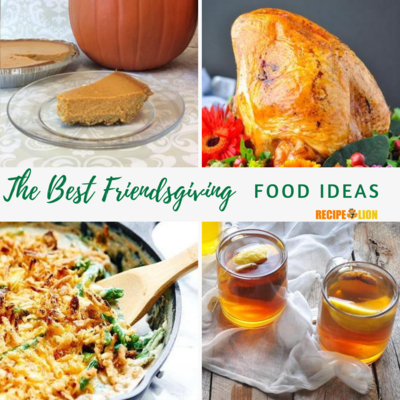 Have you heard about Friendsgiving? This holiday has been growing more and more popular over the past few years, but what exactly is it and what will you be expected to bring? We promise this new holiday tradition doesn't need to be stressful at all!

Maybe your friends are thinking about starting a Friendsgiving tradition this year. Keep reading if you have been curious about this increasingly widespread holiday focused on celebrating friendships, or if you just want some yummy recipe ideas for your Friendsgiving dinner!
Table of Contents
What is Friendsgiving?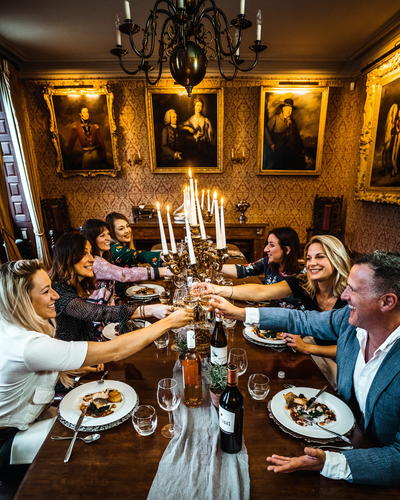 Friendsgiving is a relatively new holiday that dates back to about 2007. The idea of celebrating with friends rather than family is said to be popularized by the television show Friends. Although the holiday didn't start taking off until a few years after the end of the show. 

This holiday celebrates your found family in a way that Thanksgiving doesn't. Where Thanksgiving can be a bit draining, Friendsgiving is much more relaxed. There is no need to deal with stressful family members and hosting is usually much easier. Instead of one person preparing the majority of the meal, Friendsgiving is often celebrated as a potluck. 

Many people still celebrate both Friendsgiving and Thanksgiving. Because of this, Friendsgiving is typically celebrated sometime before Thanksgiving. Since there is no set date for the holiday, friend groups can celebrate whenever it works best for them. 
What Should I Bring To Friendsgiving?
A common question regarding Friendsgiving is "what should I bring?" Since this holiday is often celebrated as a potluck, it is customary that each guest brings a dish to pass. The first thing you need to consider is what dishes your friends will be bringing. Oftentimes, the host will dole out responsibilities to ensure you do not end up with five bowls of Mac and Cheese. Consider making a group chat with all the invitees where you can discuss which dishes are covered and which will still need to be made. 

So what dishes do you need to have at a Friendsgiving dinner? This is up to you but most people treat this dinner in the same way they would Thanksgiving. Here's a list of the most common dishes to bring to a Thanksgiving party.
Mashed Potatoes
Green Bean Casserole
Creamed Corn
Dinner Rolls
Macaroni and Cheese
Sweet Potato Casserole
Cranberry Sauce
Pumpkin Pie 
Easy Main Dish Recipes
Turkey is one of the most important pieces to a Friendsgiving dinner, but if that seems a little daunting to you, you can go for a turkey breast, roast chicken, or another main course entirely.

It is typically the responsibility of the host to make the turkey and gravy.
Best Appetizer Recipes
Appetizers are necessary for any dinner party, but they don't have to be difficult! You may want to go a little more casual for your Friendsgiving or you may want to be a bit more formal. Either way, there are tons of simple recipes to get your party started off on the right foot.
Friendsgiving Side Dishes
For many people, the sides make the meal. A number of delicious side dishes can really add something special to your meal.

There are so many classic Thanksgiving side dishes you could choose from or you can go the nontraditional route and chose something a bit more unique to bring to your Friendsgiving meal.
Friendsgiving Desserts
You can't have a Friendsgiving celebration without some tasty after-dinner treats to end the night. These desserts are super easy to make and will have your guests begging for seconds. 
Easy Cocktail Recipes (And Mocktails too!)
Okay, so it's possible Friendsgiving may just be an excuse to get together and drink with your friends (no judgment here). If that's true, you better have some delicious cocktails prepared for your guests. 

If you and your guests aren't planning on having alcohol at your dinner party, you are still going to need a few yummy drink options. In either case, check out this list of some of our favorite fall cocktails and mocktails!
Your Recently Viewed Recipes
Join our community of 5 million cooks!
Get free recipes, exclusive partner offers, and more.
Thank You for Signing Up!
There was an issue signing you up. Please check your email address, and try again.