Best Easy Herb Roasted Turkey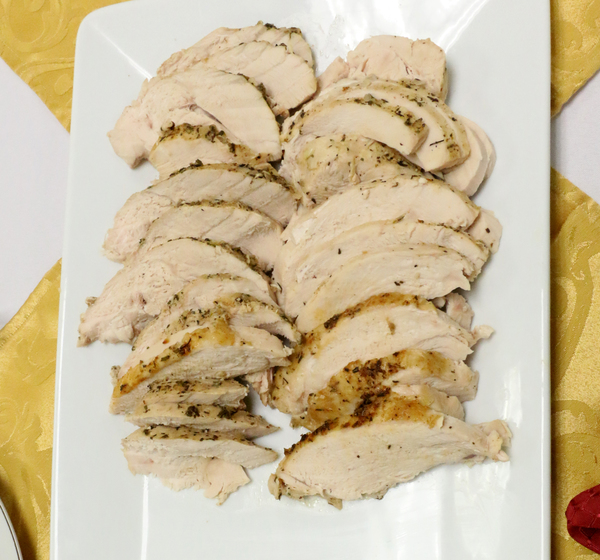 Best Easy Herb Roasted Turkey
Whether you're looking for a Thanksgiving turkey recipe, or simply want a delicious meal to make for a special occasion, give this Best Easy Herb Roasted Turkey a try! It's a simple recipe for roasted turkey that's sprinkled with a variety of herbs, so it has unbeatable flavor and comes out of the oven super moist. This delicious turkey recipe includes rosemary, thyme, basil and more! Preparing it is as easy as assembling the herb mixture, rubbing it all over the turkey, and roasting. Your kitchen will smell amazing while it cooks, and everyone will rave about the delicious flavor.
Notes
If the skin is over browning before the meat is cooked, loosely cover turkey in tin foil to avoid burning.
Ingredients
1 (6 to 7 pound) whole bone-in turkey breast
1 tablespoon fresh rosemary, chopped; plus 2 sprigs rosemary

1

/

2

teaspoon dried thyme, or 1 teaspoon fresh

1

/

2

teaspoon dried basil, or 1 teaspoon fresh
1 teaspoon paprika
1 tablespoon ground mustard (optional)
1 whole lemon, juiced
2 tablespoons olive oil
3 cloves garlic, chopped

1

/

2

onion, finely chopped
1 tablespoon (or more) kosher salt
Freshly ground black pepper, to taste
1 cup chicken broth or white wine
Instructions
Preheat oven to 325 degrees F.

In a mixing bowl, combine onion, garlic, 1 tablespoon chopped fresh rosemary, thyme, basil, lemon juice, paprika, olive oil, salt and pepper. Mix to create a paste-like consistency.

Pull the skin of the turkey up and rub the mixture on the meat, reserving a small amount to rub on the outside of the turkey. Rub remaining herb mixture on the outside of the turkey.

Place the turkey in the roasting pan and pour in your white wine or chicken broth. Place the remaining 2 fresh rosemary sprigs in the pan.

Roast for 1.5 to 2.5 hours, until the skin is golden brown and an instant-read thermometer registers 165 degrees F when inserted into the thickest part of the breast.

Loosely cover turkey with aluminum foil and let cool 15 minutes before carving.
Your Recently Viewed Recipes