Friendsgiving Checklist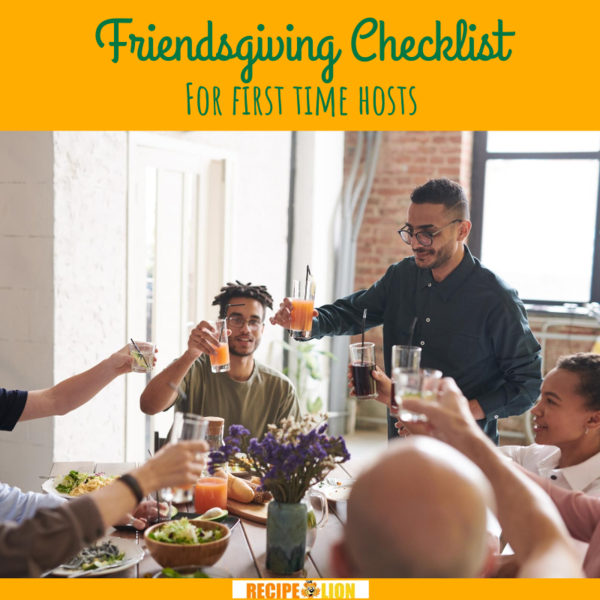 Friendsgiving Checklist
Have you heard of Friendsgiving? This relatively new holiday is trending in a big way! Friendsgiving is kind of like a low-key version of Thanksgiving. If you can't be at home with family to celebrate Thanksgiving, Friendsgiving is a way to still enjoy the feast without all the stress! It has become very popular with college students and other young adults who find themself away from home for the first time during the holiday season.

Not everyone celebrates Friendsgiving instead of Thanksgiving, though. Friendsgiving can be an additional dinner to celebrate friendship (or to work on improving those cooking skills)! 

Thinking about hosting a dinner party of any sort can be somewhat overwhelming, especially if you are a first-time host. Inviting guests, planning the meal, and arranging who will bring which dishes can be a lot! But, don't worry! If you're planning Friendsgiving this year, check out these simple checklists to keep the party on track!
Friendsgiving To-Do List
To start planning your dinner, there are a few things you'll need to do. Feel free to skip around on this list depending on just how formal you want your Friendsgiving to be!
Guests - The first thing you need to do is invite your guests. You may want to send out actual invitations or maybe you'll just make a group chat.

Tip - Using a group chat can be especially helpful for continued planning later!

Be sure to let your guests know whether or not they can bring a friend. One of the best parts about a Friendsgiving dinner can be extending your friend group, but it can be harder to prepare food without an exact number of guests in mind. We recommend asking for an RSVP a few days before so you can finalize your plans.

Time and Date - Now that you have invited your guests, you'll have to choose a date that works for everyone. This can be difficult if you plan on inviting a large number of friends. The good thing about Friendsgiving, though, is there is no set date. You can have your dinner pretty much anytime it will work for you can your guests! 

A group chat will make planning for a time easier. Try checking with those friends you know are always busy and see when there is free time in their schedules.

Planning the Meal - This may be one of the most important steps involved in your planning. Without food, there is no dinner! A big decision to make here is how much of the food you plan to make on your own. Be careful here. Taking on too much responsibility can be a mistake, but if you fancy yourself a budding chef, go ahead and make as much as you want!

A good plan for most Friendsgivings is to try a potluck style. This way, each guest has a chance to cook and no one feels overburdened with preparing the entire meal. 

This is another place the group chat can come in handy. Check with all of your friends to see what they would feel comfortable making. Be sure to double-check that all the essentials are covered and also that no two people are making the same dish. You wouldn't want to wind up with five pots of mashed potatoes and no other sides.

Find Your Best Servingware - If you're going a little more formal, you may want to make sure you have your nicest plates and silverware prepared for your guests. Otherwise, you still need to be sure you have enough to go around. Don't leave one guest without a fork! 

You should also be sure that you have enough serving dishes and the correct utensils for the food you plan to serve. It can get a little difficult to serve corn without a slotted spoon and you will need a decent knife to cut the turkey.

Plan the Decor - This step may be optional, but if you're going all out, you may want to spice up your dining room area before guests arrive. This could mean searching for that perfect fall tablescape or making fun place cards for all of your guests.

If you're not into the festive decorations, a simple, but thorough, cleaning of the area can be all you need.

Shop 'Til You Drop - So you've made all your plans? That's great! Now it's time to shop for any supplies and ingredients you may need. 

If you don't know where to start, just keep reading for a comprehensive list of everything you should make sure to grab on your shopping trip.
Friendsgiving Shopping List
Don't wake up on the day of your Friendsgiving dinner and realize you don't have a turkey! Keeping track of everything you need to buy and do before the big day can be difficult, so refer back to this Friendsgiving shopping list for a little peace of mind!
The Main Course - Let's start with the turkey. If you're feeling brave, go for a whole turkey. Just remember you need to get it ahead of time so it can thaw in the fridge for a few days. If you want to play it a little more safe but still have a somewhat traditional Friendsgiving feast, try cooking a chicken or a turkey breast instead.

Don't forget the seasoning for your turkey!

Tip - Whoever is making the turkey should also make the gravy. The juices from cooking the turkey are what will make your gravy delicious! Also, check the turkey you've purchased to see if it comes with a gravy packet to speed up the process. 

The Sides - Honestly, you might be able to skip this section altogether if you're going with the potluck dinner. But just in case you've decided to do a large portion of the meal on your own (we're impressed btw), here is a list of everything you may need for a few different sides.

Mashed Potatoes- Potatoes, Milk, Butter, Salt, Pepper
Stuffing- Bread, Eggs, Butter, Broth, Onions, Celery
Creamed Corn- Milk, Butter, Sugar, Corn, Flour, Parmesan Cheese
Cranberry Sauce- Cranberries, Sugar, Orange Juice
Green Bean Casserole- Green Beans, Cream of Mushroom Soup, French Fried Onions

If you're planning another side not mentioned here, make sure to add the ingredients to your shopping list as well!

Appetizers - Every good dinner party needs a few appetizers. You could go simple with a meat and cheese tray or a veggie tray, or you could get a little more complex with a spinach artichoke dip or a taco dip. Once again, this may be a place your guests can step in, especially if you are leaning towards a more complicated appetizer.

Spinach Artichoke Dip- Sour Cream, Cream Cheese, Spinach, Artichoke, Parmesan Cheese
Taco Dip- Cream Cheese, Sour Cream, Taco Seasoning, Shredded Cheese, Tomatoes, Lettuce
Veggie Tray- Cucumbers, Bell Peppers, Carrots, Broccoli, Cauliflower, Veggie Dip
Crab Cakes- Egg, Mayonnaise, Onions, Crabmeat, Butter

Dessert - Is it even a holiday without dessert? Traditional Thanksgiving desserts like pies have made their way into Friendsgiving menus as well, but feel free to experiment with something a little out of the ordinary. It doesn't have to be traditional, after all!

Banana Cream Pie- Instant Banana Pudding Mix, Milk, Graham Cracker Crust, Bananas
Pumpkin Pie- Canned pumpkin, Cinnamon, Nutmeg, Pie Crust, Sweetened Condensed Milk
Apple Pie- Apples, Brown Sugar, Cinnamon, Flour, Pie Crust
Pecan Cookies- Butter, Sugar, Flour, Vanilla, Pecans
Sweet Potato Cupcakes- Butter, Sugar, Egg, Sweet Potato, Flour, Milk, Marshmallow Cream

The Drinks - A Friendsgiving meal isn't complete without drinks, whether alcoholic or non-alcoholic. You'll need to have some tasty options to pair with everyone's dinner. For an alcoholic option, pick up a nice fall wine, or some cocktail ingredients.

You'll want to have all the basics available for your non-alcoholic options. Be sure to have some milk, water, and pop on hand. You may also want to whip up some yummy hot chocolate, especially on a chilly fall evening.
Easy Friendsgiving Recipes
If you're looking for some easy recipes that will make Friendsgiving a cinch, we've got a few of our favorites for you to check out!
Your Recently Viewed Recipes
Join our community of 5 million cooks!
Get free recipes, exclusive partner offers, and more.
Thank You for Signing Up!
There was an issue signing you up. Please check your email address, and try again.
Thanksgiving Recipes
Thanksgiving is a time to gather with friends and family and eat. These delicious recipes may even spark a new family tradition.