11 Easy Thanksgiving Appetizers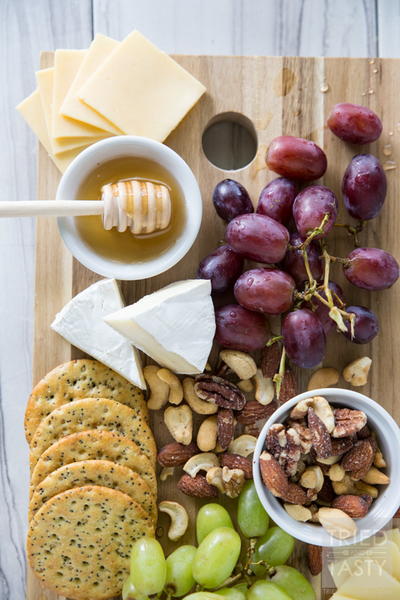 If you're looking for ways to keep your family or guests occupied while you prepare the rest of the meal, look no further than these 11 Thanksgiving Appetizers. We've included Thanksgiving appetizer recipes that will keep the stomach moans and groans at bay while the bird finishes cooking.
We know what you may be thinking. Isn't there enough food on Thanksgiving without adding appetizers to the mix? Probably. No, you're definitely right. But in America, we take our food holidays very seriously and Thanksgiving is certainly no exception, as it's the biggest food holiday we've got. From elegant baked Brie and pears to classic bacon-wrapped dates, our list of Thanksgiving appetizers really can't be beat. When snacking is involved, we take things very seriously. Seriously delicious anyway. Plus, with recipes this good, extra food is always welcome on our plates!
11 Thanksgiving Appetizers
Puff Pastry Baked Brie with Pears
The recipe Puff Pastry Baked Brie with Pears is a simple, delicious, and elegant appetizer recipe that friends and family will go crazy for when you serve it at your next party. The easy appetizer recipe has a rich pear filling made with sherry, brown sugar, and nutmeg.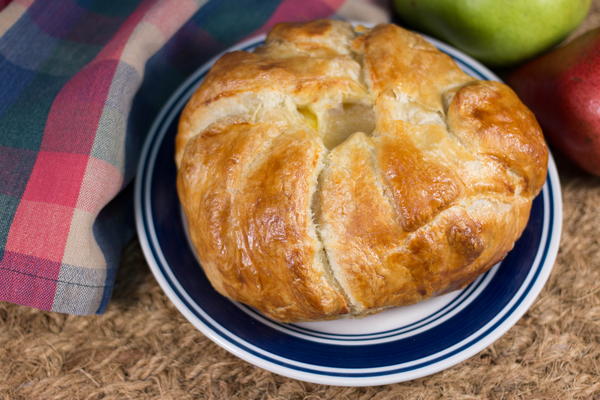 There's never a time where having a Homemade Beer Cheese Dip around isn't a good idea. This delicious recipe will come in handy for all those game day parties, family potlucks, and holidays where you need put out some tasty snacks that will please a crowd.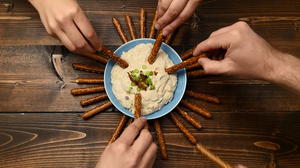 3-Ingredient Bacon Wrapped Dates
This ridiculously easy appetizer recipe will be your new go-to party dish. These 3-Ingredient Bacon-Wrapped Dates are so simple to make and so incredibly delicious.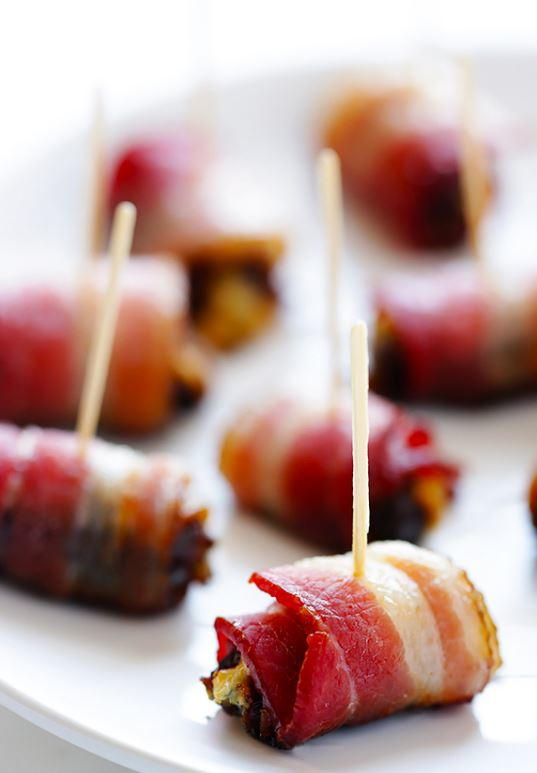 Easy, make ahead Cranberry Bacon Jam and cheese on top of a crusty baguette, topped with chopped walnuts for extra crunch these crostini are the perfect combination of sweet, smoky, salty and cheesy!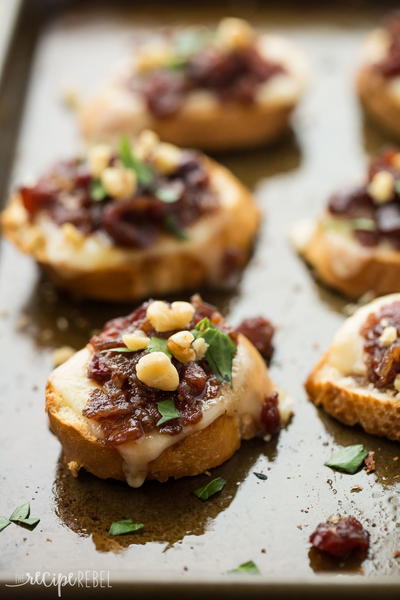 Easy Italian Bruschetta - from our Quick Bites video series!
This Easy Italian Bruschetta is a delectable appetizer or side dish for any occasion. The toasted bread provides ample opportunity to experiment with different flavor palates. This easy bruschetta recipe uses the traditional toppings of tomatoes and basil.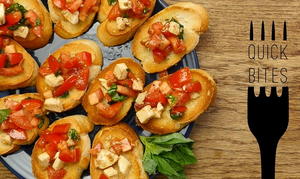 Low-Carb Pizza Crust with Pears and Prosciutto
This easy Thanksgiving appetizer recipe may seem like it's healthy, and it is... but it's also really tasty! Before you pig out on all your holiday meal has to offer, have a light snack to "warm up."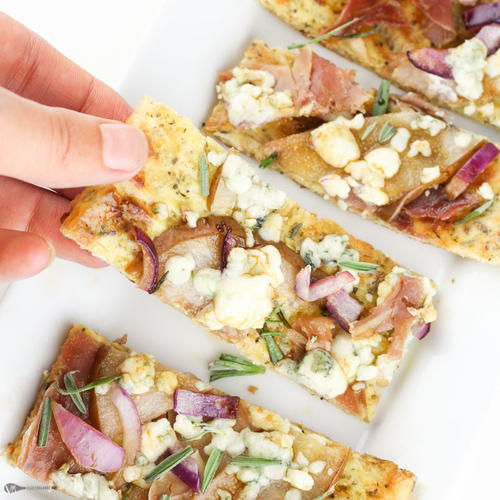 Best Chicken Caesar Pasta Salad
With chicken and pasta, this is a salad recipe that will fill you up, so feel free to serve it for lunch or dinner. It also works well as a side dish you can bring with you to a potluck or party.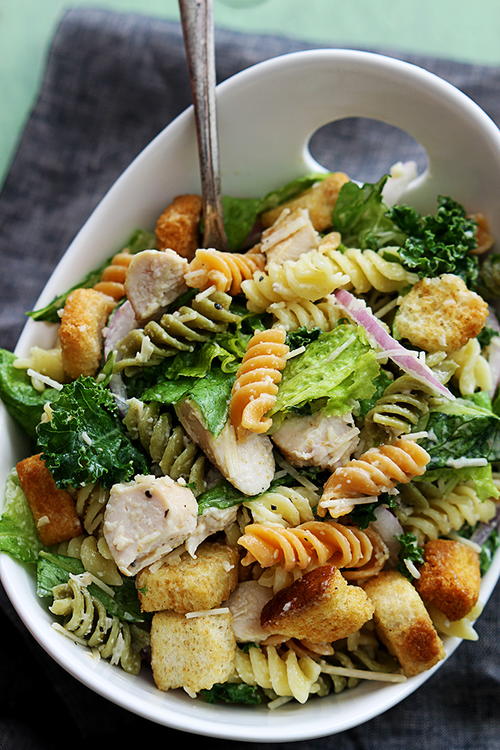 Must Have Classic Deviled Eggs
This basic deviled egg recipe is foolproof and easily modified to your own taste preferences, but it's tasty enough to stand on its own with no adjustments.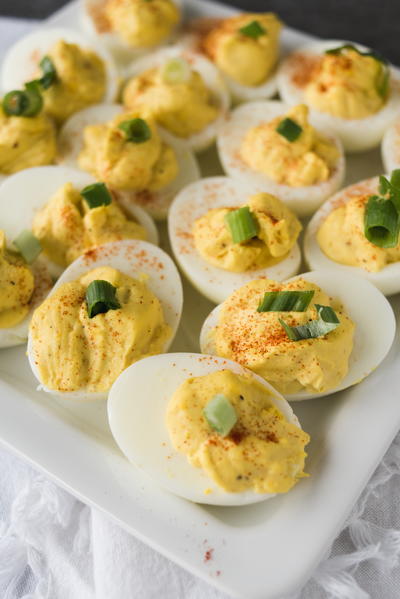 Mouthwatering Stuffed Mushrooms
Serve these as your Thanksgiving appetizer, as a simple side dish at your family dinners, or at your next big game party. The creamy filling of this delicious stuffed mushroom appetizer recipe will floor your family and your guests.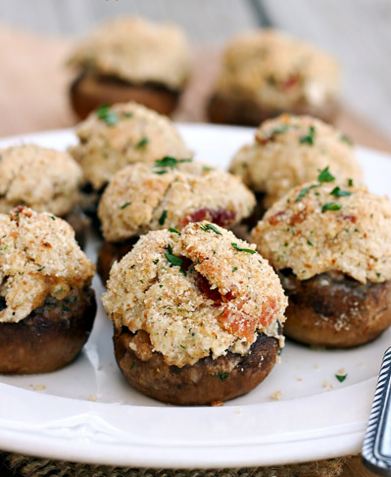 Spinach Artichoke Mediterranean Galette
This tasty Galette has sun-dried tomatoes, artichoke hearts, feta cheese, and gooey mozzarella tucked into a flaky crust. Pair with a side salad for the perfect addition to lunch or dinner.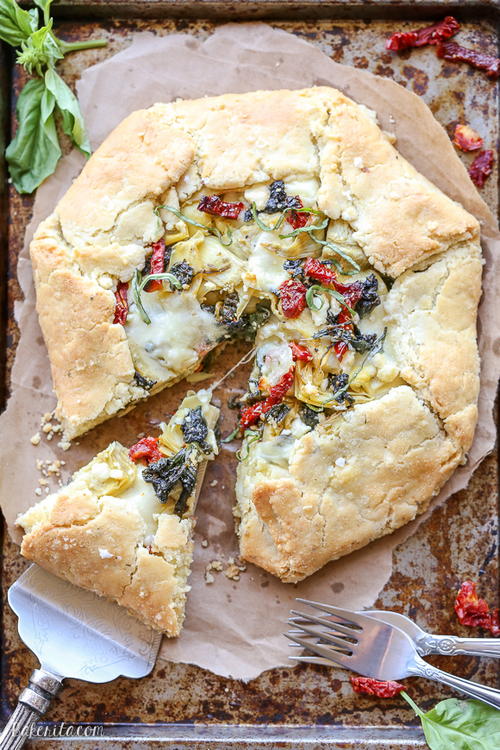 This Pumpkin and Pear Soup is the ultimate fall recipe to keep you warm all season long. The easy soup recipe comes together incredibly quick but tastes like it took hours of simmering on the stove. The pear and pumpkin flavors complement each other wonderfully to create a heavenly soup everyone will love.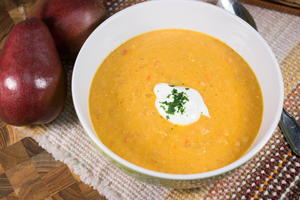 Build the Perfect Cheese Board
If you want a show stopper at the beginning of your dinner party, you do not want to miss this excellent how-to. What components do you need? Why do you need them? Your guests will love this perfect combo!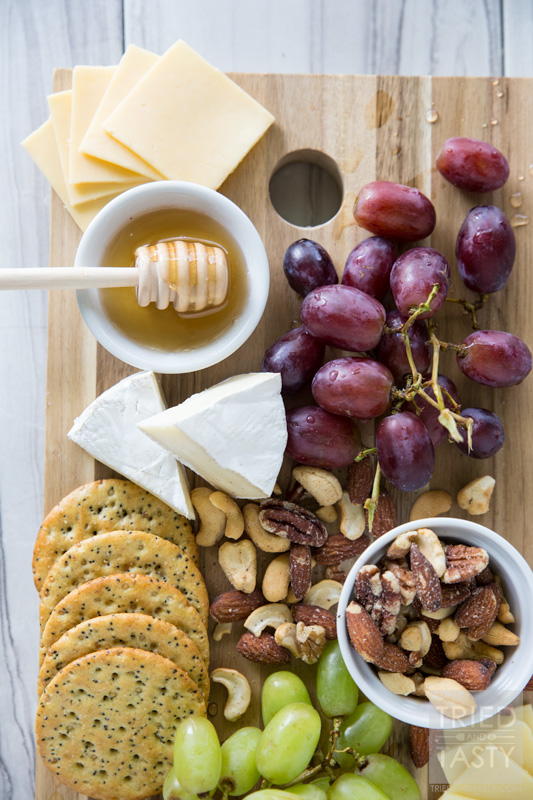 Pumpkins make great decorations and desserts, but don't forget about how yummy their seeds are! Follow the steps below to enjoy a bowl of light and crunchy pumpkin seeds.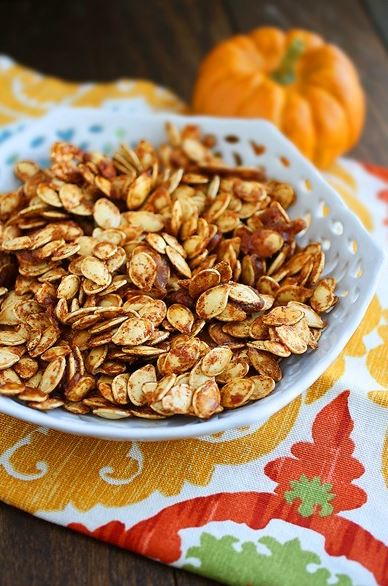 Roasted Butternut Squash Soup is a crowd-pleasing option that takes advantage of seasonal produce and appeals to both adults and children. It's hearty, healthy and perfect for a light Thanksgiving day snack.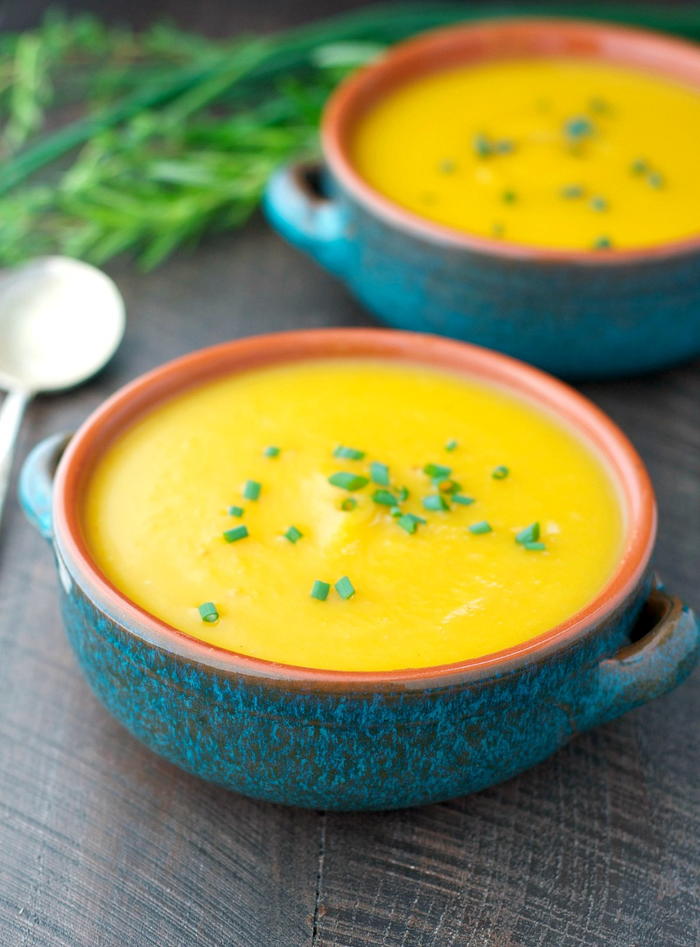 ---
Bonus!

How to Remove Spilled Red Wine from Anything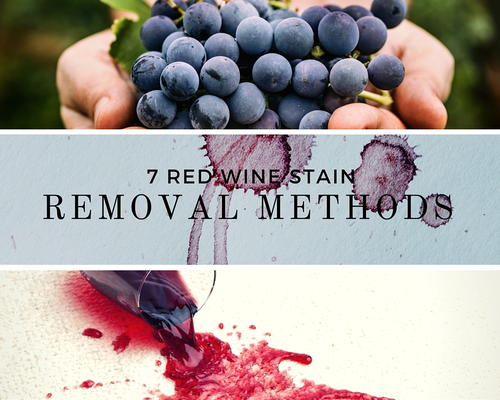 Thanksgiving means a lot of things. Great food, great company, and very often, great wine. Sometimes greatness gets the best of us. For those moments, it's good to know what to use to get red wine stains out of literally anything. You're welcome.
---
What dish is unique to your family's Thanksgiving table?
Your Recently Viewed Recipes
Join our community of 5 million cooks!
Get free recipes, exclusive partner offers, and more.
Thank You for Signing Up!
There was an issue signing you up. Please check your email address, and try again.