12 Recipes Using Frozen Hash Browns
These hash brown recipes are so good, you'll never realize they were frozen!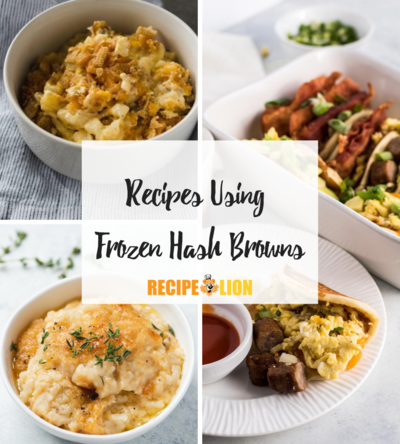 Hash browns seem like an incredibly easy dish to make. After all, aren't they just shredded and fried potatoes? However, you may have experienced the dismay of looking up how to make hash browns from scratch only to discover how complicated and difficult they can be. Just shredding them is a labor-intensive task if you don't own the proper tools. Then you have to soak the potato strands to dissolve the excess starch, squeeze out all the moisture, pat each layer of shredded potato dry...

It's no wonder that many people turn to frozen hashbrown recipes. Refrigerated potatoes do all of that hard work for you. However, it can be difficult to figure out how to cook frozen hash browns correctly. Luckily, these 12 Recipes Using Frozen Hash Browns will walk you through the process to get the full, homey, comforting hashbrown flavor that you know and love. Whether you make frozen hash browns in the oven or fry them in a pan, there will be a hashbrown recipe here for you. These aren't all breakfast hash browns either; there are dinner recipes for frozen hash browns as well. You'll marvel at how easy all of these hashbrown recipes are.
Table of Contents
Frozen Hashbrown Casserole Recipes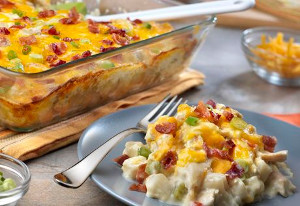 By far, the most popular use for frozen hashbrowns is frozen hashbrown casserole. Casseroles are a great way to get a lot of flavor and feed a lot of people in one easy dish. Whether a hashbrown breakfast casserole or a dinner casserole, these recipes transform frozen hashbrowns into something truly special.

Just take a look at this Fully Loaded Chicken and Potato Casserole. This hashbrown recipe, sprinkled with bacon and green onions, creates a delicious dinner with a shockingly low amount of effort. 
Loving this? Check out this 30-Minute Kielbasa Hash!
Note: This recipe is from RecipeLion Cooking Club. Non-members can access 3 free recipes every month. Subscribe to the RecipeLion Cooking Club for unlimited access to their entire recipe archive, featuring hundreds of exclusive recipes!

Frozen Hashbrown Funeral Potatoes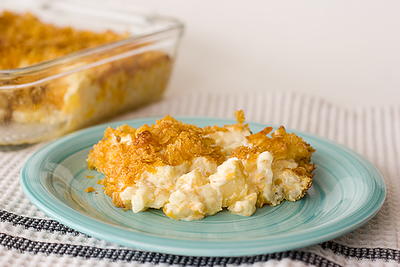 If you've never heard of funeral potatoes before, it's probably because of the region of the country you live in. Popular in Western and Southern America and with the Church of Latter-day Saints, this baked potato recipe usually involves a cheesy soup, onions, plenty of butter, and a cornflake topping. Each of these frozen hashbrown funeral potatoes recipes can easily please a crowd.

This crunchy, creamy recipe for Classic Funeral Potatoes is made incredibly easy by the use of frozen hashbrowns. No one will guess you didn't make it from scratch!
This is a mainstay Amish funeral potatoes recipe. This cheesy frozen hashbrowns recipe is topped with either potato chips or Doritos.
Creative Frozen Hashbrown Recipes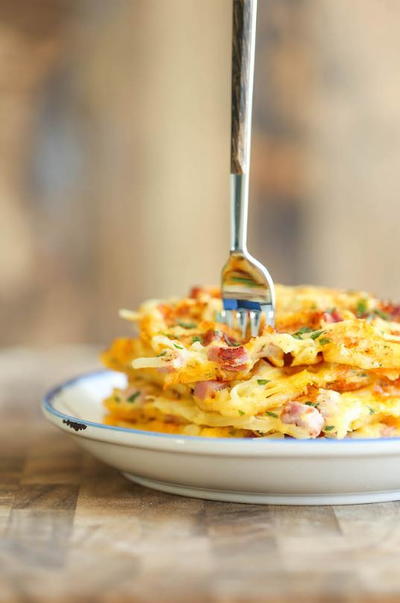 Creativity is the spirit of frozen foods. After all, by nature, using frozen foods is trying to find a way to subvert the norm, to innovate, to make things easier. These creative frozen hashbrown recipes truly embrace that idea. These might not have been the first ideas that came to your mind when you thought "hashbrowns," but that's what makes them so exciting and fun.

These Ham and Cheese Hashbrown Waffles have a lot of deliciousness going on! There's the waffle aspect, which is a breakfast classic. But the usage of frozen hashbrowns as the waffle itself feels almost like a callback to potato pancakes. And of course, the ham and cheese will remind your palate of a classic ham and cheese sandwich. This fun hashbrown recipe will make even the grumpiest eater smile.
Slow Cooker Mexican Hashbrown Casserole
The Mexican inspiration in this dish packs a ton of flavor. With ground beef, bell peppers, hashbrowns, cheese, and more, this casserole is creamy and full of flavor.
You want to combine breakfast, dinner, and Mexican food? This recipe has your back! These pancake tacos from the RecipeLion test kitchen use several cups of frozen hashbrowns and can be served with either hot sauce or syrup.
What are your favorite cooking hacks using frozen food? Let us know in the comments!
Your Recently Viewed Recipes
Join our community of 5 million cooks!
Get free recipes, exclusive partner offers, and more.
Thank You for Signing Up!
There was an issue signing you up. Please check your email address, and try again.