30+ Retro Diner Food Recipes
Feed your inner Fonz with these retro diner recipes! Includes breakfast, lunch, and dinner recipes like shakes, burgers, and IHOP-style pancakes.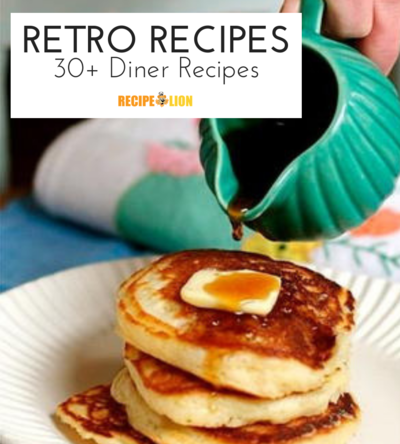 Endless pots of coffee, heaps of pancakes, milkshakes, and burgers are just a few of the iconic dishes you will find when you enter just about any diner. Diners are an all-American institution that has stood the test of time.

These lowkey and friendly spots are the perfect places to relax with friends and family. It's no wonder that some of America's most popular restaurants are diners. If you're feeling nostalgic or are just hungry for something simple and heartwarming, you will love the diner recipes listed below. These vintage recipe ideas will make your heart swell. We've got the always-popular pancakes, diner shakes, classic burgers, and so much more!

The History of the Diner
The first diner was started by a man named Water Scott in Rhode Island. Scott repurposed a horse-pulled wagon into a car where he installed a small kitchen and counter in order to sell sandwiches, coffee, eggs, and pies to people late at night. His business was so successful that he quit his day job in order to run the wagon.

After that, a company out of Massachusetts began to manufacture dining cars what featured large wheels, murals, letter, and frosted glass. By the 1900s, there were three companies making these cars.

Since then, diners have gone through a plethora of classic designs from simpler dining cars to the well-loved Formica counters of the 1930s. Retro diners made a big comeback in the 1970s and even became popular in Europe! 

Read more about the history of the diner in Paste's The History of the American Diner.
Table of Contents
Breakfast Diner Recipes
The words "BREAKFAST ALL DAY" are emblazoned on just about every diner's menu. Diners are well known for their yummy morning meals served 24 hours a day. Whether you need a fresh start to the day with a western omelet or some late-night pancakes, there's a diner open and ready to serve something up. Luckily for you, you can also make that meal right at home. Check out our classic diner breakfast recipes below. 
Fine Art and Not So Fine Dining - Nighthawks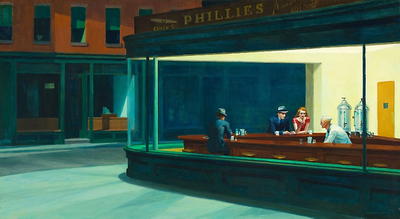 Possibly one of the most well-known pieces of American Art, Edward Hopper's "Nighthawks" features three late-night diners enjoying a desolate cup of coffee under the glow of diner lights. It's said that this painting is based on a diner in Greenwich Village. The imagery is so iconic, however, that it could be anywhere in America.

Nighthawks, 1942
Oil on canvas
84.1 x 152.4 cm (33 1/8 x 60 in.)
signed l.r. "Edward Hopper"

Image Credit: Art Institute of Chicago
Diner Desserts and Treats
When you think diner food, you probably think a big shake topped with the iconic whipped cream and cherry duo or a yummy slice of pie. Dessert and sweets are a diner fare favorite. Check out our favorite recipes below.
Popular Diner Scenes in American Movies
Pulp Fiction
Blues Brothers
Mullholland Drive
Goodfellas
Heat

Popular TV Diners
Happy Days
Saved by the Bell
Two Broke Girls
Bob's Burgers
Seinfeld
Diner-Inspired Dinner Recipes
Looking for some vintage diner recipe ideas to feed the whole family? Check out our collection of dinner ideas your family is sure to love. Taking your whole family out to eat can be expensive, save some cash by making dinner at home. 
Copycat Diner Recipes
Diner menus don't differ much from diner to diner, but some restaurants have signature dishes we love to obsess over. That's why we thought we would include these copycat recipes! If you're craving Denny's, Steak-n-Shake, IHOP, or another diner recipe, we've got your back!
What is your favorite (real or fictional) diner?
Your Recently Viewed Recipes
Join our community of 5 million cooks!
Get free recipes, exclusive partner offers, and more.
Thank You for Signing Up!
There was an issue signing you up. Please check your email address, and try again.