22 Easy Pie Recipes for Every Occasion
22 Easy Pie Recipes for Every Occasion Free eCookbook
Anytime is a good time for pie!
No one can ever say that they get tired of pie. It's practically impossible with all the different variations you can have: chocolate crust with chocolate filling, chocolate crust with peanut butter filling, traditional crust with apple filling...the combinations are endless. In this eCookbook, 22 Easy Pie Recipes for Every Occasion, you won't find the same pie twice; each one is unique in its own way. No matter what time of year, you are guaranteed to find a delicious pie recipe for your friends and family to enjoy. Make any of these easy pie recipes for your occasion - special or not.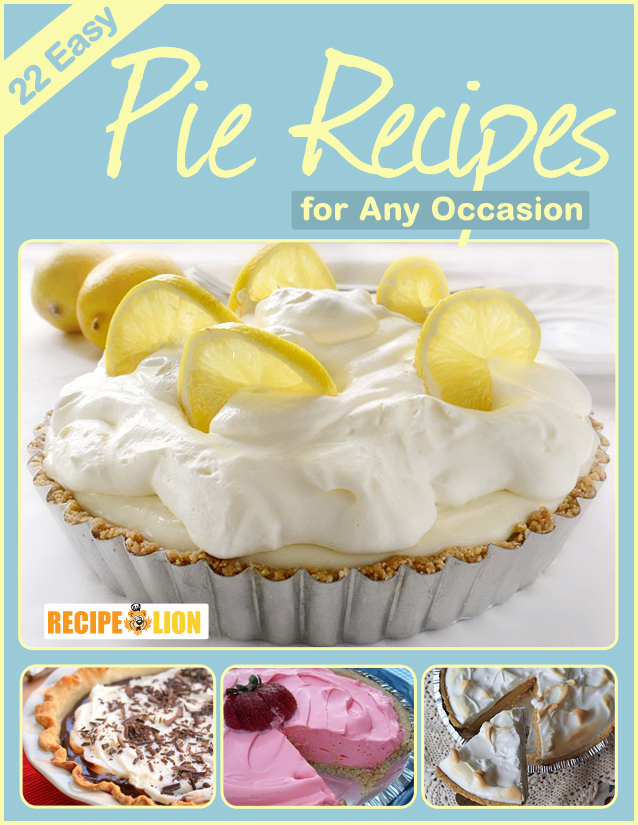 Download your free copy of 22 Easy Pie Recipes for Every Occasion today!
22 Easy Pie Recipes for Every Occasion Table of Contents
Note from the Editors
Dear Cooking Enthusiast,
There is never a bad time for pie; you can easily make this dessert fit whatever occasion you need it for since, with a good crust, you can fill it with whatever you want. From fruit pies to chocolate and pumpkin pies, this eCookbook is a great collection of amazing pie recipes. You are sure to find one that will be perfect for your party, dinner, or Tuesday night. All of these pie recipes are super easy, so you'll have more time to make dinner or enjoy company rather than worry about baking your dessert.
22 Easy Pie Recipes for Every Occasion is sure to become your go-to guide for pie-making recipes with its complete catalogue of delicious pie recipes. Filled with delicious and creative pies like the "'Duck Dynasty' Pie" (pg. 11) and the "No-Bake Strawberry Kool-Aid Pie" (pg.28), you are sure to find a great dessert recipe for your friends and family to share and enjoy. Be sure to print out this great collection of easy pie recipes so that you'll always have it on hand when you need a pie.
Happy Pie Making!
Sincerely,
The Editors of RecipeLion.com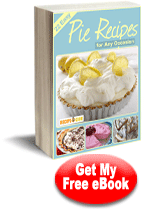 Download your free copy of 22 Easy Pie Recipes for Every Occasion today!
What's Inside this Free eCookbook
Easy Pie Recipes
Mile High No-Bake Banana Split Pie (pg. 5) - Of all the no bake dessert recipes we've come across, this easily tops our list of the most indulgent and most sinfully sweet... in the best possible way, of course!
Old Fashioned Amish Lemon Sponge Pie (pg. 8) - If you love vintage dessert recipes, we know you'll want to make this pie every time you're craving something sweet. All you need are 7 simple ingredients to make it!
"Duck Dynasty" Pie (pg. 11) - The recipe itself is easy, but allow plenty of time to make it because the pie needs time to set and chill. This recipe uses blueberry pie filling, but you can use the pie filling of your choice.
Chocolate Pie Recipes
Chocolate Cream Brownie Pie (pg. 15) - It seems that we have hit the jackpot with this heavenly dessert. This easy pie recipe is made for chocolate and brownie lovers.
Cheater's Chocolate Coconut Cream Pie (pg. 18) - Take much of the legwork and the guesswork out of making your own homemade pies by following along with this easy pie recipe. Give this coconut cream pie recipe a shot and you'll never go back to your other boring pie recipes again.
French Silk Chocolate Pie (pg. 19) - For a sweet finish to your meal try this creamy, rich French silk pie. It's a great party dessert because it's beautiful, easy to make, and will wow your guests.
Peanut Butter Pie Recipes
Perfect Peanut Butter Cup Pie (pg. 20) - A guilty pleasure treat that will leave you wanting a second slice, this is one of our all-time favorite dessert recipes with peanut butter.
Five Layer Creamy Peanut Butter Pie (pg. 22) - The best thing about this easy peanut butter pie is that it takes just minutes to throw together! If you're a fan of peanut butter and chocolate, you won't be able to get enough of this quick dessert.
Fruit Pie Recipes
Summertime Strawberry Pie (pg. 24) - No matter what time of year it is, easy pie recipes always bring the family together. If you like strawberries, then you will love this pie.
No Bake Strawberry Kool-Air Pie (pg. 28) - After it's set and ready to serve, take a slice and see how delicious this pie recipe is. Creamy, fruity and refreshing, it's hard to stop at just one slice.
Lovely Lemon Icebox Pie (pg. 30) - This beautiful pie is a no-bake pie, which is great for the summer, but you can really make it any time of the year.

Download your free copy of 22 Easy Pie Recipes for Every Occasion today!
Apple Pie Recipes
Pastor's Wife Apple Crumb Pie (pg. 32) - This apple pie recipe is legendary. It's won church cook-offs and earned rave reviews from everyone who's enjoyed a taste. Now you can have your own slice.
All-American Apple Pie (pg. 33) - Create sparks with this apple pie recipe, one of many great Fourth of July recipes. Patriotic desserts like delightful apple pies will thrill your family and friends this summer.
Pumpkin Pie Recipes
Easy Pumpkin Pie (pg. 36) - Canned pumpkin recipes and easy pumpkin pie recipes go hand in hand, and this recipe is no exception. You don't even need to know how to cook to make this pie; it's that easy.
Healthy Pumpkin Pie (pg. 38) - Finally, a pumpkin pie recipe that has all the flavor, but not all the fat, of your typical recipe. Make this yummy pumpkin pie recipe any time and enjoy a sweet treat that's practically good for you!
...and more!
Need Help Downloading?
You can easily download and print out each eCookbook for easy reference while cooking.
For help downloading our eCookbooks, see our help document here.
Don't Miss our other Free eCookbooks!
If you enjoyed this free eCookbook, you won't want to miss any of our other downloadable recipe collections. You can browse our entire library of free eCookbooks here.
Sign Up for our Free Newsletter
With your free copy of 22 Easy Pie Recipes for Every Occasion (as with all of our free downloadable eCookbooks) you can also subscribe to our free Quick and Easy Recipes newsletter to get free recipes delivered to your email inbox every week. Become a part of the RecipeLion community! By subscribing you will receive:
Weekly emails with free recipes, tips, collection pages, videos and more + a weekly wrap-up.
Chances to win cookbooks and food products from our weekly giveaways and contests.
New recipes and eCookbooks made available to you throughout the year.
Access to our recipe large collection full of over 40,000 recipes, including budget friendly and quick and easy recipes
The opportunity to share ideas and help others in the recipe and cooking community.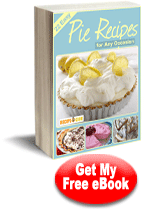 Download your free copy of 22 Easy Pie Recipes for Every Occasion today!
Your Recently Viewed Recipes