How to Make Chicken Stock: 5 Tips for Perfect Stock Every Time
Take your chicken soup to the next level with these tips on making stock!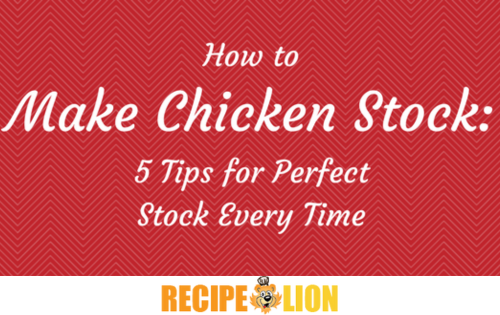 Premade chicken stock from a can will do in a pinch, but if you want to make your next pot of homemade chicken soup, rice, or even mashed potatoes even more flavorful, then homemade chicken stock is the way to go. If this is your first time chicken stock, don't be intimidated. It's really quite simple, and will result in a delicious stock that you can use to boost the flavor profile in an assortment of recipes. Making stock from scratch is also an economical alternative to purchasing a can of stock from the grocery store. You're also getting even more use from a chicken fryer.

In this guide on How to Make Chicken Stock: 5 Tips for Perfect Stock Every Time, you'll learn how to create your own stock like a pro. Roll up your sleeves, get a stock pot, and get ready to start cooking when you see these easy tips!
Use Almost Every Part of the Chicken to Make Stock
What goes into chicken stock, anyway? While you're right to assume that you can't have stock without parts of the chicken, you might be surprised regarding what will ultimately be included. As noted by the College of Education at Michigan State University, you'll want chicken bones — and plenty of them. You can also include the fat and skin when making your broth. While you could make broth using the bones and fat from just one chicken fryer, you may save yourself time in the long-run by waiting until you have bones from two or three chicken fryers.
Add Just the Right Amount of Water
When it comes to learning how to make chicken stock from scratch, you'll disocver there is a fine line between full-flavored chicken stock and a pot of watery chicken-flavored water — and it all comes down to how much water you use. If you use too little water, you might not make enough stock; add too much, and your stock will be flavorless and bland. According to the National Center for Home Preservation, you should use just enough water to cover the bones. Carefully break apart the carcass, too, so that the bones can be evenly distributed throughout the stock pot.
Don't Hold Back When It Comes to Flavor
Garlic, freshly-ground pepper, fresh vegetables, and your favorite seasonings and herbs will all result in a stock that's full of flavor. Wash and chop celery ribs and carrots, and throw in a small onion or two when cooking your chicken broth. The flavor that results from the addition of these ingredients will be well worth it. Not only will a full-flavored chicken stock make your next batch of homemade chicken soup taste even better, but the stock will add an interesting dimension to recipes that include jambalaya, chicken pie, and even some of your favorite vegetable side dishes.
Get the Stock Flavor Just Right
Depending on the recipe you use, your chicken stock may be ready to strain within a few hours of simmering on the stove. As it may take a while, you will need to plan accordingly; you don't want your stock to simmer on the stove unattended for hours at a time. Your stock is ready when it is a golden-amber color that's also full of flavor. After the stock is finished cooking and has cooled a bit, you can strain your stock and toss the bones, skin, fat, vegetables, and herbs. 
Storing Your Chicken Stock
You've worked hard to make your own chicken stock, and now you're ready to store it for later use. To make it easier to include the chicken stock in some of your favorite recipes, Iowa State University Extension and Outreach suggests pouring the stock into one- or two-cup containers. Homemade stock stored in the refrigerator must be used within two days, while the organization notes that frozen chicken stock can be stashed in the freezer for up to three months.
All of this information about chicken stock probably has you ready to start cooking! Your homemade stock will play the starring role in some of this collection of 20 Delicious Frugal Soup Recipes
Recipes for Chicken Stock
You'll love these variations on the basic chicken stock recipe. Whether you want something quick and simple or are ready to explore chicken stock boasting a wider flavor profile, these recipes are all worth a look. There no special tricks or techniques with these recipes, either. All you need is a stock pot and set aside some time so that the chicken broth can achieve the desired taste. Once you have a few tried-and-true ways of how to make chicken stock stock from scratch, you'll want to get started with the following recipes.

Instant Pot Chicken Stock (pictured below): Slurp up every last drop of this chicken stock recipe. This easy stock recipe is loaded with an assortment of vegetables and herbs, and includes a roasted chicken carcass as part of the ingredients.

Overnight Slow Cooker Chicken Stock: You're short on energy, but still want to make chicken stock. What do you do? That's where this recipe comes to the rescue. Just throw your ingredients into the slow cooker and let it cook overnight while you sleep.

Homemade Chicken Stock: Here's another stock recipe that requires several hours of simmering but is definitely worth the time and effort.

Chicken Corn Soup with Homemade Chicken Stock: This simple and hearty chicken soup recipe teaches you how to make a stock that will take your chicken soup to the next level.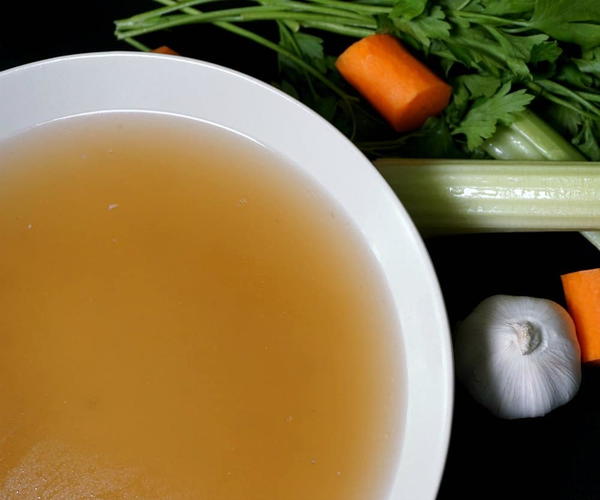 What is your favorite tip for making chicken stock?
Your Recently Viewed Recipes
Join our community of 5 million cooks!
Get free recipes, exclusive partner offers, and more.
Thank You for Signing Up!
There was an issue signing you up. Please check your email address, and try again.