How to Moisten Cakes with Simple Syrup
Discover the pros and cons to using simple syrup for cake moistening and learn how!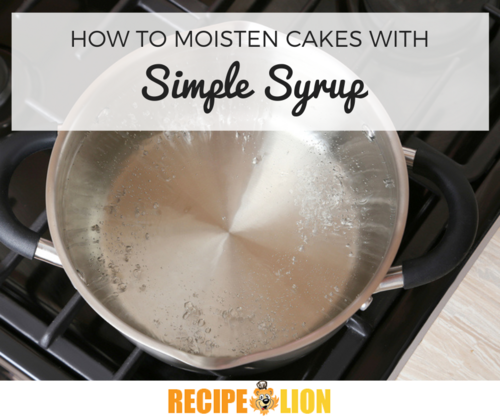 We've all had cakes come out dry and flat. It's disappointing, sure, but there's a way to fix it if you know how to moisten cakes with simple syrup! This quick fix is one of baking's best-kept secrets, and it's a really handy trick to have up your sleeve when things go awry in the oven.

The next time you're baking a cake for a birthday party, potluck, or just because, simple syrup is really a life saver. And it's not just useful in cakes that come out too dry either! You can drizzle simple syrup over just about any cake to take the flavor and texture up a notch.

One criticism that this method often receives is that -- depending on the type of cake -- using simple syrup can result in an overly moist or dense cake. The best way to prevent this is to only use simple syrup in moderation and to wait until the cake has cooled completely before using the simple syrup. Once you see how it can transform your cakes, we know you'll be using this little trick again and again!
 
 
How to Moisten Cakes with Simple Syrup
Simple syrup is a breeze to make because it only uses two ingredients -- water and sugar!
Prepare your simple syrup on the stove.
Poke a few small holes in the top of the cake with a tooth pick or a skewer.
Lightly drizzle the simple syrup over the top of the cake.
If the syrup does not sink into the cake completely, smooth it out with a spoon.
Let it sit for a few hours so the simple syrup can fully incorporate into the cake.
You can use just about any type of bottle for your simple syrup, but there are some bottles that are made specifically for drizzling simple syrup. If you don't have one, you can take an old ketchup bottle and poke holes in the top. This will allow the simple syrup to be spread across the surface of the cake more evenly, thus moistening your cake more evenly.

The key to moistening your cake with simple syrup is quality over quantity. You do not want to over do it with the simple syrup or your cake will become dense and overly sweet -- less is more! The reason simple syrup works for fixing your dry cakes in the first place is its consistency. Simple syrup is thin enough to slip into the crevices of your cake, making it moist all the way through, but it is also thick enough that it won't just make your cake soggy.

If you've never made simple syrup before, check out the infographic below to learn how!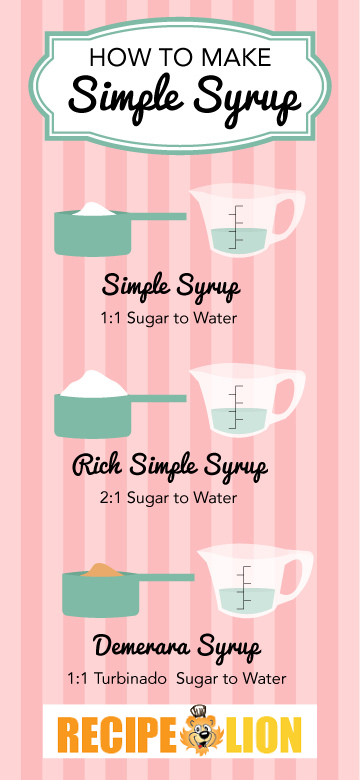 Infusing Simple Syrup
Not only does simple syrup make your cakes moister, but it can also add a little bit of flavor -- if you infuse it! How does infusing work? It basically means soaking your desired flavor into the simple syrup, so you can spread that flavor throughout the cake without having to alter the cake recipe itself. You can infuse simple syrup with just about anything from fruit to herbs and spices. You can even add a splash of booze to your simple syrup to add those complex, unique flavors.

Note: If you want to infuse simple syrup with alcohol, simply stir it into the syrup right before you apply it to the cake. There is no need to let it soak!
What Causes Dry Cakes in the First Place?
Using Too Much Flour:
Obviously the recipe you are using will probably have the best measurements for the specific cake you are baking, but sometimes the recommended flour just seems like a little too much. Our best advice is to follow your gut. If you are preparing your batter, and you think it might be getting too dry and thick, try adding the flour in a little bit at a time.

Not Measuring Your Dry Ingredients Properly:
Believe it or not, there is a right way to measure your dry ingredients. In general, it's a good idea to follow the directions in the recipe very closely when it comes to measuring and incorporating your dry ingredients. Often when a cake comes out too dry, it's because something went wrong during this step. Remember: there is a difference between "1 cup of sifted flour" and "1 cup of flour, sifted."

When measuring your dry ingredients, you should not use the measuring cup itself to scoop your dry ingredients. Instead, use a spoon to fill up the measuring cup. Doing this will ensure that you do not over-pack your measuring cup with flour. You should also check the weather before you start measuring your dry ingredients. The humidity in the air can be absorbed by your dry ingredients, which can give you dense, chewy cakes. This can be avoided by storing your dry ingredients in air-tight containers.

Overbeating Your Egg Whites:
Many cake recipes require you to separate the egg whites, whip them to firm peaks, and then fold them back into the batter. While this method is a great way to get cakes that are light and fluffy, it is also a great way to get a final product that's too dry and almost flaky. The main cause of this is overbeating your egg whites. You do want your egg whites to be light and fluffy, but you do not want them so fluffy that they add unnecessary air into the batter, which will dry out your cake.

Overbaking:
This might seem like the most obvious culprit of dry cakes, but it happens to even the most experienced bakers from time to time. This is especially true when working with a new or unfamiliar oven. Different ovens baken in different ways and can even bake at different temperatures.

This is less of a problem with more modern ovens since temperatures are standardized and technology allows ovens to be more exact with their temperatures. Nonetheless, if you're new to baking or new to the oven you're working with, it's probably best to make keep a close eye on your cakes as they bake.

If you happen to find yourself in a dry cake predicament, never fear. Simple syrup is your answer!
Other Uses for Simple Syrup
Now that you have made your simple syrup and your cakes are perfectly moist, what do you do with all of that extra simple syrup? Since it's difficult to make simple syrup in small batches, you will most definitely have a little bit left over.

Simple syrup will last in a sealed container in your refrigerator for about one month. Rich simple syrup can last up to six months! So there's really no rush to use it right away. But it's nice to have it when you need it. Here are a few other uses for simple syrup:
​Make a cocktail
Sweeten your coffee
Infuse it
Sweeten iced beverages
Use it on a fruit salad
Add it to your oatmeal
Try This Method on These Cake Recipes
How do you use your simple syrup?
Let us know in the comments!
Your Recently Viewed Recipes
Join our community of 5 million cooks!
Get free recipes, exclusive partner offers, and more.
Thank You for Signing Up!
There was an issue signing you up. Please check your email address, and try again.