How to Use Up Spinach: 41 Smart Ideas and Recipes
Don't let your greens go to waste! Try these easy spinach recipes.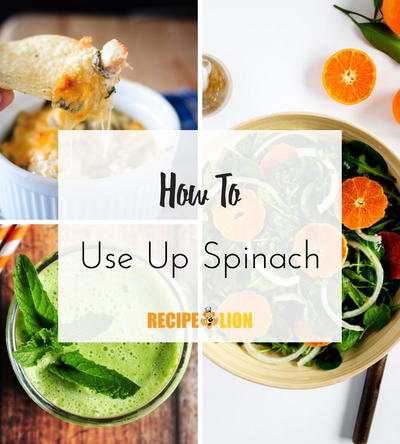 Most of us have the best of intentions when it comes to purchasing fresh produce. We want to eat healthy, and so we purchase spinach to eat throughout the week. Unpacking it from the grocery store feels so satisfying, and the spinach waits in the crisper drawer to be transformed into salads, smoothies, pasta sauce, and more.

Except sometimes the week doesn't go as planned. We don't eat as many spinach salads for lunch as we plan. Maybe a busy weeknight dinner becomes takeout instead of the spinach quiche you had planned. And then a few days later you're stuck with spinach that's either already wilted or on its way there fast.

If any of this sounds familiar, then you are in the right place!

We've scoured the internet, and asked our own test kitchen pros, for their favorite tips for using up fresh spinach. From delicious recipe ideas to genius tricks for preserving spinach, plus guidelines on what you can do with spinach once it is wilted or slimy, we've got you covered.

Read on for some of our favorite easy spinach recipes and tips.
Table of Contents
How to Use Up Spinach
If you can find a recipe that will use a lot of spinach, then that is the best route to go. But there are some other ways to stop spinach from going to waste.
Freeze your spinach before it wilts. This is a great option if you plan to use your spinach in a recipe, as it won't be the right texture for a salad once you defrost it. Use frozen spinach in smoothies, recipes like spanikopita or lasagna, or spinach dip. Learn 4 different ways to freeze spinach here!
Make freezer meals using spinach. Try preparing mini quiches, smoothie packs, or breakfast wraps with spinach and then freeze to enjoy later. This would also work with dinner recipes like spinach gnocchi or pasta sauce!
Share your leftover spinach with friends, family, or a neighbor. Maybe someone else is hungry for a delicious spinach salad, or maybe they are planning to make a recipe with spinach and could use up your leftovers. They may even offer to exchange food with you if they have too much of an ingredient, like milk or eggs!
If you have time to make a recipe with spinach, then we have some great ideas for you. You might be surprised by the number of recipes that you can make using spinach. It's not all salads and spinach artichoke dip! Here are some of our favorite types of recipes that are great for using up spinach before it goes bad.
Spinach Recipe Ideas
Quiches or fritattas
Breakfast sandwiches or wraps with spinach
Pasta sauce with spinach
Soups with spinach
Spinach gnocchi
Meatballs with spinach
Spinach smoothies
Beans and spinach
Spinach pie (spanikopita)
Spinach puffs
Sauteed spinach with eggs
Curry dishes with spinach
Paninis or grilled cheese with spinach
Spinach dip
Spinach lasagna
Bonus!
Have a few handfuls of leftover baby spinach to use up?
Try using it as a pizza topping, add it to ramen noodles for an easy vitamin boost, toss baby spinach in your scrambled eggs, or enjoy it with some mozzarella cheese on a toasty open face sandwich.
Looking for some specific (and delicious) recipe ideas?
Keep scrolling for some of our absolute favorite creative ways to use spinach.
Spinach Pasta Recipes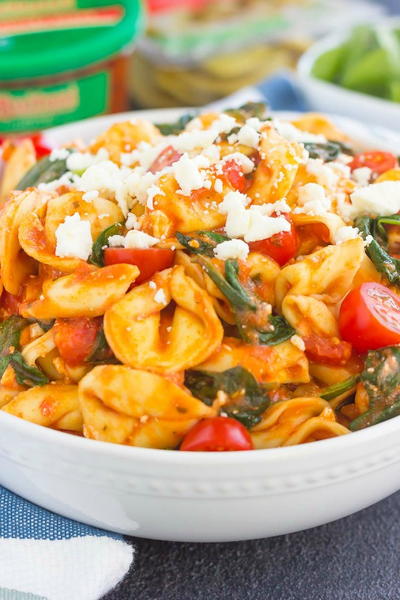 Pasta is one of our favorite ways to use up spinach! These meals are easy to make, totally comforting, and make great leftovers or freezer meals. It's an ideal way to save your veggies from the compost bin.

Some of these spinach pasta recipes are vegetarian, but many incorporate meat as well. You can also swap out the pasta in many of these recipes for gluten-free versions so that everyone at your table can enjoy the meal.

Start your search for spinach heavy pasta recipes with this delicious Spinach and Feta Tortellini recipe. It's creamy, rich, and full of flavor. We love the addition of feta cheese!
Easy Spinach Recipes for Dinner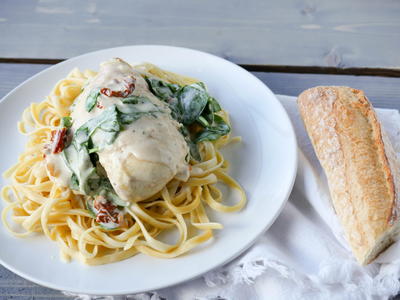 These delicious recipes are a great way to use up spinach at the dinner table. They're flavorful, easy to make, and sure to please the whole family.

Spinach and chicken go so well together. They can be the beginnings of a healthy meal or an indulgent Olive Garden copycat recipe. This easy spinach and chicken recipe is one of our favorites, and we think your family will love it too.
Spinach Salad Recipes and Side Dish Recipes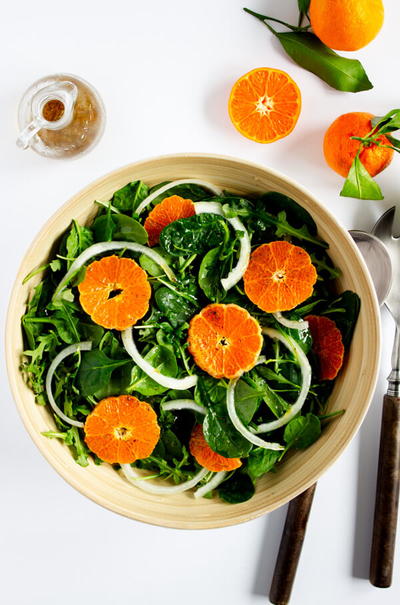 We all know that salads are ideal raw spinach recipes. But sometimes you could use a little bit of inspiration! These salads are anything but boring. We think that they'll have your family asking for second helpings, which you'll be happy to dish up.

Get started with this stunning Arugula Spinach Salad with Citrus. It's sunny, flavorful, and the perfect way to brighten up your lunch or dinner. Give it a try this week!
Spinach Breakfast and Dessert Ideas (Yes, Dessert!)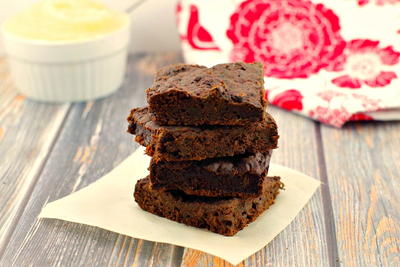 Breakfast and dessert might not be the first meals you think of when it comes to spinach recipes, but there are definitely ways to add a little bit of green to these courses! These healthy spinach and applesauce brownies are an amazing way to add some nutrition to a sweet treat. No one will even know that they're healthy!

Spinach can also be worked into breakfast meals like smoothies and egg bakes that the whole family will love.
Did you know that you can freeze eggs so they don't go bad? This article shows you how!How to Freeze Eggs
Ask RecipeLion: Is spinach healthier cooked or raw?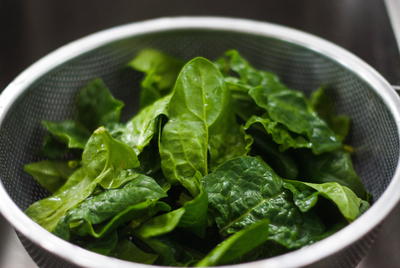 You might have heard of the raw food movement, in which people are getting more excited than ever about consuming more food raw. Proponents say that cooking can strip out nutrients from some foods, leaving you with a meal that's not quite as healthy as you thought.

There's no doubt that raw spinach is packed with vitamins and other good-for-you nutrients, but is it really healthier for you than its steamed counterpart?

It turns out that both cooked and raw spinach have great health benefits. You just get different nutrients depending on whether you consume it raw or cooked. Raw spinach has higher levels of Vitamin C, potassium, and folate. On the other hand, cooked spinach contains more Vitamin A, calcium, and iron.

Another thing to think about is that you may naturally eat more cooked spinach than raw spinach in one sitting. So that might be a healthy way to consume a little more veggies and get a few more vitamins and minerals into your diet!
What are your favorite tips for how to use up spinach? Let us know in the comments!
Your Recently Viewed Recipes
Join our community of 5 million cooks!
Get free recipes, exclusive partner offers, and more.
Thank You for Signing Up!
There was an issue signing you up. Please check your email address, and try again.