How to Store Grapefruit
Discover the best way to store grapefruit and how long it will stay fresh.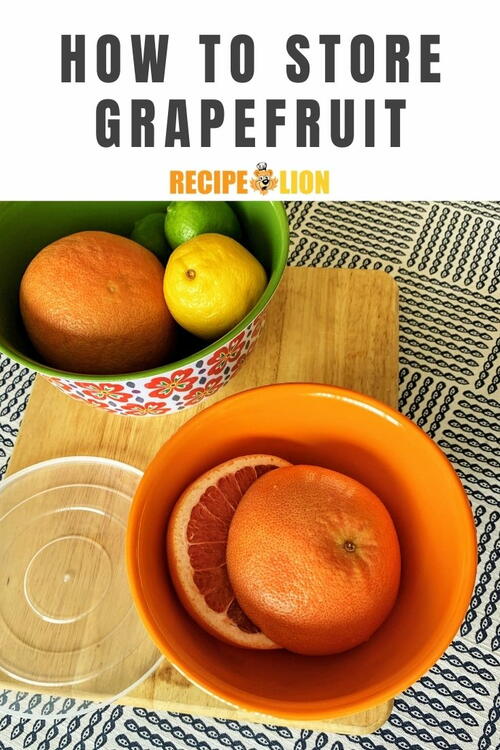 Grapefruit is one of our favorite foods to enjoy in the winter, when it's in season. There's something about enjoying a juicy grapefruit half, dusted with sugar, that just makes the day seem a little sunnier.

Of course, in order to enjoy this delicious breakfast treat, it's important to learn how to store grapefruit to keep it fresh. Storing grapefruit in the right way can ensure that you're not disappointed by moldy or dried out fruit the next time a grapefruit craving hits.

The good news is that it's actually really easy to store grapefruit properly!

With just a few simple tips you can become a pro, and you'll be well on your way to enjoying citrus season. You'll be all set, whether you like to enjoy grapefruit on its own for breakfast, or whether you like to use grapefruit in a delicious dessert.
How to Store Grapefruit on the Counter
If you plan to eat your grapefruit within 4-5 days, then store it in a bowl on your kitchen counter.

Citrus fruit keeps well at room temperature for several days, so there's no need to refrigerate it. Plus, the grapefruit will be juicier when you actually slice into it and eat it.

Pro Tips: Be careful to avoid bruising the grapefruit as you store it, and be sure to store it out of direct sunlight.
How to Store Grapefruit in the Fridge
If you don't plan to eat the grapefruit you purchased within 4-5 days, then the best way to store grapefruit is in the refrigerator. Place it in the crisper drawer with the fruit setting (if you have one). It will stay fresh for a up to 2 weeks.

Pro Tips: Don't store grapefruit in a plastic bag. Proper air circulation helps the fruit stay fresh, and plastic bags and wraps interfere with that. Mesh bags and paper bags are fine, and it's also fine to just store the fruit loose in the refrigerator or crisper drawer.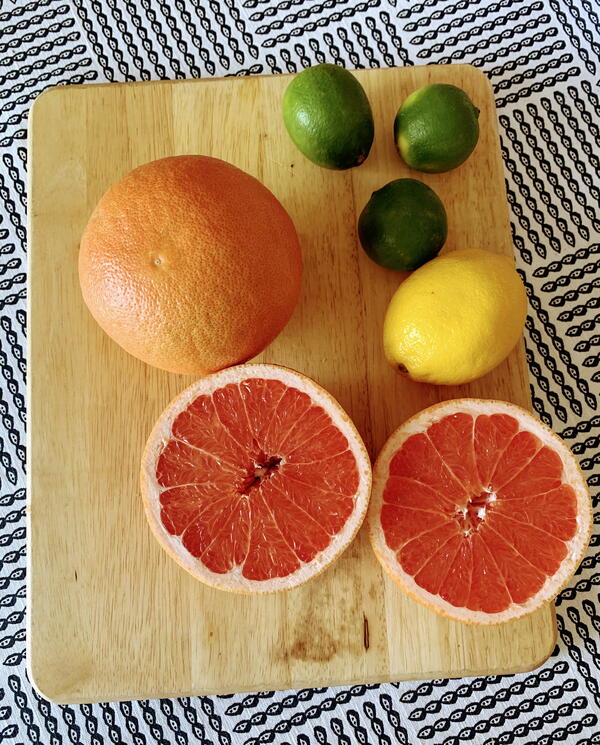 How to Store Cut Grapefruit
Once you've cut or peeled a grapefruit, it's important to store it in the refrigerator. Place the cut fruit in an airtight container in the fridge and use within 3-4 days.

Pro Tip: Always be sure to wash the rind of the grapefruit before cutting into it. Even though you don't eat the rind, you can transfer material from the rind to the fruit with your knife as you slice the grapefruit.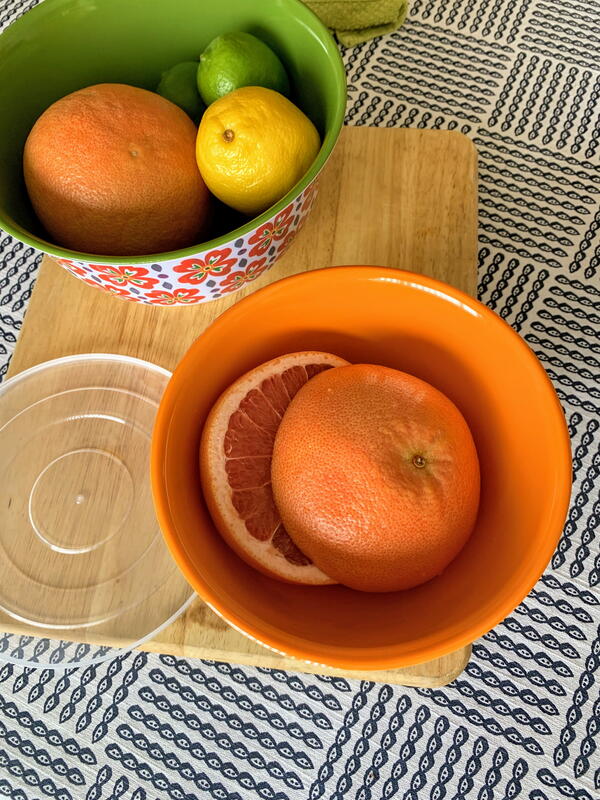 How to Freeze Grapefruit
You can freeze whole peeled grapefruit, or you can slice it into pieces first. To freeze whole grapefruit, simply peel the fruit and then transfer to a freezer bag. Label the bag and store in the freezer.

To freeze sliced grapefruit, flash freeze it first by placing the grapefruit slices on a parchment-lined cookie sheet. Place the cookie sheet in the freezer until the slices are frozen. Then transfer the frozen grapefruit segments to a freezer bag or freezer-safe container to store. Don't forget to label the container!

Pro Tip: Defrosted grapefruit may not have the same texture as fresh grapefruit. If you find that you don't love the texture remember that the defrosted fruit is still perfect for baking, juicing, or making smoothies!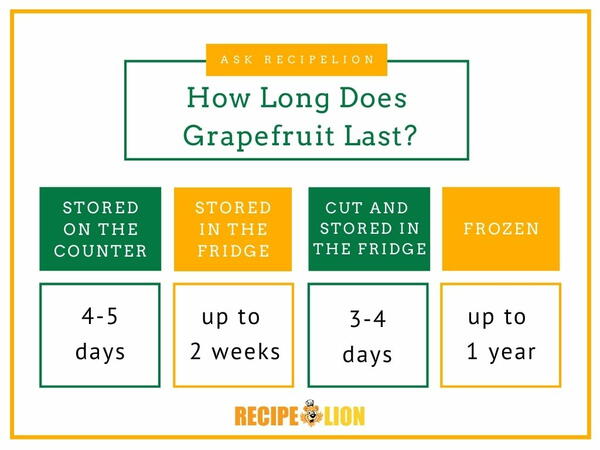 Delicious Grapefruit Recipes
Of course, we love enjoying fresh grapefruit on its own (or with a sprinkle of sugar). But grapefruit can also be the star of many great recipes! Find some of our favorite grapefruit recipes below, including ideas for salads, desserts, drinks, and more.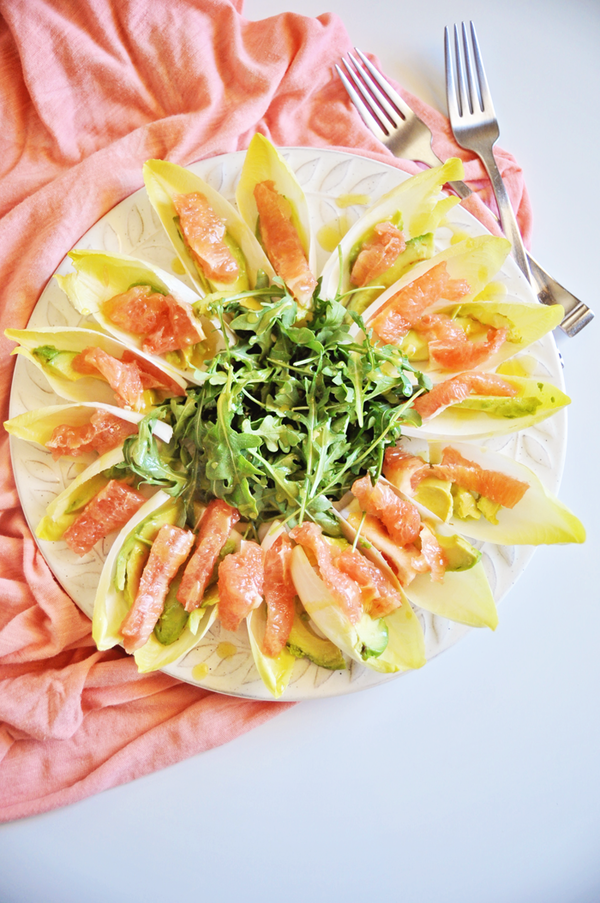 Your Recently Viewed Recipes
Join our community of 5 million cooks!
Get free recipes, exclusive partner offers, and more.
Thank You for Signing Up!
There was an issue signing you up. Please check your email address, and try again.