How to Store Cilantro
Learn how to dry cilantro, store it in the freezer, or make it last in your fridge.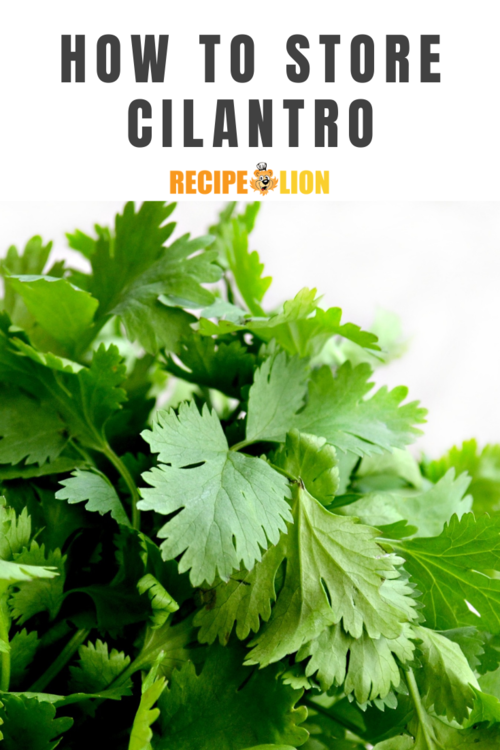 Cilantro is a go-to herb to keep food flavorful and exciting, great to decorate and to cook with. But like all fresh herbs, it has a limited time frame in which to use it before the leaves get yellow or black—yuck. But RecipeLion is here to help, because we want you to get the most of that new bunch of cilantro as much has you do.

With this How to Store Cilantro tutorial, you'll find ways to store cilantro in the fridge and the freezer. Or consider drying the cilantro yourself and storing it in a little jar, which will help it keep for a long time, and then you won't have to buy it dried from the store. No fresh greens will last forever, but it might feel like it once you realize how much longer your cilantro will keep with these methods.

If you bought fresh cilantro for one recipe but don't know what to do with the rest of it, don't worry. We've included 5 recipes to use up that cilantro you've worked so hard to store.   
 
General Cilantro Storage Tips
- If you're storing your cilantro in the fridge or freezer, do not wash the cilantro until you will use it, and only wash the portion you'll be using at that time. This helps the cilantro keep longer. 

- When you bring your bring your cilantro home, no matter which way you'll store it, it's a good practice to dry it off right away, because many stores "mist" their vegetables. 

- All methods of storage work best when you cut off the rubber band that comes wrapped around the cilantro.

- Cilantro likes to be cool, so keeping it out on the counter or in the pantry (unless it's already been dried) are not good options for this herb.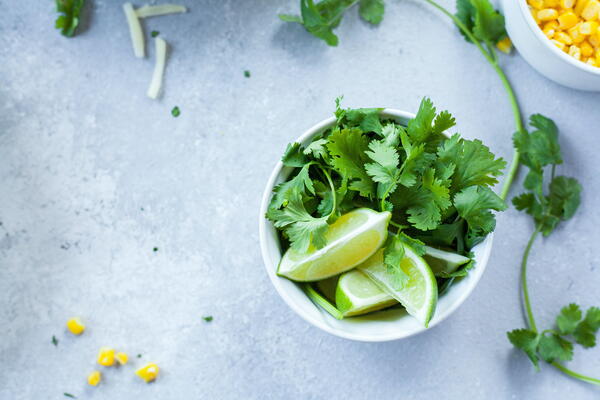 How to Store Cilantro in the Fridge
Storing any cilantro well starts at the store. It helps to buy bunches that look the best, with no yellow or dry spots on the leaves or stems. Then when you get home, cut the rubber band off.

If you're using your cilantro as a garnish, storing it in the fridge is the best.

Ways to store cilantro in the fridge:
If you just pop your cilantro in the fridge and do nothing else, it will keep for about 3-4 days. If you think you'll use all of it by then, that's all you have to do!
Cut the bottoms of your cilantro off and place them in a jar of water with at least as  much water to cover all the stem bottoms. This is similar to what you would do to keep cut flowers fresh. Once you've placed them in the jar, cover them loosely with a plastic bag and put in the fridge. You don't want the bag to crush the leaves, but you'll want to rubber band the bag to the jar so the air doesn't get out. This should keep the cilantro for a couple of weeks.
Loosely wrap portions of the dry cilantro in a paper towel, so that it's not crushing it. Then you can put the wraps in a resealable bag with most of the air out of it (again, don't crush the cilantro). Or you can stack the wraps gently in an airtight plastic container.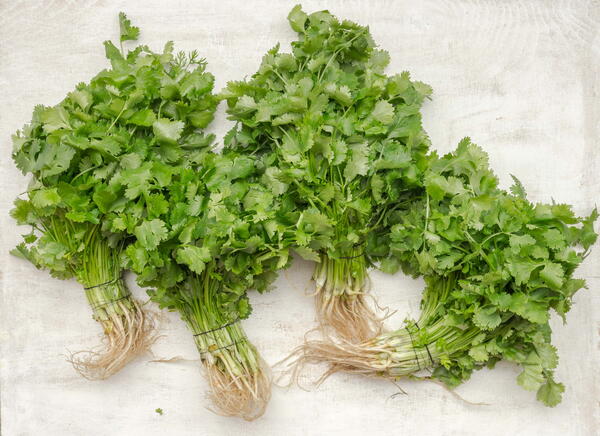 Looking for other ways to store your produce correctly? Check out
How to Freeze Cilantro
To store cilantro in the freezer, simply chop the cilantro up (or use a food processor) and place in ice cube trays with enough water or oil for the each cube to freeze.

You can also put the dry cilantro in a resealable bag and place in the freezer like that, but they won't look so great after a little while. For both of these methods, these are only for recipes where the cilantro will be an ingredient, not a garnish or visible part of the final product.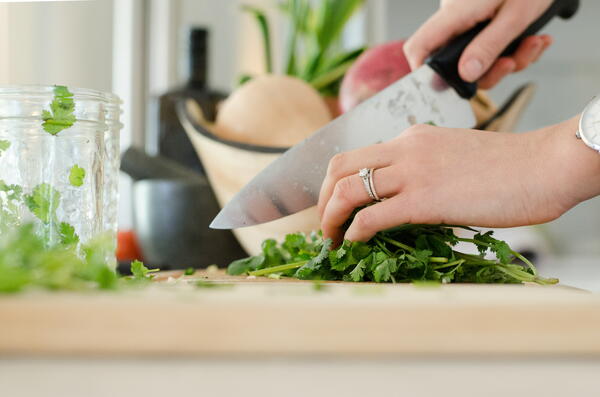 How to Dry Cilantro
If you've ever wanted to try drying your own herbs and pretend you're in a cottage out in the countryside, there's no better herb to start with than cilantro!

For drying, wash your cilantro before you dry it. Just make sure it's completely free of moisture before you begin.

There's three ways you can dry it:
In the microwave: Place the cilantro in between two pieces of paper towel on a microwave-safe plate and microwave at small intervals until it's dry and crumbles between your fingers. Take the leaves off the stem (or don't...some people like the flavor of the stems) and store in an airtight container in a cool, dry place.
In the oven: Set the oven to 250°-300° and place cilantro on a cookie sheet that's been lightly sprayed with nonstick spray. When the leaves lose their green color and look dry, take them out and crumble between your fingers. Store in an airtight container in a cool, dry place.
Air dry: Tie a string tightly around the stems of the cilantro, then put them into a bag leaves-first (don't let the bag crush the leaves) and hang them somewhere warm and dry, away from direct sunlight or vents. A corner of your kitchen, a closet, or a pantry are good placed for this.
Fresh Pico de Gallo Salad
This is a great recipe if you really like cilantro and want to taste it. It's also very easy, perfect to make with whatever you have leftover from another recipe.

Get the recipe here!
Chicken Wing Dipping Sauces
Check out the homemade Sriracha sauce, which uses a half cup of fresh cilantro.

Get the recipe here!
Cilantro Lime Brown Rice
This recipe also utilizes the great combination of cilantro and lime. This is a great way to use up whatever's left of the cilantro as a tasy side dish.

Get the recipe here!
Shrimp and Avocado Salad with Cilantro and Lime
Make this healthy salad without compromising on flavor! The cilantro adds a freshness that's complimented by the lime.

Get the recipe here!
Your Recently Viewed Recipes
Join our community of 5 million cooks!
Get free recipes, exclusive partner offers, and more.
Thank You for Signing Up!
There was an issue signing you up. Please check your email address, and try again.