Christmas Cookie Countdown 2009
By:
The Editors of RecipeLion
Christmas Cookie Countdown
Because it's never too early to start prepping for Christmas, RecipeLion is featuring a new Christmas cookie recipe each week in our Quick and Easy Recipe newsletter. Our Christmas cookie countdown has tons of quick and easy cookie recipes that are perfect for any holiday spread. Start now and try out some of our unique recipes so you will be ready when the holiday season rolls around. You might even find a new recipe to enter in a Christmas cookie contest - all of ours are sure winners.

Don't miss a single cookie recipe! If you haven't already, sign up for our Quick & Easy Recipe Newsletter, which will feature a new cookie recipe every Thursday. Be sure not to miss our free downloadable eCookbook 50 Favorite Christmas Cookie Recipes Free eCookbook.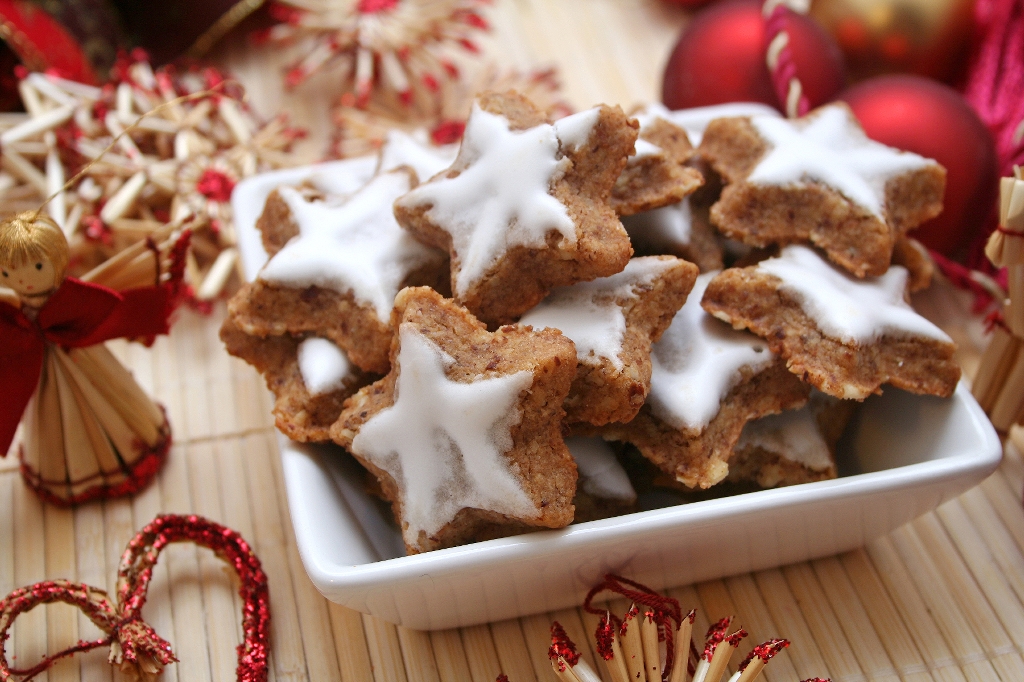 120. Traditional Rolled Sugar Cookies - Sugar cookies are Christmas favorites; decorate these with festive holiday colors. The buttery, creamy flavor of traditional sugar cookies is wonderfully offset by this recipe's addition of zesty grated lemon peel.
119. Billy Goats - Cinnamon, spice, walnuts, dates...it's beginning to smell a lot like Christmas! These memorably-named cookies are a delicious treat in the winter months.

118. Belgian Lukken Cookies- These buttery cookies are traditional Christmas delicacies in Belgium. They are similar to Pizzelle (Italian Christmas cookies) and can be made in a Pizzelle maker, which may be easier to find than a Lukken iron.
117. Oatmeal Cookies - Warm and comforting oatmeal cookies, just like your mom used to make. These cookies are perfect with a cool glass of milk on a snowy winter evening.
116. Cavendish Gingersnaps - Here's a Christmas snack from the British Isles. Leave a plate of these Cavendish Gingersnaps out for Santa!
115. Peanut Butter Cookies - These peanut butter cookies are rich, creamy and only take about 40 minutes to prepare start to finish. Add this fast and easy recipe to your X-mas collection.
114. Buffalo Chips - Buffalo Chips feature a sumptous and unique blend of seasonal flavors - summery coconut and warm, wintry oatmeal and pecans. However, the recipe is delicious all year around!
113. Butterscotch Pecan Nests - This sweet treat is beautiful and ornate. Make Butterscotch Pecan Nests at home tonight.
112. Basel Honey-Spice Cookies - These honey cookies hail from Switzerland. Loaded with cinnamon, almonds, and other wintery flavors, they are perfect to serve during the holidays.
111. Ambrosia Cookies - In ancient Greek mythology, ambrosia was the food of the gods. What could be more fit for a deity than these hearty-yet-sweet, fruit-filled cookies?
110. Soft Pineapple Cookies - Pineapple and vanilla are two sweet ingredients I would love to put together. This is a great cookie recipe that your guests will love. It makes three to four dozen cookies.
109. Winter Cat Cookies - The dough for these memorably-named cookies is chilled, rolled into a log, and baked. Winter Cat Cookies are a delicious and unforgettable holiday dessert!
108. Chewy White Chocolate Macadamia Cookies - White Chocolate Macadamia Cookies are soft and delicious. Try these chewy cookies tonight.
107. Cherry Oatmeal Cookies - A classic winter flavor meets a classic summer taste in Cherry Oatmeal Cookies. Try this sweet treat tonight!
106. Chocolate Pillows - The name doesn't lie; these cookies are bursting at the brim with chocolate! Kids - or anyone with an extreme sweet tooth - will love this sweet, gooey recipe.
105. Basel Chocolate-Spice Cookies - Basel Brunsli's use of unsweetened chocolate gives it a subtler flavor than that of its rich, nut-filled counterpart, basel Leckerli. This Swiss cookie is a delicious holiday favorite.
104. Stuffed Monkeys - Add a little sultanas to this cookie recipe. These white grapes are what tops it all off. Stuffed monkeys is a cookie I've never heard of. Makes an interesting conversation.
103. Angel Date Cookies - Colorful, sugary dates are a classic winter taste. Curl up by the fire with a plate of these Angel Date Cookies on a snowy December night.
102. Pineapple, Date and Nut Drops - Pineapple lends a spike of summer flavor to this otherwise typically wintry cookie. These tiny, adorable cookies make a perfect snack for a holiday party.
101. Austrian Chocolate Balls - This Austrian dessert is a delightful melange of chocolate, nuts, and vanilla. It must be stored in an airtight container, but that shouldn't be a problem because the whole batch will be gone before you know it!
100. White Chocolate and Cranberry Cookies - Creamy white chocolate cuts the sharp taste of cranberries in this holiday cookie recipe. White Chocolate and Cranberry Cookies are as beautiful as they are festive.
99. Anise Seed Cookies - It's easy to get bored with the old sugary, tried-and-true holiday desserts; why not try Anise Seed Cookies this Christmas? This savory dessert features a bold flavor similar to fennel.
98. Very Thin, Very Rich Chocolate Lace Cookies - They say that you can never be too rich or too thin, and this recipe proves it. These chocolate wafers are just as delicious as the store-bought variety.
97. Abernethy Biscuits - Make these simple, tasty cookie biscuits and enjoy with a nice cup of tea. Now that is a recipe for relaxation!
96. Amaretti by Amy - I love almonds, so I was really excited to make these wonderful cookies. My recipe is really easy, and my family and friends eat them up like there's no tomorrow - you will too.
95. Soft Gingerbread Cookies - Gingerbread cookies are great for the winter months and softer gingerbread cookies are even better. The smell of cinnamon and allspice remind me of the great Christmas times with family.
94. Soft Sugar Cookies - These quick and easy sugar cookies taste amazing plain or with an added candy. This recipe calls for no additional ingredients, but you can still add them on your own.
93. Sweetheart Cookie Puzzle - This is the recipe of love. Make your sweetheart a sweetheart cookie. Adding M & M's to this recipe is one delicious treat.
92. Unbaked Caramel Cookies - Caramel, pudding mix and oats are three great ingredients that help put these caramel cookies together. This is a quick and easy recipe for you to make your baking friends.
91. Whipped Shortbread for the Holidays - These yummy shortbread cookies are perfect for any holiday. Just vary the sprinkles according to the season: Red and green mixture for Christmas, red and white mixture for Valentine's Day, orange and chocolate for Halloween, etc. So easy, and so good!
90. German Chocolate Sandwich Cookies - Containing a full cup of cocoa, these cookies are deliciously chocolatey, and pecan and coconut add a sweet crunch. Try German Chocolate Sandwich Cookies if you're hankering for a summer taste during the colder months.
89. Holiday Fruit Pizza - Make a delicious and beautiful sweet pizza using cookie dough! Garnish with the fruits of your choice - we like seasonal green-and-red kiwi and cherry.
88. Filled Chocolate Madeleines - Madeleines are small, delicately beautiful French cakes. These tiny treats are sure to be a hit at your holiday party - they're filled to the brim with chocolate!
87. Christmas Cranberry Cookies - Cranberry Cookies are a perennial holiday favorite. These cookies are delicious because they are sweet without tasting too buttery or cloying, unlike many greasy, gooey winter desserts.
86. Macadamia-Orange Cookies - Here's an unexpected twist on a classic Christmas cookie. Let Macadamia-Orange Cookies inject some tang into your holiday dessert!
85. Festive Fig Cookies - The warm, sugary taste of figs makes them a perfect holiday dessert. Add some Mediterranean flavor to your Christmas table this year with Festive Fig Cookies.
84. Pattern Sugar Cookies - Create a pretty winter mosaic atop these Pattern Sugar Cookies. This recipe is sure to be a big hit with kids, who will love creating designs with colored sugar!
83. Spiced Carrot Chews - If you like carrot cake then you'll love these spiced carrot chews. They have just the right amount of raisins and nuts to make this a great cookie.
82. Pure Fruit Cookies - Baking 20-25 minutes you can have these golden brown pure fruit cookies ready to serve. Fruits and walnuts make it one delicious treat.
81. Pink Lady Cookies - These cookies are for the girls. Once you bake them you frost them with red or pink frosting. Pink lady cookies are great for girls night!
80. Peppermint Pattie Cookies - Remember your childhood days with the Peppermint Patties? Well now you can make your own Peppermint Pattie cookies. This is a great cookie for the Christmas holiday.
79. Peanutty Chocolate Cookies - Peanut Butter Chips and Peanut Butter make this chocolate cookie an amazingly delicious recipe. This recipe makes four dozen cookies.
78. Black Walnut and Oatmeal Cookies - These winter cookies have it all - they're soft, hearty, and very easy to prepare. Black Walnut and Oatmeal Cookies are a sophisticated change of pace from sugar and chocolate chip cookies.
77. Yugoslav Kifle - Kifle is popular throughout Eastern Europe and the countries of the former Yugoslavia. This recipe makes a sugary filled pastry, but the dish is also often left unsweetened and served as a savory sandwich roll.
76. Tropical Chocolate Chip Cookies - Stuck in your office and yearning for the beach this winter? These tropical cookies make a delicious substitute for sandy beaches and blue skies!
75. Savory Holiday Oatcakes - These oatcakes are native to the U.K. unsurprisingly, they are loaded with buttery and creamy taste! This rich and filling dish is a Christmas meal unto itself.
74. Basic Sugar Cookies - Go back to basics this winter with these sugar cookies. These cookies are delicious with milk - and if they're good enough for Santa, they're good enough for you!
73. Bittersweet Chocolate Cream Cheese Cookies - Nuts and peppermint candies give these cookies real holiday flavor. Try this recipe tonight.
72. Brown Sugar Shortbread Puffs - This recipe is simple, but it packs a punch. Give Brown Sugar Shortbread Puffs a try.
71. Holiday Anise Cookies - If you're looking for a holiday flavor that's warm and memorable but zesty and unique, you can't do better than anise. These cookies have an old-fashioned taste that's similar to licorice.
70. Cherry Chocolate Chippers - Dried fruit recipes are Yuletide favorites; this one throws some chocolate chips into the mix so that the kids will love it, too. Cherry Chocolate Chippers are even better with milk!
69. Tulip Cookie Shells - Is the winter weather getting you down? Treat yourself to summer-in-December with these beautiful and lavish cookies, which are perfect for those who like their food to look as good as it tastes.
68. Chewy Brownie Cookies - Enjoy brownie taste and texture...in a cookie! Chewy Brownie Cookies are great for the holidays.
67. Cake Crumb Cookies - The guests at your holiday parties will love flaky, nut-filled Cake Crumb Cookies. They're as rich and filling as a coffee cake!
66. Butter Biscuits - This recipe is simple, filling, and very rich! Serve these biscuits with a light drink.
65. Buttery Frosted Cashew Cookies - Go nuts with cashew-filled cookies. Try Buttery Frosted Cashew Cookies tonight!
64. Coconut Macaroons - This macaroon recipe couldn't be simpler. Whip these together and in under half an hour you have a beautiful platter of cookies.
63. Oatmeal Chocolate Chip Cookies - This classic oatmeal chocolate chip cookie recipe is perfect for the holidays. These packed cookies are so delicious you won't be able to stop eating them.
62. Buttery Spritz - This recipe produces nearly one hundred tiny, buttery little cookies. What could be better?
61. Zimsterne - Spicy Star Cookies - Here's the ultimate Christmas cookie - a blend of wintry flavors, baked in the shape of a star! Make Zimsterne your family's new holiday favorite.
60. Chocolate Chip Tea Cakes - Try a delicate new dessert this Christmas. Serve these Tea Cakes with hot chocolate for a warm and deliciously sweet winter snack!
59. Szerelmes Level (Love Letters) - Here's a cookie worthy of its name. You'll fall in love with these extra-sweet, nutty cookies.
58. Chocolate Mint Cookies - Smarten up chocolate chip cookies with a cool shot of mint. Kids will love these cookies.
57. Chocolate Peanut Butter Surprise - No surprises here, just rich, creamy peanut butter and delectable chocolate chips. Chocolate Peanut Butter Surprise's mixture of these two flavors is just as delicious as a peanut butter cup!
56. Cranberry Jalapeno Cookies - Everybody loves cranberries around the holidays, but jalapenos?! Make these cookies for a holiday experience you won't soon forget!
55. Scandinavian Gilded Butter Cookies - The name is no exaggeration. These cookies are actually brushed with gold dust! This dessert is truly like no other you have ever tried.
54. Date Pinwheel Cookies - Use dates to put a holiday stamp on cheerful pinwheel cookies. These ones are tasty!
53. Brittle Peanut Cookies - Peanuts and more peanuts! This winter recipe is for nut-lovers only.
52. Thumb Print Jelly Cookies - Make your mark with Thumb Print Cookies! In this recipe, the imprint created by your thumb is filled with tasty jelly.
51. Giant Double Chocolate Chip Cookies - Got giant appetites to please? Try Giant Double Chocolate Chip Cookies!
50. Death by Chocolate Cookies - To enjoy these cookies, it helps to be insane, a chocoholic, or both! Kids will love making Death By Chocolate Cookies.
49. Cream Cheese Refrigerator Cookies - Buttermilk and cream cheese add a tangy, bittersweet flavor to this holiday dessert. Cream Cheese Refrigerator Cookies are great on winter nights when you're tired of chocolate and oatmeal.
48. A Semi Sweet Triple Chocolate Cookie - These amazing triple chocolate cookies are so delicious. With semi-sweet chocolate chips, Hershey Kisses and cocoa, you can make a great batch of cookies. This recipe makes about 4 dozen cookies.
47. Alfajores - South American Butter Cookies - These alfajores are a favorite South American pastry. Enjoy some yourself for a snack, an afternoon tea, or a special dessert.
46. Almond Bark Drop Cookies - These sweet treats are reminiscent of the crispy rice and marshmallow treats so many of us loved as children. This quick and easy recipe is a natural for children to help make - no baking required!
45. Almond Crisps with Amaretto-Glazed Almonds - Hey almond lovers! Here is a quick recipe for delicious sugar cookies that pack a huge almond flavor punch in every bite!
44. Almond Diamonds - Impress your guests with almond diamonds - an elegant take on the eternally yummy almond cookie.
43. Almond Kiss Cookies - The perfect ending to a romantic homemade dinner for two, or a scrumptious dessert for the whole family. Everyone will love the sweet chocolate kiss drizzled with heavenly raspberry glaze!
42. Almond Wafers - For a flaky and delicious dessert, try these almond wafers that pair well with an after-dinner cup of coffee or atop a heavenly ice cream sundae!
41. Amazing Vanilla Wafers - Vanilla Wafers were my favorite cookie growing up and they still are to this day. This is such a great cookie recipe. It's quick and easy too.
40. Apple Half Moon Cookies - Half moon cookies are so adorable that kids love them and so sophisticated in flavor that they are an adult favorite too! These cookies can help you cut calories by using sour cream and apple sauce but they are moist and delicious.
39. Banana Chocolate Chip Cookies - If you like chocolate covered frozen bananas, then you're in for a real treat with these banana chocolate chip cookies - they are sweetly evocative of the frozen confection, yet are warm and chewy. Perfect baking for a cold, rainy day...or a sunny one!
38. Applesauce and Oatmeal Cookies - These Applesauce and Oatmeal Cookies are so light and healthy that you can't eat them as granola bars for breakfast. Crumble them in your yogurt or heat them as an ice cream topping for dessert.
37. Banana-Date Oatmeal Cookies - If you have to slim down for a date, throw some dates into your cookies! These Banana-Date Oatmeal Cookies are naturally sweetened with the bananas and dates, so these healthy cookies still taste great.
36. Candy Cane-Shaped Cookies - Just in time for the holidays, we've got Candy Cane-Shaped Cookies! Liberal douses of red food coloring makes these cookies as beautifully colored as a Red Velvet Cake.
35. Carrot-Peanut Butter Cookies - As a kid, you probably refused your carrots and demanded a cookie instead; if only you knew then what you know now! Carrot-Peanut Butter cookies strike a delicious balance between taste and nutrition.
34. Moravian Brown Sugar Christmas Cookies - These hearty Eastern European Christmas cookies are rich, filling, and sugary-sweet. Note: This recipe makes quite a few cookies, so have your sweet tooth at the ready!
33. Peppermint Candy Cane Cookies - Use peppermints to give these cookies real candy-cane flavor. The kids'll go crazy for this ultra-sweet dessert!
32. Chocolate Star Cookies - Here's an edible topper for the Christmas tree. Each one of these Chocolate Star Cookies has a candy star at its center.
31. Chocolate Banana-Oat Cookies - These cookies are a triple threat! Oats add a wintry flavor to sunny, summery chocolate chips and banana.
30. Easy Orange Cookies - Zesty Easy Orange Cookies uses real orange peel. This recipe is exceptionally fast and delicious.
29. Crunchy Pecan Bars - Try pecan bars if you're tired of the same old cookie shape. This delightful recipe has just the right amount of sugary crunch.
28. Afternoon Tea Cakes - For a delightful spin on traditional afternoon tea cakes, try this yummy, chocolate-y variation. With a taste similar to macaroons, these quick and easy to make tea cake recipe will please even the most discerning eater.
27. Christmas M&M Cookies - Here's our favorite recipe for this beloved and simple classic. Use green and red M&Ms for the holidays.
26. Austrian Butter Nut Cookies - Crispy-crunchy Butter Nut Cookies will have you begging for more! Try these Austrian delicacies with a cool glass of milk.
25. Chocolate Snow Cap Cookies - These fabulous cookies bake into peaks - dust the cracked peak with powdered sugar to create the appearance of a snow cap. Delicious AND creative!
24. Hungarian Angel Wing Cookies - These savory-sweet cookies add a unique twist to traditional deep-fried sweets. Who knew such craftsmanship could go into a cookie?
23. Big Soft Sugar Cookies - Can't get enough of a good thing? These sugar cookies are for you!
22. Cream Cheese Butter Cookies - Raspberry jam cuts the creamy texture of these butter cookies. Try savory-sweet Cream Cheese Butter Cookies tonight.
21. Iced Pumpkin Cookies - No matter the season, pumpkin cookies are always appropriate. Whip up some icing to top these off.
20. Self-Frosting Christmas Anise Cookies - A fantastic name for a fantastic sweet. Try these low-preparation cookies this Christmas - their almost savory flavor will surprise your guests, and be a welcome change from chocolate or oatmeal cookies.
19. Choco Coco No Bake Cookies - Craving chocolatey cookies but don't want to turn on the oven? Try these yummy Choco Coco cookies - no need to bake!
18. Chocolate and Peanut Butter Easy Cookies - You probably remember the old commercial about getting your chocolate in someone else's peanut butter. Well, these delicious cookies take the chocolate and peanut butter combination to the next level. So good!
17. Chewy Chocolate Pumpkin Cookies - These chewy chocolate pumpkin cookies are one of our favorite pumpkin recipes. Pumpkin cookie recipes are always good, but chocolate makes them even better!
16. Chocolate No Bake Cookies - Fun and easy oatmeal chocolate no bake cookies, great for a last minute dessert for the whole family!
15. Chocolate Oatmeal No Bake Cookies - For some tasty, chocolatey - and peanut buttery - cookies, try these delicious no bake cookies. They will vanish from your table even faster than the time it takes to make them!
14. Almond Fudge Crumbles - These delectable fudgy treats are the perfect dessert to serve at your next gathering. Create this sophisticated cookie in your own kitchen and your friends will be asking for more!
13. Almond Glazed Sugar Cookies - Take a classic sugar cookie up a notch with a sweet almond glaze! Simple yet sensational.
12. Almond Lace Rolls - Looking for a way to make your cookies stand out in the crowd? Try rolling them! This recipe makes for a yummy twist on the classic almond cookie.
11. Blueberry Filled Cookies - Blueberry filled cookies are an amazing recipe. Putting pie filling into a cookie just makes it a fun time. These make for great Christmas cookies when you have all your guests over.
10. Cocoa Peanut Butter Cookie Mix - Cocoa adds some zing to a traditional peanut butter cookie recipe. Try this tasty chocolate twist on peanut butter cookies!
9. Cocoa Snowflakes - Grab the kids and make a yummy, chocolatey dessert that everyone will love! These cocoa snowflakes are perfect for Christmastime...or any time you feel like a fun cookie.
8. Coconut No Bake Cookies - Coconut lovers, rejoice! Finally, here's a recipe for mouthwatering coconut cookies, no baking required. Hallelujah! You can make 'em fast and share them with your friends and family.
7. Dreamsicle Cookies in a Jar - Taking the name--and flavors--of a cool summer treat, these cookies are punched up with vanilla baking chips and a burst of citrus. Layered and decorated with a pretty gift tag, Orange Dreamsicle Cookies In A Jar are perfect "just-because" gift.
6. Easy No Bake Cookies - Everyone loves cookies, and they're even better when they're easy to make. This recipe calls for just one pot - and no baking - so stir up a batch and enjoy!
5. Grandma's Peanut Butter Cookies - Delicious, rich peanut butter cookies, just like your grandma used to make. Try these peanut butter cookies today.
4. Lemon Macaroons - Betty Crocker's delicious lemon cake mix isn't just for cake. I use it to make these awesome macaroons - my whole family loves them, and you will too!
3. Handmade Oatmeal Cookies - Warm and comforting oatmeal cookies, just like your mom used to make. These cookies are perfect with a cool glass of milk on a snowy winter evening.
2. Macadamia Nut White Chip Pumpkin Cookies - White chocolate and macadamia have long been companions in cookies, but with recipes for Libby's canned pumpkin like this one, those cookies get even better! Pumpkin recipes are naturally good, and how can you beat cookies with ingredients as yummy as these?
1. Moist Devil's Food Cookies - There's nothing devilish about these Moist Devil's Food Cookies. Don't feel bad about enjoying this chocolaty treat.
0. Oatmeal Peanut Butter Cookies - This is one of the best peanut butter oatmeal cookies out there. This recipe is a more health-concious alternative to plain peanut butter cookies, which can be buttery and greasy.
Free recipes, giveaways, exclusive partner offers, and more straight to your inbox!
Your Recently Viewed Recipes
Images from other cooks


Report Inappropriate Comment
Are you sure you would like to report this comment? It will be flagged for our moderators to take action.
Thank you for taking the time to improve the content on our site.

Something worth saving?
SAVE your favorite recipes
ADD personal notes
GET fast cooking tips