Reduce Anxiety and Stress: 11 Mood Boosting Recipes
Eat these yummy recipes packed with omega 3s, magnesium, serotonin boosting ingredients, and more to combat stress and anxiety.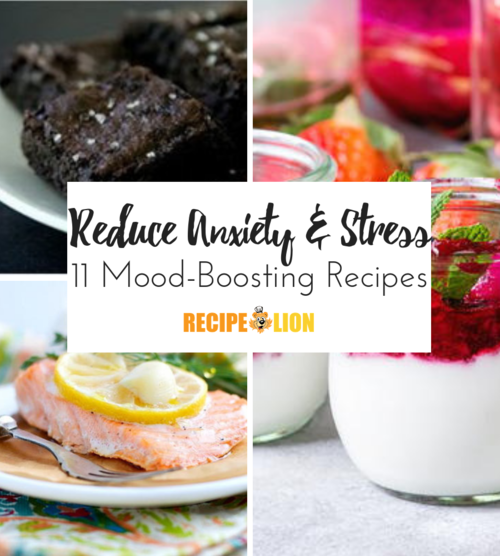 What you do and do not put in your body can actually have a huge impact on how you feel. Just like junk food can make you feel sick and lethargic, it can actually have an impact on your mental health, as well. Certain ingredients will help boost your mental health by doing things like promoting better sleep and helping to produce more serotonin, a brain chemical that boosts your mood and cognition.

That's why we have collected this list of recipes that use ingredients proven to relieve anxiety and boost your mood. These recipes are packed with nutrients like omega-3s, magnesium, choline, and more. We've all been told to drink milk to strengthen our bones and chomp on carrots for our eyes. Now, it's time to start eating foods that support your mental health, too!

About Anxiety and Stress
Anxiety and stress are some of the most common mental disorders in the United States. In fact, nearly 18.1% of Americans suffer from anxiety some time in their life. Anxiety is a feeling of restlessness, anxiousness, or general unease. This can be brought on by a disorder like generalized anxiety disorder or social anxiety. It can also be created by stressful situations in your work or home life. Whether your anxiety is a longtime issue or you're suffering from situational anxiety, eating right is one of the best things you can do to help treat or dull the impact of anxiety in your day to day life.

Note: This list was created in order to provide some yummy and healthful recipes. If you are suffering from anxiety, we highly recommend seeking professional help. A mental health professional is really your best bet for combating anxiety. 
What other ways do you combat anxiety?
Your Recently Viewed Recipes
Join our community of 5 million cooks!
Get free recipes, exclusive partner offers, and more.
Thank You for Signing Up!
There was an issue signing you up. Please check your email address, and try again.