Flavoring Homemade Yogurt: 15 Delicious Ideas
Dig into these tips for how to sweeten homemade yogurt, how to add fruit flavoring, and more!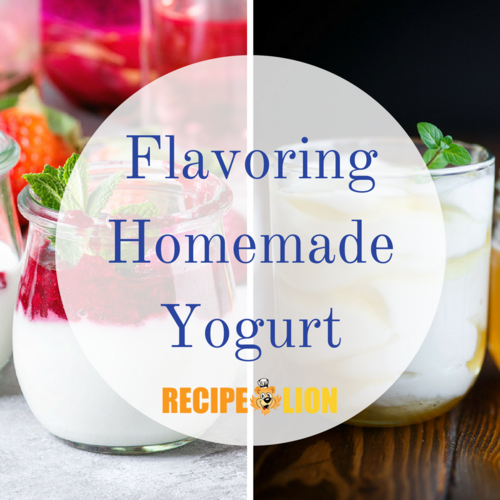 Making your own yogurt at home can be a great way to incorporate more natural foods into your diet. When you make your own yogurt, you can omit any artificial colors or flavors. You can also control the amount of added sugar, which can be quite substantial in store bought yogurt. Some brands of yogurt contain as much sugar as a Twinkie!

However, you may be wondering how exactly to flavor your homemade yogurt. Even if you want less sugar, you probably don't want to eat plain yogurt (at least not all the time). That's where these ideas for flavoring homemade yogurt come in!

We have some great recipes for adding fruit, honey, and other delicious toppings to your yogurt. We even have a few ideas for making savory yogurt. If you've never tried this trend, you might find that you really like it!

Keep reading for some of our favorite toppings for homemade yogurt.
How to Sweeten Homemade Yogurt
Many of us like yogurt to be at least a little sweet. Even if you decide to add additional flavors like vanilla extract or cinnamon, a little bit of sweetness is a great place to start.

Add one of these options to sweeten 1 cup of plain homemade yogurt. Add these sweeteners after yogurt is already cooked and cooled.
Stir in 1-2 TBSP of honey, pure maple syrup, or agave. If you're cutting down on sugar, start with less and add more to taste.
Stir in 1-2 TBSP of sugar or brown sugar.
Once you have the yogurt sweetened to your taste, you can add additional flavors like vanilla, almond, and cinnamon if you want to. There are so many yummy options. You can also add these flavorings without incorporating any added sweetener, if you'd prefer.
1/2 tsp of vanilla extract
1/2 tsp of almond, orange, or lemon extract
1/2 tsp of instant espresso powder
1 TBSP of cocoa powder
Adjust any of these measurements to taste as needed!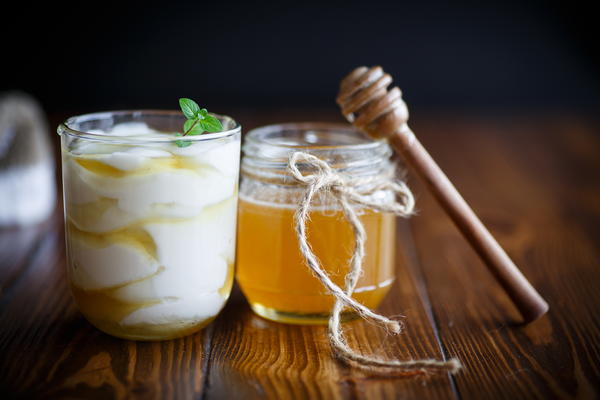 When to Add Sugar to Homemade Yogurt
You'll notice that the recipes above are for adding flavoring to yogurt that's already been made and cooled. This is a great option for flavoring your homemade yogurt.

There's no issue with the flavoring interfering with the culturing process, and everyone in your house can have the flavors of yogurt that they want. Best of all, you can use these flavoring options to add flavor to store bought plain yogurt, too!

However, it can also be nice to make a batch of homemade sweet yogurt. That way, you don't have any extra steps after your yogurt is already made.

If you're adding sugar or vanilla to homemade yogurt during the cooking process, you should add it when you add the yogurt culture. 

Try adding 1 cup of sugar and 1 TBSP of vanilla per gallon of milk. If you like your yogurt to be sweeter, adjust it up to 1 1/2 cups. If you prefer it to be less sweet, stick with 1/2 cup of sugar. You can also try sweetening with honey, maple syrup, or agave nectar.
How to Add Fruit to Homemade Yogurt
Store bought yogurt often features fruit flavoring of some kind. Whether you like fruit on the bottom yogurt, fruit-flavored yogurt, or one of the other fruity options, the good news is that you can make all of these at home!

Add one of these options to sweeten 1 cup of plain homemade yogurt. Add these sweeteners after yogurt is already cooked and cooled.
Stir in 1 TBSP of fruit jam or jelly (or place it at the bottom of your cup of yogurt). Adjust the amount of jam to taste. You could also try lemon curd or lime curd here!
Stir in 1/4 cup of fresh blueberries or raspberries. Fresh sliced strawberries, peaches, mango, or kiwi would also be delicious!
Stir in 1 TBSP of fruit pie filling, such as cherry, peach, or or apple. For an extra treat, top with graham cracker crumbs!
Stir in 1/2 TBSP of blueberry syrup, strawberry syrup, or similar. Adjust to taste as needed.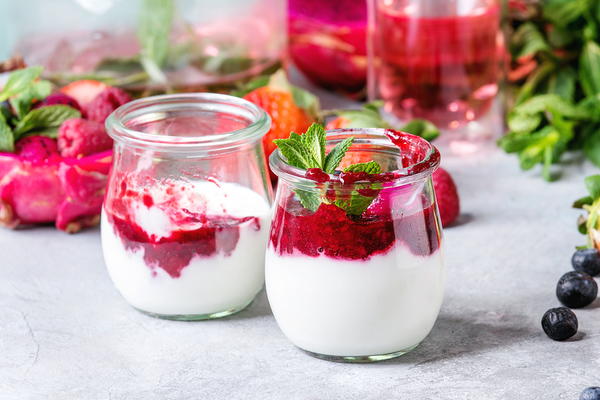 Savory Yogurt Toppings
Most of us tend to think that yogurt has to be sweet. But, many people enjoy savory toppings for yogurt! One of the best parts about enjoying savory yogurt is that get get all the benefits of yogurt (protein, probiotics, etc.) while cutting down significantly on sugar. Try it for yourself with one of these recipes!

Add one of these options to sweeten 1 cup of plain homemade yogurt. Add these sweeteners after yogurt is already cooked and cooled.
Add 1 TBSP of olive oil, a pinch of flaky sea salt, and some cracked black pepper.
Using this as a base, consider adding 1 TBSP of chopped kalamata olives, a little bit of chopped cucumber or tomato, or a sprinkle of toasted sesame seeds!
Instead of the olives and cucumbers, you could try roasted vegetables. A few pieces of leftover roasted sweet potato would be delicious, as would caramelized onions.
Additionally, feel free to add toppings like tahini, harissa paste, or your choice of spices.
What are your favorite ways to flavor homemade yogurt? Let us know in the comments below!
Your Recently Viewed Recipes
Join our community of 5 million cooks!
Get free recipes, exclusive partner offers, and more.
Thank You for Signing Up!
There was an issue signing you up. Please check your email address, and try again.