How to Make Stuffed Peppers: 24 Easy Stuffed Bell Peppers
Look out below for some of the best stuffed peppers recipes including vegetarian and rice-free options!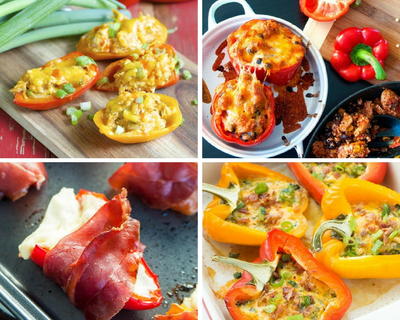 These stuffed peppers recipes will give you plenty of variety so you'll never be bored. From the classic ground beef stuffed bell peppers with rice to Mexican-style stuffed peppers with taco seasoning, vegetarian stuffed bell peppers, and even healthier chicken and turkey stuffed green peppers recipes, this list has it all. Have you always thought about making this tasty dish but need some direction?

Don't worry, we've included a step-by-step recipe that will show you how to make stuffed peppers perfectly every time. Easy stuffed bell peppers are sure to become a family favorite meal in no time once you've tried a few versions and landed on a winner.

Do you have a favorite stuffed peppers recipe? Tell us about it in the comments section below!


Check out this BONUS VIDEO to show you another amazing way that you can use bell peppers for breakfast with this bell pepper ring recipe!
Table of Contents
Easy Stuffed Bell Peppers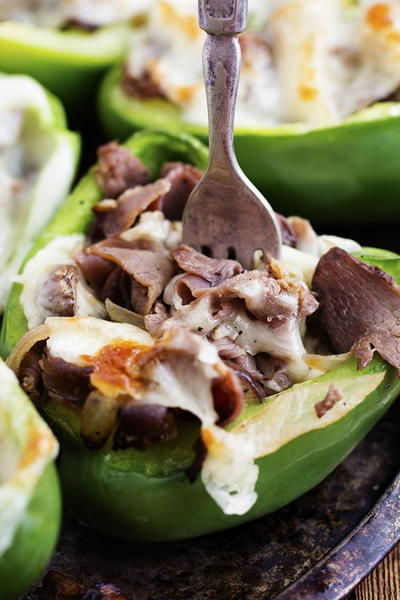 Learning how to make stuffed peppers will be the most fun you've had in the kitchen. With the delicious and versatile recipes below, dinner will be a treat. From stuffed peppers with chicken and ground turkey to peppers with steak and ground beef, the possibilities are endless. Check out a few of our favorites from the list below, including the Philly Cheesesteak Stuffed Sweet Peppers and the Taco Stuffed Peppers!

Want to create your own stuffed pepper recipe?
Designing your own stuffed pepper recipe is actually pretty easy! If you love peppers but don't love any of the ingredient combos below, consider creating your own! When making recipes like the ones listed below, you will generally want to preheat the oven between 300 and 400 degrees. Stuffed peppers should bake about 30 minutes, but make sure to keep an eye on them.
 
Stuffed Peppers without Rice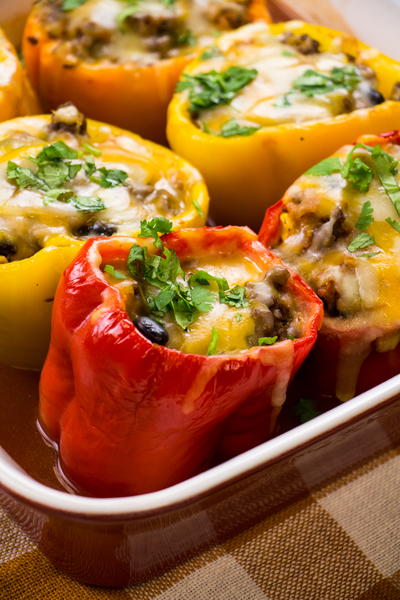 Sometimes you just don't want any rice in your meal and these recipes for stuffed peppers without rice are going to save the day. Many of the recipes below will show you how to make stuffed peppers as appetizers for a party and don't include any rice. We'd recommend the Buffalo Chicken Stuffed Sweet Peppers for a game day party, and the ​Prosciutto Wrapped Stuffed Peppers are great for a New Year's Eve celebration or even a Mother's Day brunch.

Why avoid rice?
Rice, especially white rice, is a little controversial when it comes to healthy eating. Oftentimes, it can be used as a source of empty calories. Eating rice will fill you up, but it doesn't come with a lot of nutrients. This is why it can be much healthier to avoid using this ingredient in yummy recipes like these ones, especially when making appetizers. You don't want to fill your guests up before the main course!
Stuffed Peppers without Meat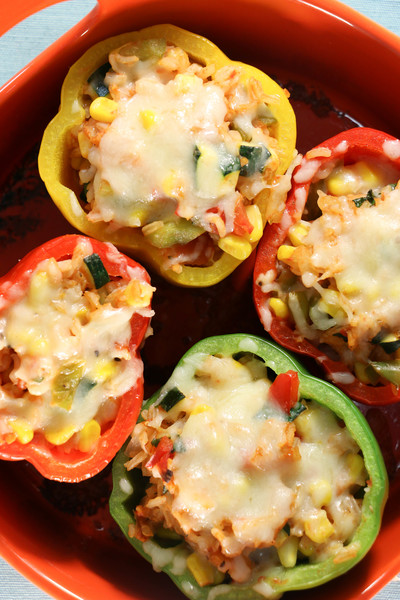 If you're worried that a stuffed pepper recipe without meat won't have any flavor or pizzazz, you'd be dead wrong. We've collected what we think are some of the best vegetarian stuffed bell pepper recipes out there, and we hope you'll try a couple out for yourself and let us know if you agree! Are you honestly going to turn down a cheese and broccoli stuffed pepper recipe or one stuffed with macaroni and cheese? Yea... didn't think so.

Pro Tip: If you want to avoid meat but you still want to get a tasty protein option in your meal, try including a marinated tofu, black beans, or an egg scramble. Did you know tofu has 10 grams of protein per a 1/2 cup serving (125g)? It has a much lower fat content than ground beef too. Try a healthier meal one night this week. You might find you really like the change!
Tips for Making the Best Stuffed Peppers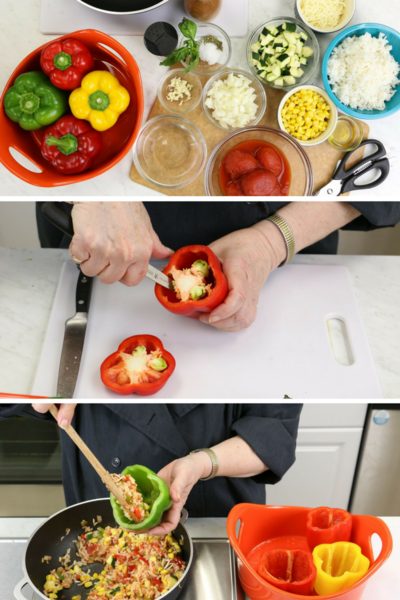 1.  Leftovers are welcome! This was a dish that came to be as a means of using up leftover everything, so don't be shy! Whatever combination of starches, proteins, sauces, etc., you feel like combining will usually work. We'd recommend white or brown rice, ground beef, tomato sauce, and shredded Mexican blend cheese if you've never made this dish before, as this recipe is a classic, but dare to be bold.

2.  Par-cook your peppers. What does par cook mean, you ask? Great question! Par-cooking refers to the technique of partially cooking foods with the intent to cook them the rest of the way later on in the preparation. There are two main reasons for doing this. First, it allows the food to be prepared ahead of time and second, the food can be quickly heated prior to serving.

3. Decide how to use your tops. Some recipes will suggest you keep the tops of your peppers to use as lids, but we'd recomend dicing up your pepper tops and throwing them into your filling mixture. Doing this, you will keep your peppers from overcooking or drying out by allowing moisture to escape.

4. Make ahead. Stuffed peppers can be stuffed and refrigerated up to 1 day in advance. If you choose to prepare them ahead of time, add 10 minutes to your total baking time.

5. Storing your leftovers. Store any leftovers in an airtight container. They will keep refrigerated for up to 4 days.
Your Recently Viewed Recipes