How to Make Stuffed Peppers
This basic recipe will show you exactly How to Make Stuffed Peppers in no time at all. This easy dinner recipe is one that your family is sure to ask you to make over and over. It's simple to create and tastes delicious.
Made with seasoned ground beef, rice, onions, carrots and a bit of shredded cheese, this meal makes for an easy way to serve dinner regardless of your time or busy schedule. Below, we'll show you exactly what you'll need to assemble your stuffed peppers, and the steps to bring your meal from the oven to your plate and everything in between.
With this how-to guide, you'll have a go-to stuffed peppers recipe that is sure to become a family favorite in no time.
How to Make Stuffed Peppers: A Basic Recipe
What You'll Need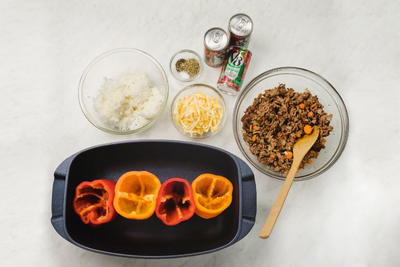 4 bell peppers (We chose red and orange. Green is fine too)
1 pound ground beef
1/2 medium onion, diced
1 small carrot, diced (optional; you can also chop up the tops of the peppers and throw them in the mix)
1 teaspoon Italian seasoning
salt and pepper to taste
2 cups Italian cheese blend, separated
3 (6-ounce) cans original V8 juice
2 cups white rice, cooked and cooled
Instructions
Preheat oven to 350 degrees F.
Slice the tops off the peppers and clean out the insides. Place in an oven safe pot.
Brown ground beef in a skillet with onions and carrots. Season with salt and pepper. Drain any excess fat.
Set aside and allow to cool slightly.
In a large bowl, mix browned meat, rice, 1 can of V8 juice, and Italian seasoning. Add 1 cup of the cheese blend.
Evenly spoon mixture into each of the peppers. Top with remaining cheese.
Pour remaining two cans of V8 around the outside of the peppers in the pot. Cover with a lid or aluminum foil.
Bake for 15-20 minutes, until peppers are soft and the cheese is bubbly.
Serve with additional sauce from the pan.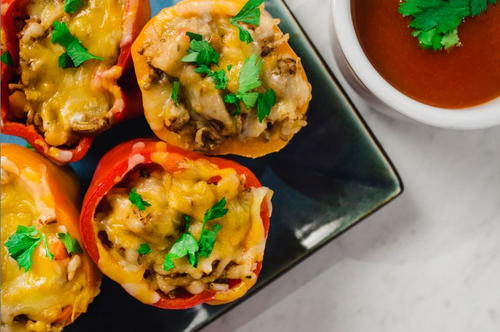 For a few more variations on this recipe, we're including some of our other favorite stuffed peppers recipes. In case your family just can't get enough of this delightful recipe, you certainly don't want it to grow old. With these 6 additional stuffed peppers recipes, you'll be the expert in how to make stuffed peppers of all kinds come dinner time and beyond. These recipes are great to have on hand when you want to serve something at a potluck or party because many of them are easily made meat and gluten free for anyone with allergies or dietary preferences. You can even skip stuffing the peppers all together and simply make the rice and ground beef mixture with whatever veggies your heart desires. It makes an easy and flavorful side dish and it also would go great in a casserole. Get creative with these stuffed pepper recipes!
1. Rice And Vegetable Stuffed Peppers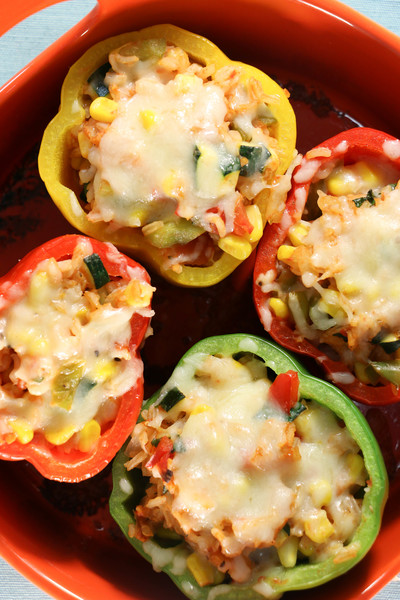 As delicious as these stuffed peppers are, you won't miss the meat! But if you're one of those people that needs or enjoys meat in every meal, it's super simple to add ground beef or turkey to this recipe. Make a batch of these easy stuffed peppers next time you're wondering what to make for dinner - you won't be sorry!

2. One Pan Unstuffed Bell Peppers


Stuffed peppers are delicious, but making them can be time-consuming. An easier way to enjoy them is to simply "unstuff" them. One Pan Unstuffed Bell Peppers is a much easier recipe to follow. It has all of the essential ingredients - bell peppers, ground beef, and rice - so the result tastes the same. Cooking everything in one pan allows the ingredients to incorporate beautifully, not to mention it makes clean up easier.

3. 3-Ingredient Grilled Stuffed Peppers with Pulled Pork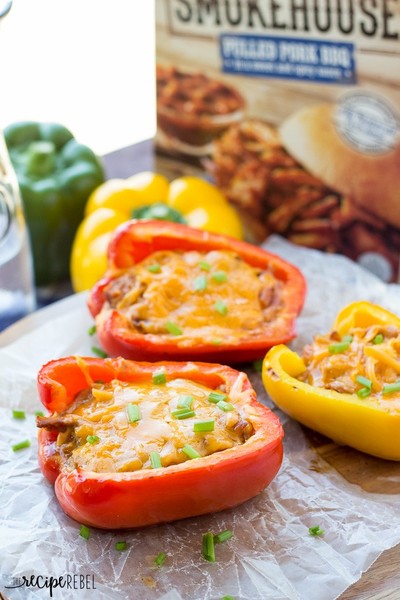 Grilling couldn't get any easier with the help of these 3-Ingredient Grilled Stuffed Peppers with Pulled Pork. This stuffed pepper recipe will complement your Saturday night perfectly, with its savory pork center, grilled pepper shell, and melted cheese topping. You will have to prepare these 3 ingredients before grilling—but it's well worth the time investment.

4. Southwestern Stuffed Peppers with Chicken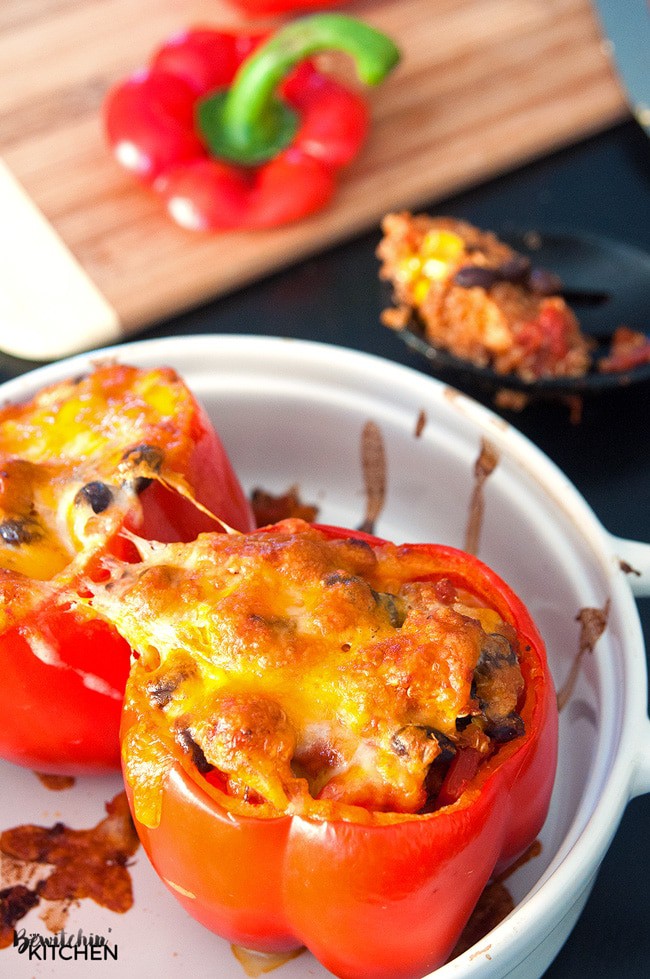 You'll fall in love with these easy and healthy Southwestern Stuffed Peppers with Chicken. It makes a great meal that the whole family will enjoy and will cure your craving for Southwestern-style food in a hurry. Chicken is a great alternative to beef and not any less hearty or flavorful.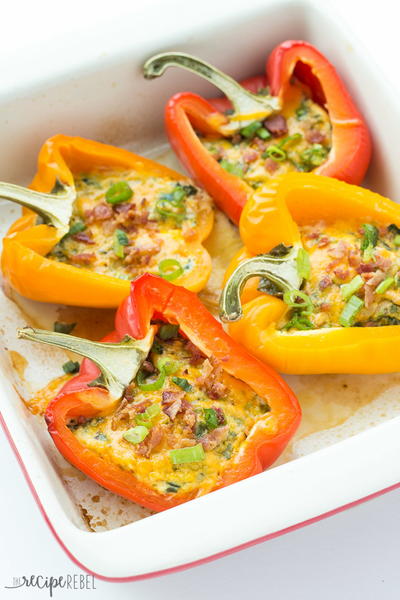 Breakfast Stuffed Peppers with cheese, bacon, and spinach (or use whatever fillings you like!) are easily cooked in the oven or the slow cooker. This recipe is great of any meal of the day and packs a punch pf protein like you wouldn't believe. Get ready to bring something new to the table with this delicious stuffed peppers recipe.

6. Philly Cheesesteak Stuffed Sweet Peppers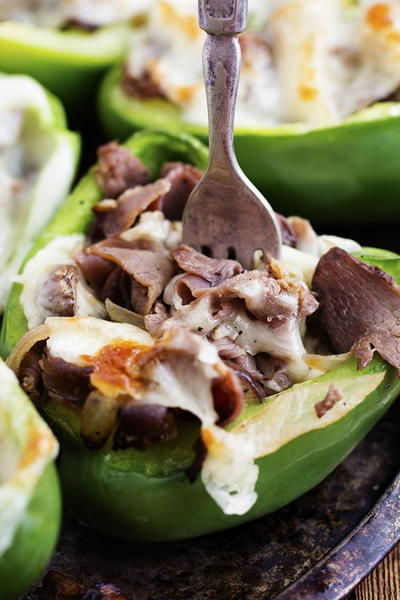 If you love eating Philly Cheesesteak Sandwiches, then you will love this easy dinner recipe for Philly Cheesesteak Stuffed Sweet Peppers. It's the same great taste of Philly Cheesesteak that you love, but instead of being served on bread, this meat and cheese mixture is served in a sweet green bell pepper. You might think this stuffed bell pepper-Philly Cheesesteak hybrid is complicated to prepare, but it's actually incredibly easy!
Your Recently Viewed Recipes
Join our community of 5 million cooks!
Get free recipes, exclusive partner offers, and more.
Thank You for Signing Up!
There was an issue signing you up. Please check your email address, and try again.