20+ Quick & Easy Hawaiian Recipes
Make these easy Hawaiian recipes for potluck events, dinner, dessert, or anytime!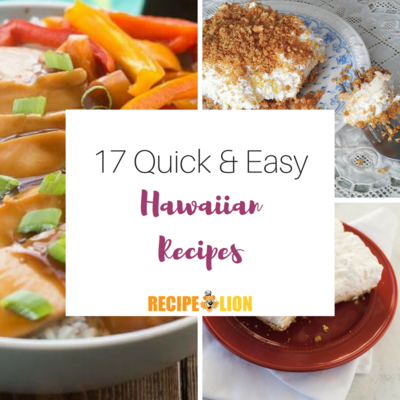 Are you a fan of all things coconut, pineapple, and generally island-related? Or are you in the mood for vintage recipes from one of the best retro party trends ever?

Whether you're throwing a luau party or are ready for some Hawaiian recipes from yesteryear, tropical recipes are always a hit. We've compiled a list, so you'll never run out of delicious ideas. Take a culinary trip to the islands with super easy tropical cakes, pineapple pies, quick chicken recipes, and more.

Although the dishes are loaded with flavor, they couldn't be easier to make. Simple grilled chicken is transformed into a deliciously marinated meal, and cakes and pies get a tropical makeover with these easy recipes.

Many of them require few ingredients and little time, but turn out so well that everyone will be asking how you made them (while you hand them another umbrella drink, that is!). Channel your tropical side with these quick and easy recipes today! The combinations of flavors will make it easy to imagine yourself under a palm tree.

Sign Up for Free Recipes
Table of Contents
Best Hawaiian Recipes for Dinner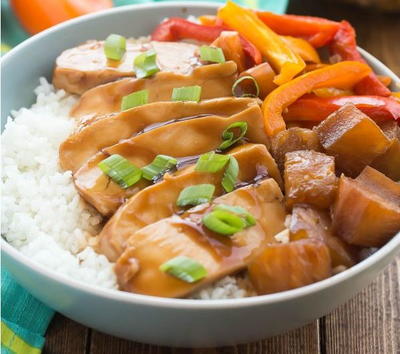 If you're looking for a quick chicken or pork recipe for dinner, these savory and sweet easy Hawaiian recipes may become your new favorite. Transform a plain chicken breast into one with flavors of soy sauce, coconut milk, and more. If you're a fan of pork, try our slow cooker Hawaiian ribs recipe, which is especially great during the summer because you won't heat up the house.

These recipes are also perfect if you need an easy Hawaiian recipe for potluck events. You can make one of these dishes in a flash and take it over to your fun tropical or retro recipe themed party!
Tropical Dessert Recipes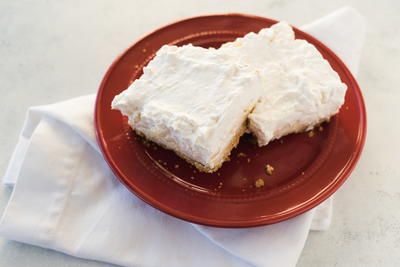 Hawaiian recipes make us think of summer, and nothing's better during the summer than a cool, creamy tropical dessert. Many of these easy dessert recipes use ingredients like pineapple, Cool Whip, and coconut to make delectable cakes, pies, and other sweet treats. These ingredients are perfect for any tropical-themed party, and for many of us they'll inspire a trip down memory lane. Vintage dessert recipes like this never go out of style.
Your Recently Viewed Recipes