Dude Ranch Beans
This retro baked beans recipe is a little wild... in a good way!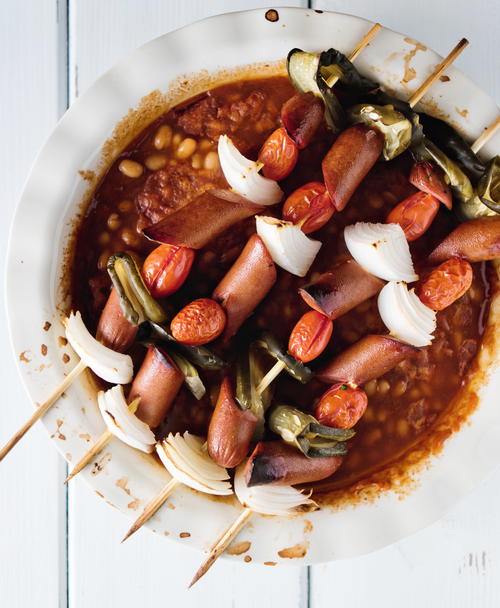 Dude Ranch Beans
This recipe for Dude Ranch Beans is a dish that will surprise you in the best way, with its easy prep and big flavor. You might almost feel like a Wild West outlaw, because a filling dinner shouldn't be allowed to be this easy! You'll simply use your favorite canned pork and beans, plus finger-food-friendly skewers of hot dogs and vegetables, to create this dinner. It's easy enough for any weeknight, but it's also fun enough for a weekend meal down home with family and friends.

From the Chef: Dude ranches were the epitome of cowboy culture in the early twentieth century, and no food embodies the Wild West more than classic pork and beans. Cowboy Westerns filled the airwaves in the '50s, and kids grew up dreaming about the freedoms of living out west. While more sophisticated dishes might be reserved for the adults, the kids would live out their cowboy fantasies with "real Western food" like beans and hot dogs.
- Addie Gundry

This recipe is from RecipeLion's 103 Cookbook series, Retro Recipes from the '50s and '60s: 103 Vintage Appetizers, Dinners, and Drinks Everyone Will Love.
Serves4
Ingredients
2 (15-ounce) cans pork and beans in tomato sauce
1 pound hot dogs
1 onion, cut into eighths
1 cup cherry tomatoes
8 thick slices dill pickle
Instructions:
Preheat the oven to 400°F. Coat an 8 x 8-inch baking dish with cooking spray.

Pour the pork and beans into the baking dish.

Cut each hot dog into 1-inch pieces slightly on the diagonal. Thread eight 6-inch wooden skewers with alternating items: hot dog, onion, tomato, and pickle.

Lay the skewers over the beans in the baking dish and bake for 30 minutes. Serve.
Your Recently Viewed Recipes