28 Must-Have Easy Picnic Recipes eCookbook
Summer is here and that means plenty of picnics. With so many great ideas out there for a picnic, how do you figure out what you want? Focus on the easy picnic recipes of course! This free eCookbook of 28 Must-Have Easy Picnic Recipes has everything you need to create the perfect picnic with the most delicious food.


Though some picnics might include food for the grill, not everybody has access to a grill. Plus a real picnic is everything one can fit in a picnic basket! Hence deli salads, sandwiches, fruits and simple desserts. This collection of easy picnic recipes is perfect; not only does it have a little bit of everything, the recipes are simple and budget-friendly too. Whether you're a potato, pasta, tuna or chicken salad fan, or if you're looking for fruit and veggie dishes, this collection has everything you need. Plus a few easy-to-make dessert recipes that fit in perfectly for any picnic.


Be sure to save this easy to download 28 Must-Have Easy Picnic Recipes eCookbook so you can use it all summer and next year too.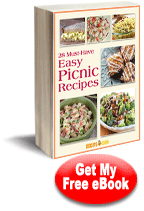 Click here to download 28 Must-Have Easy Picnic Recipes for free!
28 Must-Have Easy Picnic Recipes eCookbook
Table of Contents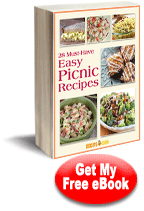 Click here to download 28 Must-Have Easy Picnic Recipes for free!
Delicious Deli Salads and Sandwiches
Deli salads and sandwiches are a staple of easy picnic recipes. You can't go on a picnic without pasta salad, potato salad and the like, so we've rounded up some of our best dishes for you to make and bring along to the picnic to share. Whether it's macaroni salad, coleslaw, egg salad or chicken salad that you crave, you're sure to find something to satisfy you and your crowd in this collection of crave-worthy deli salad recipes.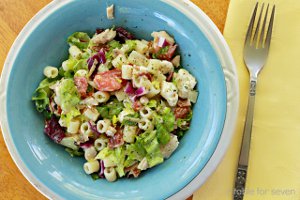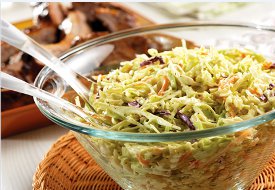 Picnic Pasta Salad (page 7) - Forget about those boring store-bought pasta salads. Make your own fresh and flavorful tortellini salad, loaded with vegetables. This is the perfect summer recipe.

Classic Egg Salad Sandwich (page 10) - Sometimes nothing beats the taste of a classic, homemade egg salad sandwich. This version has all the traditional ingredients: hard-boiled eggs, onion, celery, mayo and mustard.

Ranch BLT Pasta Salad (page 14) (shown above, top right) - Ranch salad dressing, Swiss cheese, red onion, bacon and more make this a standout deli salad recipe if we ever saw one! This isn't one of your ordinary easy picnic recipes, and one bite will show you why!

American Potato Salad (page 16) - There's nothing more classically "American" than potato salad, except for apple pie, perhaps. When you want to make the best potato salad recipe on the block, this easy version is your best bet!

Best Chicken Salad Ever (page 19) - Not only is this the best chicken salad ever, it's the easiest, too! With just 5 basic ingredients (plus salt and pepper, if you want), it's quick and simple, and is perfect for your next picnic or party.

Chicken Chopped Salad (page 20) (shown above, left) - Bacon, purple cabbage, cooked pasta, Gorgonzola cheese and more go into this loaded chopped salad recipe that's great for a crowd.

Shortcut Coleslaw (page 23) (shown above, right) - Just two simple steps are all it takes to throw together this in-a-jiffy easy coleslaw recipe. What a breeze!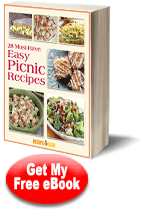 Click here to download 28 Must-Have Easy Picnic Recipes for free!
Vegetable and Fruit Salads
Mom always said to eat your fruits and veggies, and what better way than with some delicious vegetable and fruit salad dishes? In this section of our collection of 28 Must-Have Easy Picnic Recipes, we've rounded up the best of the best in broccoli salad recipes, fruit salad recipe and so much more. So come take a peek and see what healthy side dishes you can bring along to your next picnic or potluck!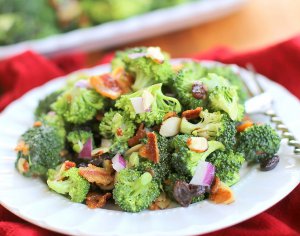 The Best Broccoli Salad (page 34) - Summer is the perfect time to whip up a quick and easy broccoli salad. So you will definitely want to try The Best Broccoli Salad, a hugely popular dish that wins over every time.

24-Hour Vegetable Salad (page 35) - This loaded salad is great because it can be prepared well ahead of time and then stored in the fridge until you need it. Pack it along for your next picnic for a healthy yet filling side to your meal.

Fresh Fragrant Fruit Salad (page 36) - What an amazingly tasty fruit salad this dish is! You simply can't go wrong with this fresh fragrant fruit salad. Not only does it taste fantastic but its aroma is mouthwatering!

Very Best Broccoli Salad (page 40) (shown above) - With loads of bacon and onion and a creamy sauce made from mayonnaise and red wine vinegar, there's no way you can go wrong with a broccoli salad recipe like this one. Yum!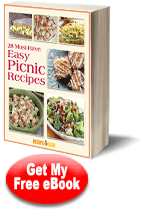 Click here to download 28 Must-Have Easy Picnic Recipes for free!
Easy Picnic Dessert Recipes
Dessert is often said to be the best "meal" of the day, and that goes for picnics too! When you're packing a picnic lunch or dinner, don't forget about dessert. Check out any of the easy dessert recipes in this collection and you're sure to find something to satisfy your sweet tooth cravings. From fruity treats to chocolaty creations, there's a little something for everyone in the sweets section of this roundup of easy picnic recipes, so dig in!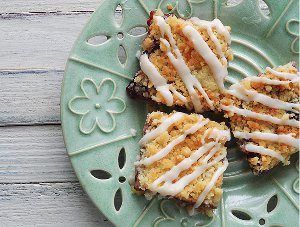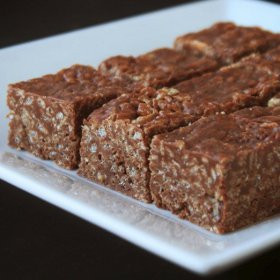 Lime Jell-O Salad (page 26) - A family favorite dish, this light and fruity dessert recipe can be altered and prepared with any flavor of Jell-O, so change it up depending on your mood. It's one of those great, easy picnic recipes to make if you're feeding a group, especially if you have kids around.

7 Up Jell-O Dessert (page 28) - Add your favorite treats together. Using 7-up, lemon Jell-O, bananas and some other yummy ingredients you can make an amazing Jell-O dessert treat for you and your guests.

Easy No Bake Cookies (page 30) - Everyone loves cookies, and they're even better when they're easy to make. This recipe calls for just one pot - and no baking - so stir up a batch and enjoy!

Beautiful Berry Streusel Bars (page 31) (shown above, left) - With a combination of cherry and raspberry jam, these dessert bars are the perfect take-along treat for picnics and potlucks. A collection of easy picnic recipes wouldn't be complete without these yummy desserts!

All-in-One Scotcharoo Bars (page 27) (shown above, right) - A no-bake dessert recipe featuring peanut butter, marshmallow and butterscotch, these bars won't last long at your picnic!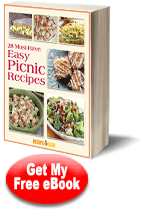 Click here to download 28 Must-Have Easy Picnic Recipes for free!
We hope you enjoyed this collection of our best easy picnic recipes for the season. Prepare any of these delicious dishes for your friends and family and you're sure to have some happy campers after the meal is done. Be sure to tell them that they can find all of the recipes right here in this free, printable collection of 28 Must-Have Easy Picnic Recipes and that there are even more great picnic and potluck dishes available at RecipeLion.com too!
And as a friendly reminder, with your free copy of the 28 Must-Have Easy Picnic Recipes free eCookbook (as with all of our free downloadable eCookbooks) you can also subscribe to our free Quick and Easy Recipes newsletter to get free recipes delivered to your email inbox every week. Become a part of the RecipeLion community! By subscribing you will receive:
Six weekly emails with free recipes, tips, collection pages, videos and more + a weekly wrap-up.
Chances to win cookbooks and food products from our weekly giveaways and contests.
New recipes and eCookbooks made available to you throughout the year.
Access to our recipe large collection full of over 40,000 recipes, including budget friendly and quick and easy recipes
The opportunity to share ideas and help others in the recipe and cooking community.
For help downloading this eCookbook, please see our guide on how to download our eCookbooks.

To view and download the complete collection of free RecipeLion eCookbooks, click here.
Your Recently Viewed Recipes
Join our community of 5 million cooks!
Get free recipes, exclusive partner offers, and more.
Thank You for Signing Up!
There was an issue signing you up. Please check your email address, and try again.