The Ultimate Kitchen Guide: How-Tos, Cooking Tips & Essential Kitchen Knowledge Free eBook
By:
Jordan Sward, Editor, RecipeLion.com
The Ultimate Kitchen Guide: How-Tos, Cooking Tips & Essential Kitchen Knowledge
Free eBook
Simplifying tips, tricks and techniques for every home cook!
Whether you're an experienced cook or want to learn how to cook, this free eBook might just change the way you think about cooking and baking. The food experts from RecipeLion.com and friends have gathered our favorite cooking tips and tricks to help make your time in the kitchen more enjoyable. Inside The Ultimate Kitchen Guide: How-Tos, Cooking Tips & Essential Kitchen Knowledge, you'll find handy, printable charts to hang on your fridge, step-by-step guides to creating perfect pies, cakes and cookies, and so much more! Whether you're stumped on which pan to use while baking, or want to learn how to make homemade bread, The Ultimate Kitchen Guide has it all.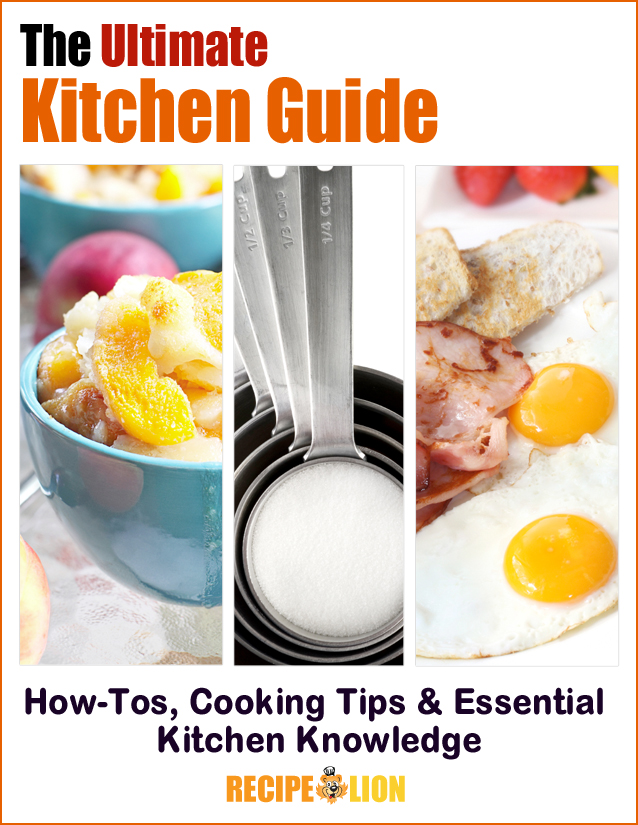 The Ultimate Kitchen Guide: Table of Contents

Note From The Editor
We love creating eCookbooks full of amazing, quick and easy recipes, but what about all the basic kitchen tips and tricks that make everything go smoothly? RecipeLion and friends put our heads together and collected our best how-tos and cooking tips for you! In The Ultimate Kitchen Guide: How-Tos, Cooking Tips & Essential Kitchen Knowledge, you'll find a wealth of knowledge to make every home cook more skilled and efficient.

Maybe you want to learn to cook, or perhaps you're experienced in the kitchen and just looking for some new techniques to perfect. No matter what your skill level, we're willing to bet there are cooking tips in this collection that will change the way you think about cooking and baking. Whether you're curious about certain dietary restrictions, love to find new baking tricks, or want to make the homemade version of a certain ingredient, this collection is for you.

We've included handy printable guides to hang on your refrigerator, tutorials for how to make everything better, and much more. Armed with the tips and tricks in this book, you'll become a kitchen connoisseur in no time.

For more quick and easy recipes, be sure to visit RecipeLion.com. While you're there, subscribe to our free newsletter, Quick and Easy Recipes, to get free recipes delivered to your inbox every week.

Happy Cooking!


Editor of RecipeLion.com

What's Inside This Free eBook
Kitchen How-Tos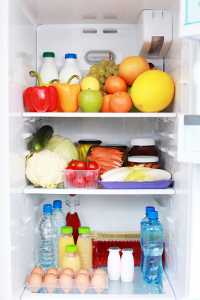 How to Organize Your Refrigerator (pg. 6) - Nobody likes a messy refrigerator. A cluttered fridge makes it hard to find things, so your food might go bad! Learn how to organize your refrigerator the right way with these innovative tricks.

Leftover Storage Tips (pg. 10) - Especially if you're cooking for two, leftovers are oftentimes inevitable. This article includes a printable chart of refrigerator storage times for common foods, so you know how long it's safe to keep your leftovers.

Glass Pans vs. Metal Pans: Which Are Better For Baking (pg. 11) - Sometimes the secret to baking perfect desserts is all about which pan you choose to use. Don't risk using the wrong pan and ending up with a dessert fail! Check out our baking tips on how to choose.

Cooking and Baking Tips and Tricks
Top Ten Tips for Baking Perfect Pies (pg. 14) - Avoid burnt edges, soggy crust, and undercooked pies with these awesome baking tips for pies. Once you learn these, you'll be cranking out picture perfect pies like a professional.

Cake Baking Secrets: Tips & Tricks for Baking Flawless Cakes (pg. 16) - There are so many things that can go wrong while baking, but you can avoid all of them with a few simple strategies. This complete guide for how to bake cakes has some tips we bet you've never heard before - and they work!

How to Make a Watermelon Basket (pg. 19) - You have to see this one to believe it! We walk you through a step-by-step tutorial of how to cut a watermelon to create an adorable basket for carrying fruit salad. It's the perfect centerpiece for summer picnics and potlucks.

How to Choose the Right Frosting (pg. 22) - When it comes to frosting, there are so many to choose from! Editors of TheBestDessertRecipes.com put together a complete list of which frosting pairs well with what flavors. Trust us, it will make a world of difference in your baked goods.

Food 101: Essential Knowledge For Every Cook
Recipe Converter: How to Halve and Third a Recipe (pg. 24) - This cute printable chart is the perfect guide to print, laminate and hang in your kitchen. It has conversions for cutting a recipe in half or thirds, so you don't have to do math while baking!

Tips for Converting Slow Cooker Recipes (pg. 25) - Did you know, almost any recipe can be converted into a slow cooker recipe? Learn to make your favorite dishes in your convenient slow cooker with these printable cooking tips.


How to Cook Eggs Correctly (pg. 28) - If you're not careful, your eggs can turn out rubbery, dry or a sticky mess! Learn how to cook eggs correctly, whether you prefer hard boiled, fried, poached or microwaved.


The Difference Between Cobblers, Slumps, Grunts & More (pg. 30) - Ever wondered the difference between cobbler and crisp? Don't get caught labeling your dessert with the wrong name. Check out this list of each term's definition and where the fruity desserts originated.
Dietary Restrictions: What is Gluten Free?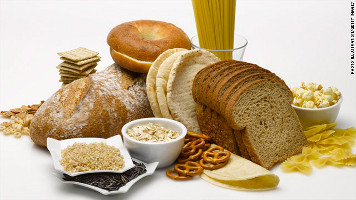 Gluten-Free Baking and Cooking Substitutions (pg. 36) - If you've always wondered "What is Gluten Free?" or are cooking for someone with a gluten intolerance, we've got you covered. Print out this guide of handy gluten-free substitutions from the editors of FaveGlutenFreeRecipes.com.
How To Cook: The Homemade Versions
How to Make Homemade White Bread (pg. 37) - You can save a whole bunch of money by learning how to make homemade bread! With this simple recipe for homemade white bread, you'll be a bread-making machine in no time.

How to Make Homemade Ice Cream (pg. 40) - If you've ever tried homemade ice cream, you know how absolutely delicious it is - way better than store-bought! Check out our easy-to-follow instructions for DIY ice cream.


Need Help Downloading This Free eCookbook?
RecipeLion eCookbooks are free, downloadable recipe collections organized around a theme, such as dinner casserole recipes, holiday baking recipes, vegetable side dish recipes, restaurant copycat recipes, and more. These eCookbooks are PDF documents that can be downloaded off our website, saved to your computer, and/or printed out for easy reference while cooking and baking.
If you are having trouble downloading our free eCookbooks, visit our FAQ page here: How to Download Our eCookbooks?

Don't Miss Our Other Free eCookbooks!
If you enjoyed this free eCookbook, you won't want to miss any of our other downloadable recipe collections. You can browse our entire library of free eCoobooks here. We also have a collection of holiday-specific eCookbooks available for free download, so don't forget to check those out too!

Sign Up For Our Free Newsletter
With your free copy of The Ultimate Kitchen Guide: How-Tos, Cooking Tips & Essential Kitchen Knowledge (as with all of our free downloadable eCookbooks) you can also subscribe to our free Quick and Easy Recipes newsletter to get free recipes delivered to your email inbox every week. Become a part of the RecipeLion community! By subscribing you will receive:
Six weekly emails with free recipes, tips, collection pages, videos and more + a weekly wrap-up.
Chances to win cookbooks and food products from our weekly giveaways and contests.
New recipes and eCookbooks made available to you throughout the year.
Access to our recipe large collection full of over 40,000 recipes, including budget friendly and quick and easy recipes
The opportunity to share ideas and help others in the recipe and cooking community.

Free recipes, giveaways, exclusive partner offers, and more straight to your inbox!
Tags / Related Topics
Your Recently Viewed Recipes

Report Inappropriate Comment
Are you sure you would like to report this comment? It will be flagged for our moderators to take action.
Thank you for taking the time to improve the content on our site.

Something worth saving?
SAVE your favorite recipes
ADD personal notes
GET fast cooking tips