"Classic Cowboy Recipes: 27 Authentic Western Recipes" eCookbook
Take a trip to the Wild West without ever leaving your kitchen! With the dishes in this Classic Cowboy Recipes free eCookbook, you'll be able to cook up a complete cowboy meal before you can say "yeehaw!" Find 27 Authentic Western Recipes any cowboy would love in this downloadable recipe collection. From easy appetizer recipes inspired by the Wild West to crazy good cowboy dessert recipes and everything in between, all of the western recipes in this eCookbook have one thing in common: they're just what you'd expect to find at a dinner table in cowboy country!

No matter where you live or who you are, you're sure to enjoy the delicious dishes in this cowboy recipe collection. There's a little something for everyone in this selection of western-inspired dishes. Whether you like things hot and spicy or prefer things on the sweeter side, we have something you'll love in our roundup of the "best of the west" cowboy recipes. So, what are you waiting for? Giddy up and let's get cookin', pardner!
Classic Cowboy Recipes:
27 Authentic Western Recipes
Table of Contents
Western Recipes for Starters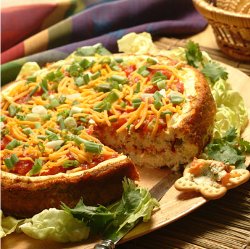 This Baked Chile Cheese Spread is the perfect easy appetizer recipe to make for a potluck, party or any other get-together you may be hosting. Find the recipe on page 16 of the Classic Cowboy Recipes eCookbook. Like all of the cowboy-inspired recipes in this collection, this cheesy appetizer recipe has distinct characteristics that make it "western." Made with cornmeal, chili powder, green chiles, salsa and two different cheeses, it's easy to see why this is the kind of dip recipe a cowboy would appreciate. Find even more appetizers with a kick in our free collection of classic cowboy recipes. From guacamole to chili to pizza, there are plenty of wild western appetizer recipes to choose from.
Download your free copy of the Classic Cowboy Recipes eCookbook here!
Main Dish Cowboy Recipes
For cowboys, there's nothing more important than a hearty and satisfying meal. Whether you're a country cook or you're more of an urban cowboy, you're sure to appreciate the filling main dishes in this collection of easy western recipes. These meaty dishes are loaded with fantastic flavors and comforting ingredients like ground beef, chicken, cheese, potatoes and more. From sensational skillets like the Cowboy Mess Chicken Skillet (pg. 26) and the Easy Southwest Skillet (pg. 19) to crazy good cowboy casseroles like the Beef Nacho Casserole (pg. 27) and the Poor Man Texas Hash Casserole (pg. 21), it's hard to pass up a collection of wild western recipes like these!

Take this awesome recipe for Homestyle Chicken and Biscuits, for instance. It's just one of the many amazing main course options in the Classic Cowboy Recipes eCookbook. Find the down-home recipe for this delicious chicken bake on page 22 of the cookbook. It's one of those easy dinner recipes that will quickly become a fan favorite in your cowboy household!




Download your free copy of the Classic Cowboy Recipes eCookbook here!
Side Dish Western Recipes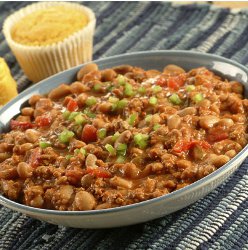 No collection of cowboy recipes would be complete without a simple bean dish. This recipe for Southwest Cowboy Beans (found on page 30 of the 27 Authentic Western Recipes eCookbook) is one of our favorites because it has just the right amount of spicy flavor to kick your cowboy tastebuds into high gear without it being too overpowering. When served with homemade cornbread, there's simply no beating this Southwestern-style bean side dish.

Not a fan of beans? Not to worry! There are plenty of other awesome side dish recipes in this collection of classic cowboy recipes. From Yeehaw Cowboy Bread (pg. 32) to Western Butter Biscuits (pg. 34) to an original recipe for Cowboy Broccoli Salad (pg. 33), there are a variety of tempting side dishes to try in this free eCookbook. Saddle up to your kitchen and get to making any one of these simple sides and you're sure to leave the dinner table more than satisfied!





Download your free copy of the Classic Cowboy Recipes eCookbook here!
Cowboy Recipes for Dessert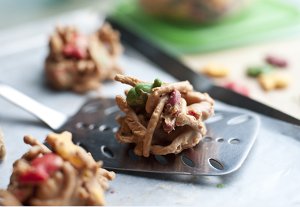 Can a cowboy meal really be complete without a delicious "best of the west" dessert recipe? We've rounded up some of our favorite western style recipes for dessert that any hungry cowboy would devour in an instant. These fun Haystack Snacks (pg. 36) are one of our favorite cowboy-inspired sweets. Made with peanut butter and chow mein noodles, this unique dessert recipe is great to take on the go for whenever you're craving a salty and sweet snack.
Check out our collection of 27 Classic Cowboy Recipes for even more Wild West desserts. Inside the eCookbook you'll find everything from delicious Cowboy Candy Bars (pg. 35) to Cowpoke Pudding (pg. 39) and even a Vintage Grits Pie recipe (pg. 38). Finish off your cowboy-inspired menu by baking up one of these easy dessert recipes. They're sure to make you say "Yeehaw" and "Howdy Pardner" all at once!





Download your free copy of the Classic Cowboy Recipes eCookbook here!

So there you have it... the best easy cowboy recipes in all the land. We've covered everything from classic cowboy recipes to start your meal to delicious dessert recipes any cowboy would love. In between we shared some of our favorite main dish western recipes and comforting cowboy side dishes you just have to try. So the next time you're hosting a wild west party or potluck or just want to fix a cowboy country dinner, simply turn to this collection of 27 Authentic Western Recipes; it has everything you need to make a complete cowboy menu that will please all of the cowboys and cowgirls at your table!


Download your free copy of the Classic Cowboy Recipes eCookbook here!
Since we're so excited about this awesome recipe collection, we wanted to give you one last quick sneak peek of what's inside this Classic Cowboy Recipes: 27 Authentic Western Recipes eCookbook. This collection of reader-favorite cowboy recipes and traditional western and southwestern-style meals includes recipes for the following:

Arkansas Caviar (pg. 14) - Super easy appetizer that's loaded with tons of flavorful Southwestern ingredients
Cowboy Chicken Pizza (pg. 12) - Delicious tortilla crust topped with cheese, tomato, avocado and taco seasoning
Southwestern Wagonwheel Pasta (pg. 24) - This Wild West dish even looks like it belongs in the country!
Cowboy Casserole (pg. 17) - A reader favorite cowboy recipe made with tater tots and hamburger meat
Cowboy Coffee Cake (pg. 40) - A sweet treat that will have you hooked!

If these easy cowboy recipes sound delicious to you, don't wait another minute! Get your free copy of this 27 Authentic Western Recipes eCookbook by simply clicking on the book image to the right. It's that easy to get started making your own western recipes and become a cowboy cook in your own right!







Download your free copy of the Classic Cowboy Recipes eCookbook here!
And as a friendly reminder, with your free copy of the "Classic Cowboy Recipes: 27 Authentic Western Recipes" eCookbook (as with all of our downloadable eCookbooks) you can also subscribe to our free Quick and Easy Recipes newsletter to get free recipes delivered to your inbox every week. Become a part of the RecipeLion community, by subscribing you will receive:
Six weekly emails with free recipes, tips, collection pages, videos and more + a weekly wrap-up.

Chances to win cookbooks and food products from our weekly giveaways and contests.

New recipes and eCookbooks made available to you throughout the year.

Access to our recipe large collection full of over 40,000 recipes, including budget friendly and quick and easy recipes.

The opportunity to share ideas and help others in the recipe and cooking community.





Download your free copy of the Classic Cowboy Recipes eCookbook here!
For help downloading this eCookbook, please see our guide on how to download our eCookbooks.



To view and download the complete collection of free RecipeLion eCookbooks, click here.
Your Recently Viewed Recipes
Join our community of 5 million cooks!
Get free recipes, exclusive partner offers, and more.
Thank You for Signing Up!
There was an issue signing you up. Please check your email address, and try again.