Camp Cooking 101
The best foods to take camping, easy campfire recipes, camp cooking equipment, and more!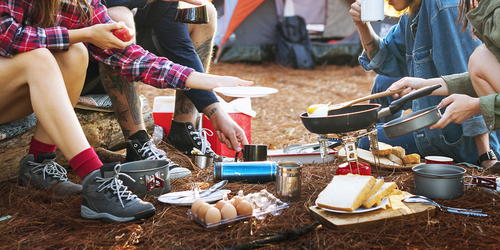 If you're going camping, refer to this easy guide to make sure you pack the right camping food and equipment. Whether you're an expert camper or new to the game, it's never too late to learn some new tricks. It's important to pack like a pro so you can have a seamless adventure in the outdoors. It's best to know how to pack a camping cooler, plan campfire meals, and clean up your campsite when you leave. Need help deciding what food to bring for the best outdoor feast? Check out these easy camping menu ideas! Plus, learn how to properly extinguish a campfire, an important skill for anyone to learn. Lastly, learn from seasoned camper, Jennifer Restivo, about where to shop for your meals, tips for planning your camping menu, and more, it's all below.

Happy trails!
What Food to Take Camping
Here's a list of easy and delicious things to take camping:

Breakfast 
Instant oatmeal packets or steel cut oats
Fruit and berries
Bacon
Eggs
Potatoes
Bread 
Pancake mix

Lunch and Snacks
Granola bars
Trail mix/nuts and dried fruit
No-bake protein bites
Handheld fruit and vegetables
Crackers/chips
Hummus
Peanut butter
Lunch meats, sliced cheese, bread, and other sandwich supplies
Canned soup
Graham crackers
Chocolate bars
Giant marshmallows

Dinner
Hamburgers
Hot dogs
Steaks
Chicken
Fish
Potatoes
Vegetables
Salad supplies
Bread/tortillas/hamburger and hot dog buns
Cheese

Condiments and Other Supplies You May Need
Ketchup, mustard, mayo, relish
Butter
Syrup
Instant coffee, tea bags, hot chocolate packets
Sugar, salt, pepper
Herbs and spices
Hot sauce
Cooking spray/vegetable oil
Milk (and/or powdered milk)
Aluminum foil 
Paper towels
Sandwich baggies (and gallon zip top bags)
Camping plate ware, mugs, and silverware


It's a good idea to plan your meals before you go grocery shopping and certainly before you pack up your coolers to make sure you're not forgetting anything!


Coolers
You should plan to bring separate coolers for your various food needs. You should keep certain things separate, obviously, like uncooked meats and your dry foods. Here's how we like to pack:

1. Easy Access Cooler: This cooler should be easily accessible, especially in the car for the drive up to the campsite. It should contain snacks and drinks -- think sandwich supplies, granola bars,     crackers or chips, trail mix, condiments fruits, nuts, juice boxes, water bottles, etc. This cooler can be smaller than the other two depending on how many people are camping with you and how long your drive is.

2. Meat Cooler: This cooler should be large, so you can fill it with ice every other day. You can keep all your hot dogs, hamburgers, steaks, etc. in here. All meat products should be double wrapped in plastic bags so they don't cross-contaminate with other meats.

3. Other Fresh Foods Cooler:  This cooler is for all your other fresh foods -- fruits, veggies, dairy products, drinks, condiments, etc. This is also a great place to store extra ice and frozen water bottles for extra fresh water when it melts.


Bringing Non-Perishables

Dry Foods: Bring a dry-foods box where foods that can be kept at room temperature can live for the duration of your camping trip. Think of this as your camping pantry. Bring things like salt, pepper, sugar, cooking oil, spices, herbs, hot sauce, tea, coffee (instant is usually ideal for camping), hot chocolate mix, bread, and pancake mix.

Drinks: Bring as many drinks as humanly possible. You will want them! Make water your priority, but bring a variety of other beverages like juices, milk, beer, and wine.

Treats: Bring a box or bag of just sweets because you're gonna want something sweet after dinner just like at home! You can store all your s'mores supplies here and whatever else tickles your fancy. Make sure not to leave this out or open to avoid unwanted animal attention. You can store this inside one of your dry coolers when you're not using it.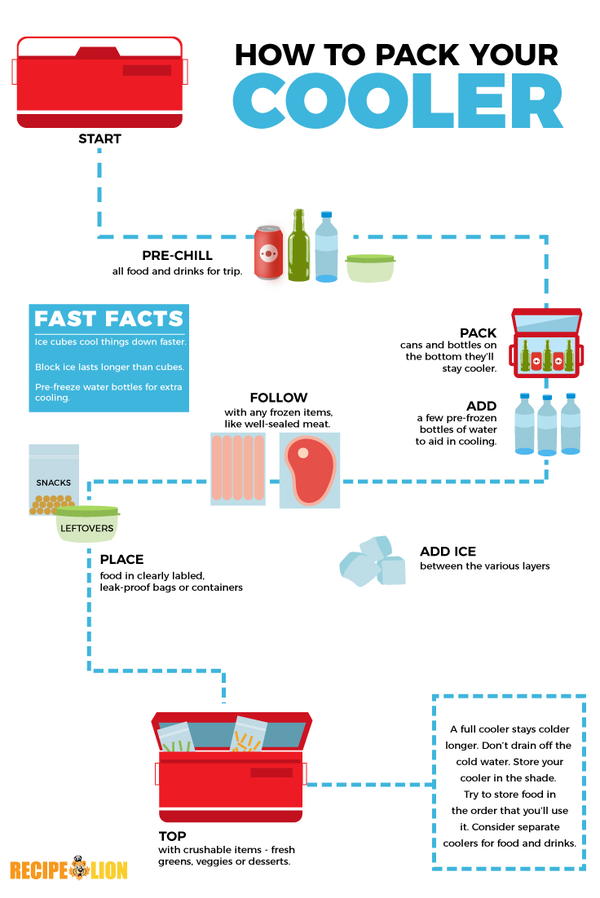 Tips for Successful Campfire Cooking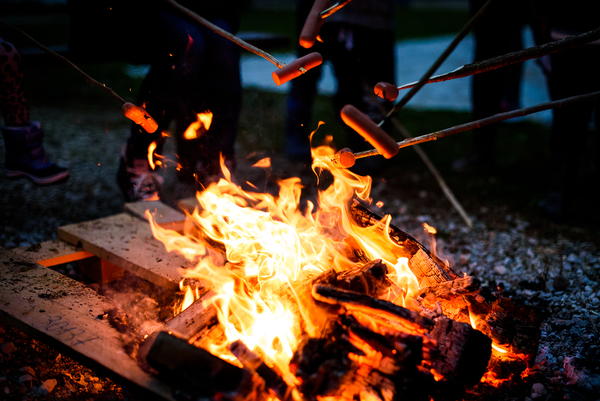 Campfire Meals to Get You Started
How to Properly Clean Up Your Campfire
Properly extinguishing your fire is critical. To make sure your fire is completely out before your leave your campsite, do the following:

1. Pour water over your fire pit.
2. Stir the ashes around.
3. Repeat as needed.
4. Make sure your ashes are cool to the touch before leaving.


To clean up your campfire after extinguishing it, follow these steps:

1. Burn trash items only if they can be completely consumed by your fire and burned into ash.
2. If you happen to burn something that is not completely consumed by your fire, make sure to collect the remains and place them in a trash bag. Proceed to the nearest receptacle to dispose of the trash, or take the trash home with you and dispose of it there.
3. Never burn tin foil, cans, or plastic.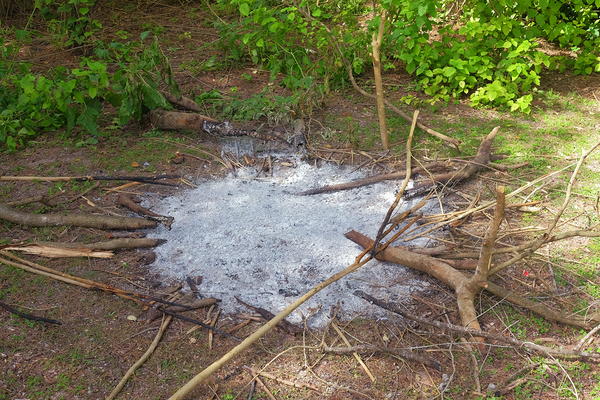 What to Bring Camping When You're Camping with a Group
Jennifer Restivo (craftycardgallery.com), has been an avid camper for about 13 years, making an annual pilgrimage to the great outdoors every year with a group of friends and family. With a track record like this, she's picked up a world of experience along the way. While she and her group love the outdoors, they appreciate the comfort a great meal can bring when they're far from the everyday comforts of home. This involves thorough planning and preparation, so Jennifer shared some of her favorite tips for making cooking easy, fun and totally hassle-free, when camping with a large group:

Before We Go Camping:
We create "teams" and each team is responsible for 2 meals (a breakfast and a dinner). This responsibility is for all parts of the meal (planning, cooking, and cleaning up after.) This makes it nice because you don't have to cook at every meal, you get to pick what you want to make, and you don't have to clean up after someone else.

We plan out all of the meals ahead of time and consolidate the food into one giant grocery list.  Then we go as a group to 2-3 stores to get all the shopping done. We go to Costco for the large quantity items, Target for the condiments and smaller quantity items and then a trip to the grocery store the morning of for the last minute [perishable] items like fruit. This also helps prevent any food allergy/dislike issues since we all see the menu ahead of time. It also works out to be cheaper to buy the large quantities of things that we might need (if we all use a certain ingredient in our meals). 

Pro Tip: Be careful about bulk items. That 3-pound bag of pancake mix at Costco may be cheap, but it might also go to waste. Certain things we will not buy at Costco due to the large quantity.

One person divvies up all the costs and is responsible for making sure everyone gets paid back. 

We don't overcomplicate lunch. Instead, we buy some easy things, like sandwiches or hot dogs, and have some leftovers available throughout the trip. Because we usually have a big breakfast and a big dinner we don't always eat lunch as a group, so it's nice to have individual items people can grab and go or snack on during the day.

Figure out what snacks everyone likes and make sure you get enough of those to last the trip. Each person is responsible for any snacks or beverages that they want personally (that the whole group doesn't necessarily want).

Pro Tip: If you love bacon when you're camping (like we do), buy the precooked bacon at Costco. It's not quite as good as real bacon, but the convenience is awesome!

We also try to save our lists and menus from year to year to make things easier. I usually use the Notes app on my phone or the Paprika app.  Most of us aren't used to cooking for large quantities of people, so using the Paprika app allows us to scale the recipes, which reduces overbuying. Who doesn't love to save money?

If we're doing a new recipe, we always test it out before camping. That way we don't find out too late we're missing an ingredient or there's some step we can't do. 

>>> Always check your meat before you go! We usually buy our groceries on Tuesday night for our trip that starts on Thursday.  There have been 2 or 3 instances for us, where the meat we bought was spoiled before we packed it in the ice chest. For this reason, we always thoroughly check the meat and put it in the freezer after we prepare it.

We don't plan breakfast the last morning. Instead, it's a free-for-all with the various leftovers. This allows us to use up any leftover items instead of throwing them out, and it makes packing up easier too.

We have a "food auction" at the end of the trip to let people take home the leftover items they want.  We also keep track of what got used and what didn't get used, which really helps in planning for the next trip.

For meals, any prep work you can do ahead of time makes life easier!

Pro Tip: It's better to cook smaller cuts of meat (individual slices of tri-tip versus a 3-pound tri-tip) since you can't always control your cooking environment.


While We're Camping:
We bring two giant ice chests with us. One for cold food and one for dry food (this prevents the critters from eating your food). We've also started bringing a smaller once for drinks.

We bring all paper plates and plastic forks; it makes our trip much easier since we don't have to do any dishes after we eat.

We camp where there is electricity, running water, and toilets/showers, which helps us feel more at home at the campsite.

Some appliances we've taken that have made the trip better (if you have electricity available) are a food saver vacuum sealer and a small oven (one year we had fresh chocolate chip cookies!)

Additionally, we have a large burner/griddle stove and we find that it works for cooking almost everything.

We always have s'mores, and sometimes we get fancy with Nutella, peanut butter cups, and/or dark chocolate squares, etc. Yum!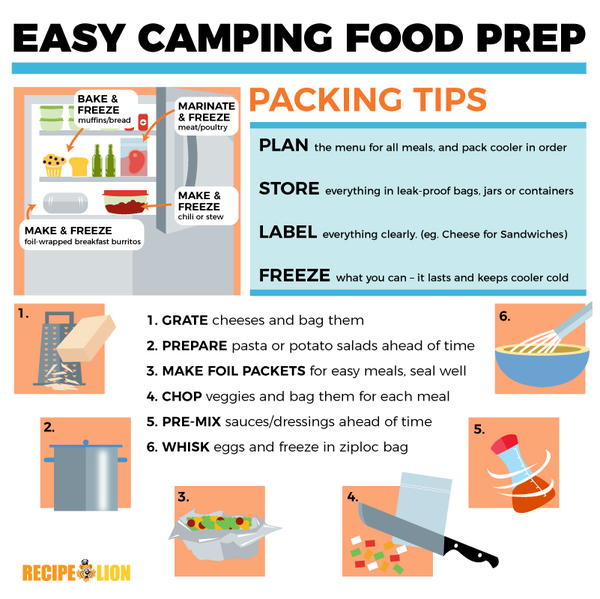 What is your best camping story?
Your Recently Viewed Recipes