Make Mac and Cheese Better with These Tricks and Tips
Homemade mac and cheese will taste so much better when you get cooking with these ideas!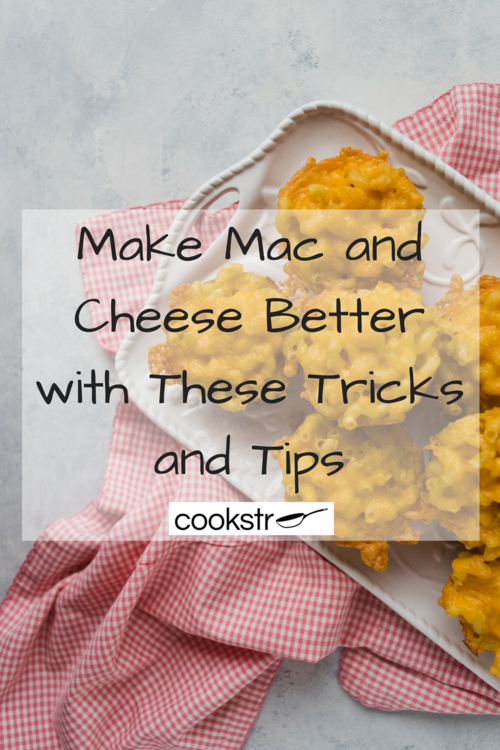 When you picture comfort food, it's likely that a bowl of hot mac and cheese is at the top of the list. Hearty, rich, and filled with delicious cheese, the classic dish is one that can be the show-stopping main course or serve as a satisfying side dish for almost any meal. At its essence, the beloved dish consists of noodles and cheese. Believe it or not, there are plenty of ways to make mac and cheese better!

Whether you want to make it from scratch or plan to add some pizzazz to the boxed version, there are plenty of ways to improve this kid-friendly dish that is also a crowd-pleaser for adults. This guide on Make Mac and Cheese Better with These Tricks and Tips will clue you in on how you can improve this dish in almost countless ways. This simple dish will be elevated to a totally new ballgame when you get cooking with these tips!
Choose the Right Noodles for the Task
You need to select the right type of noodle for including in your mac and cheese, and not just any noodle will do. Spaghetti noodles might not hold up well, especially if you plan to bake the dish. However, Brook Harlan of Inside Columbia Magazine recommends using smaller types of pasta that are easy to eat and scoop up with a fork. If the noodles are too large, then you'll only taste pasta in every bite. If the pasta is too small, such as ditalini pasta, then you may not get enough cheese on every noodle, either. Decorative shapes of pasta, including those in fun designs, may be hit-or-miss, as the pasta may be too dense. Of course, you can't go wrong with the classic elbow pasta! 
Cut Calories, Not Taste, with a Few Simple Changes
With plenty of cheese and pasta in every bite, it's fair to say that mac and cheese isn't exactly diet food. Not all hope is lost if you're counting calories, trying to cut fat, or even just watching what you eat. As noted by Shape, you can make this dish a bit healthier by using butternut squash in the puree, or even by using whole-wheat pasta. By making a few simple and easy substitutions, you can create a lighter version of this beloved dish. 
How to Make Mac and Cheese Creamy
As mac and cheese purists know, dry macaroni and cheese that is devoid of any creamy sauce is exactly what you wish to avoid when making this dish. After all, who wants to eat dried-out and tasteless noodles? When making the dish, you need to add just enough cream and cheese to cover the noodles. If you add too much, though, you will be left with a soggy mess that resembles soup. According to Huffington Post, whether you're baking it in the oven or on the stovetop, you should add the liquid and cheese to the noodles in stages, stir, then add more if the noodles still look dry. By adding the cream sauce in stages, you can easily adjust the dish to your preferences.
Add Crunch with an Assortment of Toppings
Are you planning to bake your mac and cheese dish? Give it some added crunch and depth of flavor when you add a gratin crust on top. Whether you go with the tried-and-true classic of breadcrumbs sprinkled on top or give it a flavorful twist by using crushed potato chips, there's no denying that a crust will make the dish more flavorful and unique. Other creative toppings can include panko bread crumbs or diced onion rings.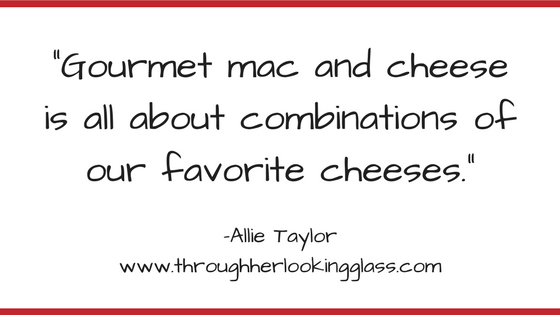 Give The Dish a Vegan Twist
If you are a vegan who misses mac and cheese, then you might be wondering how you can still enjoy this comfort food. According to weight loss expert Annie Markowitz of the blog VegAnnie, nutritional yeast is to the rescue! "Nutritional yeast has a cheesy flavor and is used as a cheese substitution," she explained via a phone interview. As for the macaroni part of the meal, Markowitz pointed out that virtually any type of pasta will work, with the exception of egg noodles or pasta with egg ingredients. 
Bake Your Mac and Cheese in Style
The perfect marriage of a creamy dish and a crunchy topping can be achieved by baking your mac and cheese in the oven. Before you throw a casserole dish in the oven and just hope for the best, keep a few things in mind. You will likely want to give the inside of your casserole dish a quick mist of cooking spray so that your food is not stuck to the pan. You will also want to cover with an ovenproof cover (like aluminum foil), then remove the cover in the last 10 minutes of baking so that the dish reaches the desirable level of crisp texture. Finally, you should use the largest casserole dish you have to bake the dish. If it's too small — and you have too much pasta and cheese — then it may not bake thoroughly. You don't want pockets of undercooked pasta in your dish!
Get Gourmet When Cooking This Dish
Macaroni and cheese is, essentially, pasta and a cheese sauce. But what if you want to give the humble dish some much-needed pizzazz? Luckily, this dish lends itself well to including an assortment of ingredients that will make it a bit more gourmet. Allie Taylor of the blog Through Her Looking Glass encourages the use of creativity when giving the beloved dish a bit of a gourmet boost. "I didn't realize that mac and cheese could be gourmet, but it was my four boys who clued me in," she explained in an email, and added that she then started trying different types of cheese when the dish for her family. "Gourmet mac and cheese is all about combinations of our favorite cheeses. A little bacon never hurts. And don't forget the golden crumb topping," she added.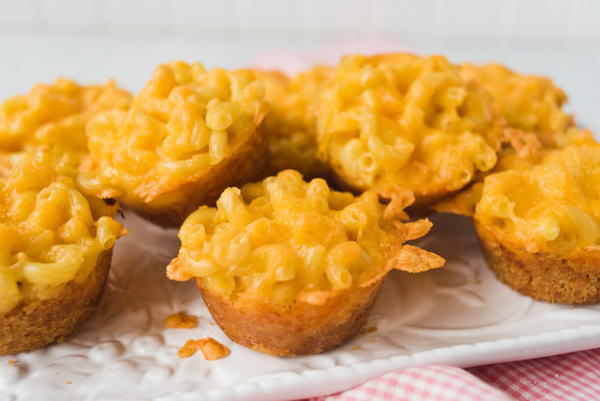 Embrace Your Creativity when Making This Dish
While there is nothing wrong — and certainly everything right — with serving mac and cheese from a casserole dish or saucepan, consider shaking things up a bit by getting creative with your presentation. For example, what about making handheld versions of this delightful side dish? With this recipe for Mini Macaroni Pies (pictured above), you can! The side dish is baked in a muffin tin, giving it an appearance that is easy to eat and transport. Although this recipe will definitely be popular with the kids, don't be surprised if adults scoop up these mini pies, too!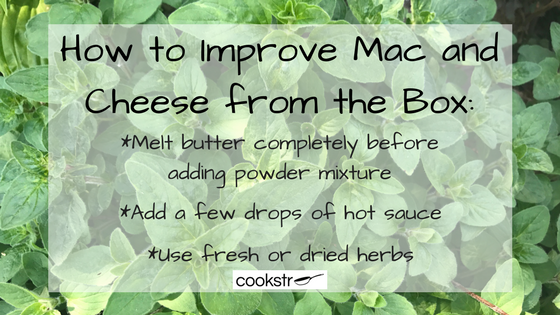 How Do You Improve Mac and Cheese from the Box?
We've all been there: You want mac and cheese, and you don't have time to make it from scratch. What's the best way to make the boxed version taste even better? Try a few of these simple tips:

*When making the sauce, melt the butter completely in a separate pan, then add powdered mixture and milk. Mix until the sauce is creamy and free of lumps, then pour over your cooked macaroni.

*Add a few drops of hot sauce for a taste that's truly flavorful!

*Sprinkle your favorite fresh or dried herbs over the prepared dish. Oregano, rosemary, basil, parsley, or thyme are among the many herbs you can add to this side dish. 
Mac and Cheese Recipes to Try Today
Now that you're ready to start cooking, take a look at these delicious recipes for mac and cheese. From traditional recipes to new takes on the beloved classic, these recipes for mac and cheese will be just what you need the next time you're craving comfort food. These dishes can be served after a long day of work or as a side dish for your family's next get-together. Regardless of the occasion, there is no denying mac and cheese will be a favorite addition to the meal!

My Award-Winning Four-Cheese Mac-and-Cheese (pictured below): This recipe uses bacon and fresh herbs to create a new and interesting flavor. There's even a few splashes of white wine included in the recipe!

Well-Crafted Macaroni and Cheese Mix: If you can't get enough of that mac and cheese flavor, then you will want to check out this vegan-friendly recipe. Although you can certainly use it to make the beloved side dish, it will also work well in casseroles and soups.

Dungeness Crab Mac-and-Cheese: If you put this dish on the table, don't be surprised if it gets gobbled up! This recipe incorporates crabmeat for a tasty take on the side dish.

Montgomery Cheddar Macaroni with Baked Apples: Apples, cinnamon, and sugar are among the ingredients for this mac and cheese recipe. This one is sure to be a hit with everyone at your next get-together!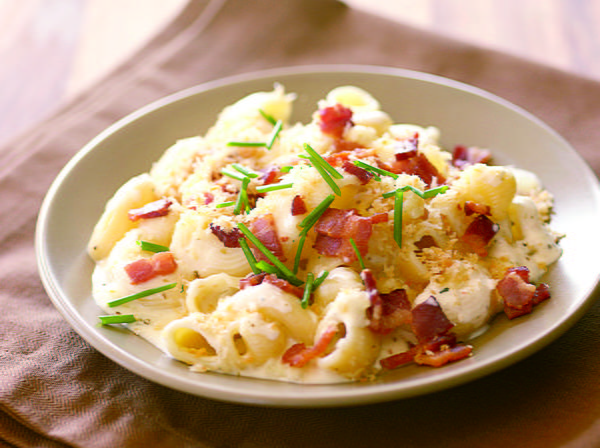 What is your favorite tip for improving mac and cheese?
Share in the comments section below!
Your Recently Viewed Recipes
Join our community of 5 million cooks!
Get free recipes, exclusive partner offers, and more.
Thank You for Signing Up!
There was an issue signing you up. Please check your email address, and try again.