Can You Freeze Bread?
Reduce food waste by learning how to freeze bread here.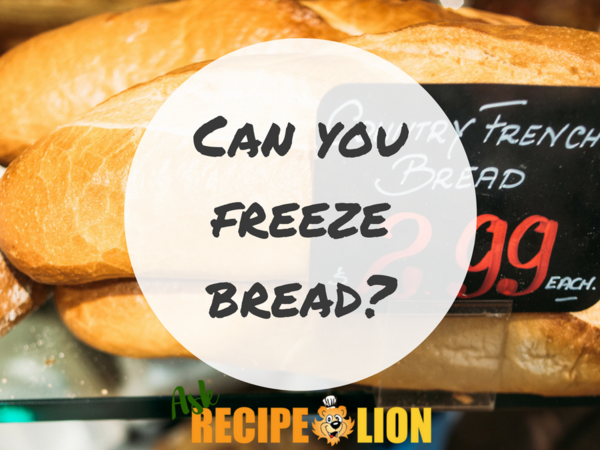 Can You Freeze Bread
Freezing bread can be a great way to keep a delicious loaf of homemade rolls, coffee cake, or regular sandwich bread fresh. Bread recipes often make more than one loaf, and it can be difficult to finish them before they go bad. The freezer is the obvious solution. And, yes, you can freeze bread without ruining it!

You can also freeze storebought bread, which can be a great option if you like to buy in bulk. You can purchase a few loaves of bread when your favorite brand is on sale. Then simply toss the ones you aren't ready to eat into the freezer for later.

Here are our best ideas on how to freeze bread, including how long you can freeze bread, and how you can keep the flavors fresh!
How to Freeze Bread
Freshly Baked Bread
Wait for your bread to cool completely (for at least 3 hours).

Slice your bread if you wish. This is a good idea if you plan to defrost it a few slices at a time. Otherwise, feel free to leave the loaf whole.

Tightly wrap your loaf of bread in plastic wrap and place it in a freezer bag. Press out all of the air and seal.

If you don't want to use plastic wrap, then you can also just double bag the loaf of bread, being sure to press out all of the air.

Write the date on the freezer bag and place in the freezer. Defrost and use within six months, but the flavor is best if you use it within the first month or two.
How to Freeze Store Bought Bread
If storing for less than a month, you can place the loaf of bread (in its bag) directly into the freezer. The plastic bag will protect it from freezer burn for a short amount of time.

If storing for longer than a month, place the bag inside a freezer bag, press out all of the air, and seal. Use within six months.
How to Freeze Buns and Rolls
Place the rolls in a freezer bag, press out all the air, and seal. If freezing store bought buns, you can freeze them in the plastic bag you bought them in.

If storing for longer than one month, add a second freezer bag and seal tightly. Use within six months.
How to Defrost Bread
Remove bread from freezer and let it sit at room temperature for about 3 hours.

To warm bread (which we recommend!), preheat the oven to 350 degrees F. Heat thawed, unwrapped bread in the oven for about 10 minutes.

If you only want to thaw a few slices or rolls at a time, use the same method as above. It won't take as long for the bread to return to room temperature.

You can also place frozen slices of bread directly into your toaster to make toast. By the time the bread is toasted, it will also be thawed.
Bread Recipes
At this point, you might be getting hungry for some bread! Here we have some great recipes for making your own bread. We also have some other ideas for how to use up bread if you don't want to freeze it. You can make croutons, panzanella, bread pudding, and more! Try one of these yummy recipes with bread.
Your Recently Viewed Recipes
Join our community of 5 million cooks!
Get free recipes, exclusive partner offers, and more.
Thank You for Signing Up!
There was an issue signing you up. Please check your email address, and try again.