Shortcut Amish Friendship Bread Recipe
You're sure to make a new pal or two with this cinnamon friendship bread.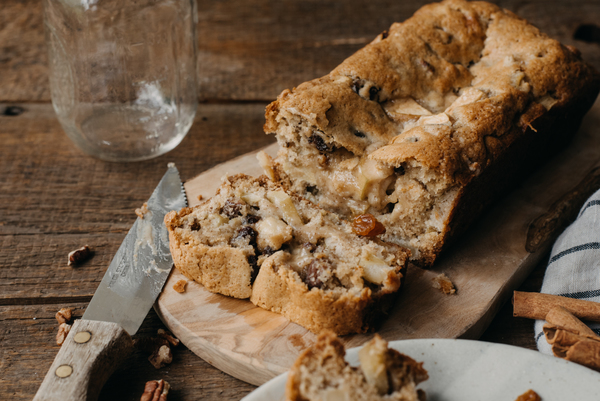 Shortcut Amish Friendship Bread Recipe
This Shortcut Amish Friendship Bread Recipe is one of the easiest ways to try your hand at Amish baking. The shortcut starter makes this recipe so simple, Once you make the starter, let it sit for about 10 minutes while you mix the other ingredients. When everything is ready, and the starter is done rising, you'll combine everything and be on your way to some fabulous homemade bread. The combination of apples, raisins, pecans, vanilla, and cinnamon make this a great bread recipe for fall. It's sweet enough to enjoy as dessert after a meal but works well as a light snack with a cup of tea or coffee in the afternoon. Amish friendship bread is also a great option for breakfast. Just slice and grab a piece as you're running out the door on a busy morning.
Ingredients
For the Starter

1

/

3

cup sugar

1

/

3

cup flour

1

/

3

cup lukewarm milk (90-100 degrees F)
3 teaspoons fresh yeast
1 teaspoon active dry yeast

3

/

4

teaspoon instant yeast
For the Bread
2 cups all-purpose flour
1 cup white sugar
2 apples, cored and chopped
2 teaspoons baking powder
1 teaspoon baking soda
1

1

/

2

teaspoon ground cinnamon
1 teaspoon salt
3 eggs

2

/

3

cup vegetable oil
1 tablespoon vanilla extract
1 cup chopped pecans
1 cup raisins
Instructions
For the starter: In a small bowl, combine ingredients for the starter. Place the bowl in a warm (not hot) location, free from drafts. Wait for about 10 minutes or until yeast activates – it will become foamy and show signs of expansion.

For the bread: Combine together flour, sugar, baking powder, baking soda, cinnamon, and salt.

In a large mixing bowl, mix together the "starter", eggs, oil and vanilla. Stir in the sifted ingredients and mix until just blended (do not over-mix). Finally stir in the chopped apples, raisins and pecans. Divide the batter evenly between two lightly greased and floured 9×5 inch loaf pans.

Bake in a 350 F degree preheated oven for 50 minutes. Check for doneness with a toothpick inserted into the center of a loaf – it should come out clean.
Your Recently Viewed Recipes