Cakes & Bar Recipes: 17 Delicious Cheesecake Recipes
What better way to end a meal than with a creamy, luscious cheesecake? There are so many different cheesecake recipes out there that it can be a bit overwhelming at times. Plus, there are so many factors to consider when searching for the right cheesecake recipe. You have to consider if you want to make a fruity cheese cake, or if you want to indulge yourself in chocolate, and make a delicious cheesecake that is for chocolate lovers. Well, we've collected a delicious list of cheesecake recipes to put your baking anxieties at ease.

Our Cakes & Bar Recipes: 17 Delicious Cheesecake Recipes collection has everything from classic cherry-topped cheesecake to chocolate and raspberry cheesecakes too. And if you don't feel like eating an entire cake, we have delicious cheesecake bar recipes that are great if you only want a bite or two of luscious cheesecake. Try one of these quick and easy recipes today for a great dessert that is sure to please.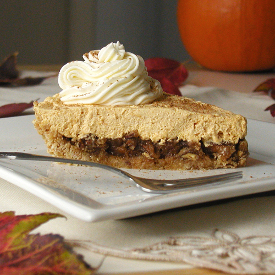 Table of Contents
Chocolate Cheesecake Recipes

Fruit Cheesecakes

Cheesecake Bars

Black Forest Chocolate Cheesecake - Rich, chocolaty cheesecake topped with luscious cherry pie filling... what could be better? This recipe uses sweetened condensed milk so it's quick and easy and requires no baking skill.

Chocolate Cheesecake a la Anna Marie - My cousin, Anna Marie, used to brag about this terrific cheesecake she could make. Well, now she's not the only one with bragging rights! Since it's one of those Oreo cookie cheesecake recipes that even I can follow, I get to brag about it too.

Chocolate Raspberry Cheesecake - Raspberry and chocolate are a perfect pairing. Try this easy cheesecake recipe for a delicious treat that the whole family will enjoy. Garnish this cheesecake with mint leaves, whipped cream and fresh raspberries.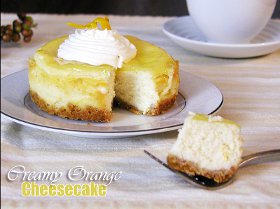 Creamy Orange Cheesecake - A dessert that tastes as good as it looks, Creamy Orange Cheesecake is a sinfully good cake recipe that you'll want to indulge in every night. With a homemade graham cracker crust, its creamy orange flavor is a must any time of year. Do yourself a favor and try this award winning cheesecake recipe. You won't regret a single bite.

Pecan Pumpkin Cheesecake - Pumpkin and pecan are two flavors naturally associated with fall desserts, which is why this recipe for Pecan Pumpkin Cheesecake is one of our seasonal favorites. The luscious cheesecake texture combined with these awesome autumn flavors makes for an incredibly decadent and mouthwatering treat. For anyone looking to amp up their Thanksgiving dessert recipes, this no-bake treat is a surefire winner.


Apple-Nut Cheesecake - Need some new quick easy slow cooker recipes for dessert? Why not give this simple cheesecake recipe a try. Friends and family will love this recipe for plain cheesecake. It's an easy to make cheesecake that avoids the oven.

Stevia Strawberry Swirl Cheesecake - Wow! Finally, a recipe for a delicious calorie-saving Strawberry Cheesecake, perfect for those who want to indulge sans the guilt. This cheesecake saves you 60 calories and 12 grams of carbohydrate per serving.

Strawberry Cheesecake Pie - Use a prepared pie crust to make this easy strawberry cheesecake recipe. Top or garnish with fresh strawberries for a spectacular final product.

Caramelized Banana Cheesecake - Break way from bland strawberry or plain cheesecake and create this amazing caramelized banana cheesecake. This is a delicious dessert that looks incredibly impressive for a dinner party.

Northwest Cheesecake Supreme - This heavenly creamy cheesecake is topped with cherry pie filling to create the perfect dessert. Serve this as a delicious end to a meal or as a special occasion cake.

Key Lime Cheesecake - Get the cool, refreshing summer taste of key lime with this cheesecake. If key limes are not in season or you are having trouble finding them at your grocery store, try asking for bottled key lime juice.

Caramel Apple Cheesecake - This is one of the best cheese cake recipes you'll find using two fall favorites - caramel and apples. Caramel apple cheese cake is smooth, creamy, sticky and crunchy all at the same time. The smell of this wonderful treat will fill your home and your tummy.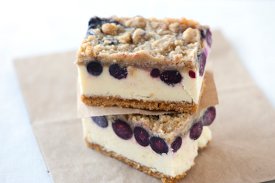 Blueberry Lemon Cheesecake Bars - Have you been looking for an easy cheesecake bar recipe? This one for Blueberry Lemon Cheesecake Bars is the stuff that dreams are made of! A lemony cheesecake base dotted with fresh blueberries, all combined with a buttery streusel is what makes this cheesecake bar recipe perfection on a plate. Try it today and you'll be glad you did!

Almond Cheesecake with Oreo Crust - There are a lot of Oreo cookie recipes around, and this one is a favorite in my family. Even if you aren't a cheesecake lover, you'll find that this is one of the best Oreo cookie cheesecake recipes there is!

Mini Cheesecake Cupcakes - These mini cheesecake cupcakes are adorable and perfect for parties. Feed a whole crowd with these delicious desserts and save yourself the temptation of eating an entire slice of cheesecake.

Strawberry Cheesecake Bars - Show someone you care by giving them something sweet. Strawberry Cheesecake Bars are easy to make and a pure delight. Dessert Recipes have never been so sweet.

Almond Cheesecake Bars - Indulge in your guilty pleasures and try these Wonderful Almond Cheesecake Bars. Drizzled with chocolate, every bite will remind you why dessert recipes are your favorite to eat and make. With a sweet top and a crunchy bottom, these dessert bars from Amanda at Amanda's Cookin' will become a family favorite.

Your Recently Viewed Recipes
Join our community of 5 million cooks!
Get free recipes, exclusive partner offers, and more.
Thank You for Signing Up!
There was an issue signing you up. Please check your email address, and try again.