Easy Cast Iron Skillet Biscuits
If you've never tried making skillet biscuits before, here's your chance! They're easy and delicious!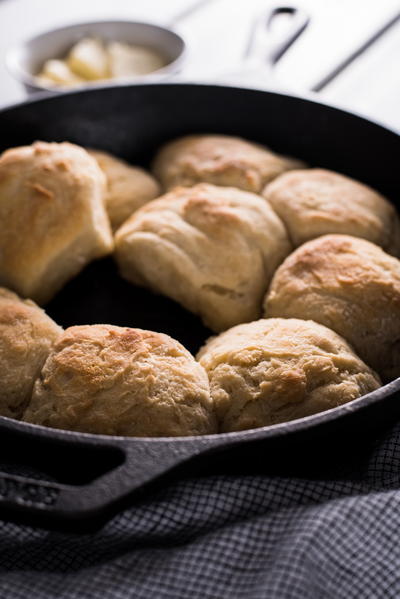 Easy Cast Iron Skillet Biscuits
Is there anything better than light, fluffy, buttery biscuits being served right out of the oven? The answer is "no!" Well, we think they're just a little bit better when they're served out of a cast iron skillet. That's why we've brought you this scrumptious recipe that you can use to impress your family and friends (and, of course, yourself!).

These light and fluffy biscuits make the perfect breakfast. Top them with fresh butter and a spoonful of jam, or ladle on your favorite hearty sausage gravy. Whether you're looking for a lighter meal, or a dish that's rich enough to feed a cowboy, these biscuits deserve a home on your table.

Did we mention they're also amazing with dinner? These show-stopping skillet biscuits will impress your dinner guests. They also make the perfect pair with hearty beef stew, crispy fried chicken, or honey baked ham, or just about any other Southern-inspired menu you put together. We're getting hungry just thinking about it!

We hope you're out of excuses for not making these delicious cast iron skillet bisuits. But just in case, here's even more information about this recipe to put your mind at ease.

What do I do if I don't have buttermilk?

It's easy to make skillet biscuits without buttermilk. All you need to do is whip up a batch of DIY buttermilk using milk and vinegar. Combine 1 cup of milk with 1 tablespoon of vinegar or lemon juice. Let it sit for 10 minutes, and voila!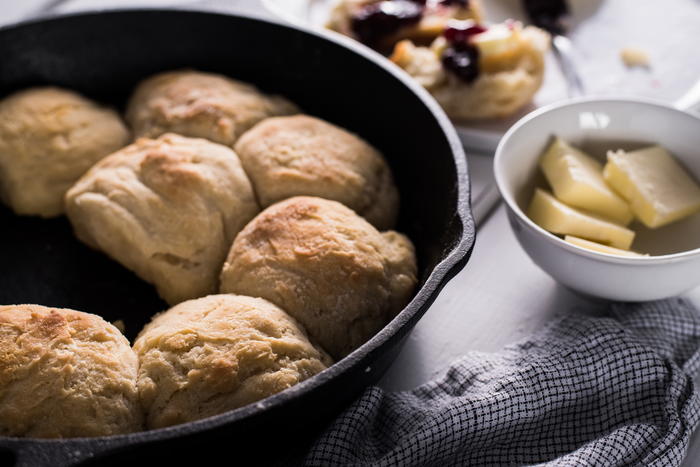 Can I make these skillet biscuits while camping?

Yes! These skillet biscuits are the perfect camping recipe! You don't need a stove to make them if you have a good camp fire. Check out our guide to Campfire Cooking 101 for even more ideas.

How do you get biscuits to brown on top?

This recipe produces perfectly browned biscuits. The secret? We use a high oven temperature and add melted butter to the top of the biscuits before baking. Butter browns easily during cooking, and the extra heat helps achieve that golden-brown biscuit perfection!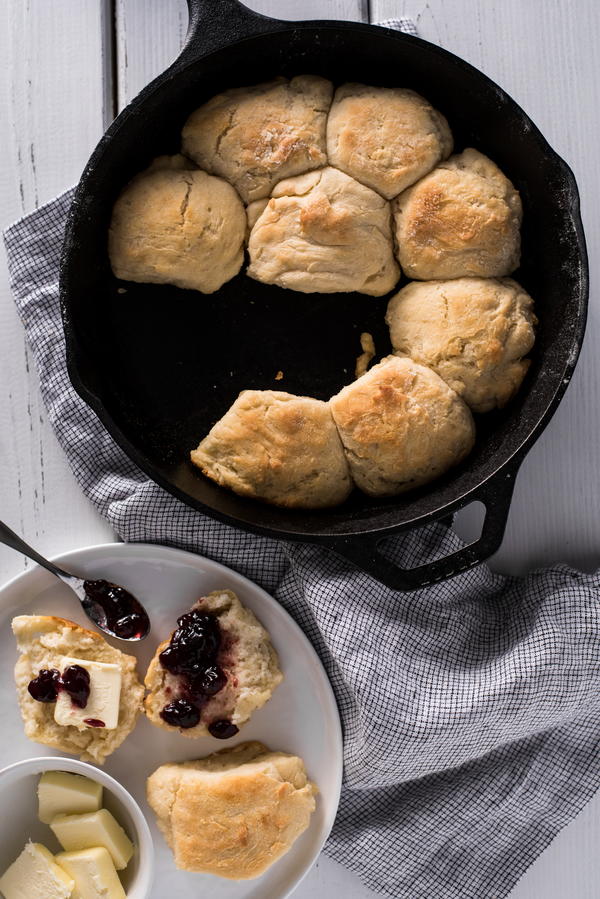 Easy Cast Iron Skillet Biscuits
Yields10 biscuits
Ingredients
2 cups all-purpose flour (or a 50/50 blend of all-purpose flour and whole wheat flour)
1

1

/

2

tablespoon sugar
3 teaspoons baking powder
1 teaspoon salt

1

/

8

teaspoon baking soda
2 tablespoons soft butter
2 tablespoons shortening (or you may substitute 2 tablespoon butter for shortening)
1

1

/

4

cup buttermilk
2 tablespoons melted butter
1 cup all-purpose flour
Instructions
Preheat your oven to 475 degrees F. 

In a mixing bowl, stir together the flour, sugar, baking powder, salt, and baking soda with a whisk.

With a pastry blender, or your hands, cut in the butter and shortening into the flour mixture until the butter/shortening is about the size of peas. 

Add the buttermilk to the mixture and stir just until combined. Allow this to sit for 3 minutes.

In a separate bowl, place your additional 1 cup of flour. Using an ice cream scoop, or a 1/4 cup measuring cup, drop 1 scoop of biscuit mixture into the flour. Gently toss the biscuit in the flour and scoop the biscuit up from the bottom with your fingers. Lightly shake off the excess flour. Place the biscuit in a greased 10-inch cast iron skillet or cake pan. 

Continue with the other biscuits until you have about 10 biscuits. Pour the additional 2 tablespoons of melted butter over the biscuits. Bake for 16-18 minutes. 
More Biscuit Recipes
Plus, check out even more yummy biscuit recipes below!
Tips for Making Extra Flaky Biscuits
Looking to make extra flaky biscuits? Then check out these tips below. Much like any other baking recipes, there's definitely a science to making biscuits the right temperature. 

Basically, making a flaky biscuits means making a lighter dough. This means giving the dough room to rise, avoiding adding too many wet ingredients, and handling the dough correctly.

1. Don't crowd the pan too much!
It can be tempting to cook as many biscuits as you can at a time. You want to make sure the biscuits have room to grow. Biscuits that are bigger, lighter, and fluffier will be flakier than those that are dense due to overcrowding.

2. Don't add too much buttermilk.
It's much easier to add more if you need it. Biscuit dough that is too wet or sloppy won't be as flaky as a perfectly portioned dough.

3. Use a sharp biscuit cutter or utensil.
If you're pushing down and compacting the dough, it will end up being a dense biscuit which will not be as flaky.

4. Use frozen dough!
Surprisingly enough, cooking with frozen dough yields a flakier and lighter biscuit.

Find more tips for making flaky biscuits from Rebecca over at FoodwithFamily.com!
 
What's your favorite topping for homemade biscuits?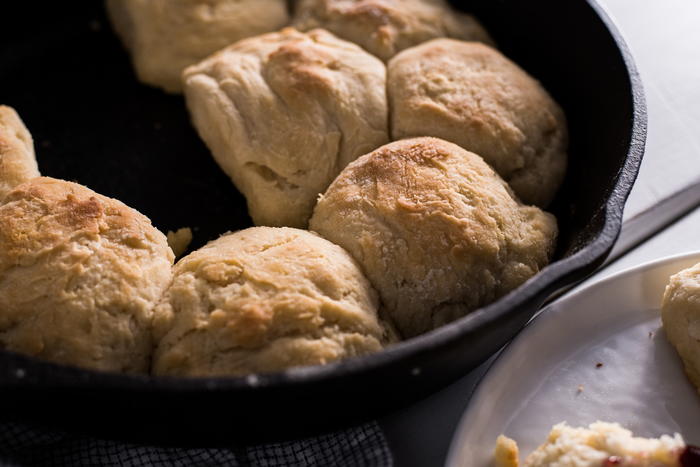 Your Recently Viewed Recipes
Join our community of 5 million cooks!
Get free recipes, exclusive partner offers, and more.
Thank You for Signing Up!
There was an issue signing you up. Please check your email address, and try again.