Gluten-Free Cheddar Salsa Crackers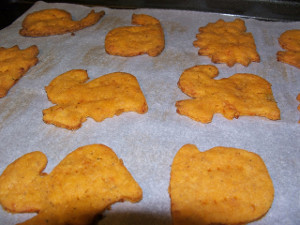 Gluten-Free Cheddar Salsa Crackers
A healthy diet can be easy and delicious - you don't have to sacrifice flavor. These Gluten-Free Cheddar Salsa Crackers are a perfect example of this. Cheddar cheese gives these homemade crackers a sharp bite while salsa adds just a little heat. Since they are baked, they have a very satisfying crunch. Make these tasty gluten-free snacks for your soup, as an afternoon treat, or to eat with your lunch instead of chips. You kids will go nuts for them, too.
Notes

After rolling the scraps 3 times the dough starts to become very dry and brittle. When you get towards the end of dough, bake as is. Do not use cookie cutters.
Ingredients
1

/

4

cup butter at room temperature

1

/

2

cup 100% corn meal

1

/

4

cup rice flour
1 egg yolk

1

/

4

cup salsa

1

/

2

cup cheddar cheese, shredded

1

/

2

teaspoon salt

1

/

4

teaspoon pepper
Instructions
Preheat oven to 375 degrees F.

Combine the butter, salsa and egg yolk until mixed. Stir the corn meal, salt, pepper and rice flour into the butter mixture.

Knead the cheese into the dough by hand on a clean flat surface.

Cut the dough in half. Roll out the dough on a floured surface until about 1/4 inch thick. Cut the crackers using your favorite cookie cutters. Keep rolling out the scraps until all of the dough has been used.

Place each cracker on a parchment paper lined cookie sheet. Prick each cracker with a fork to prevent puffing.

Bake for 10 to 15 minutes (or until golden brown).
Your Recently Viewed Recipes