Creamy Cauliflower with Pork Medallions, Turmeric and Mushrooms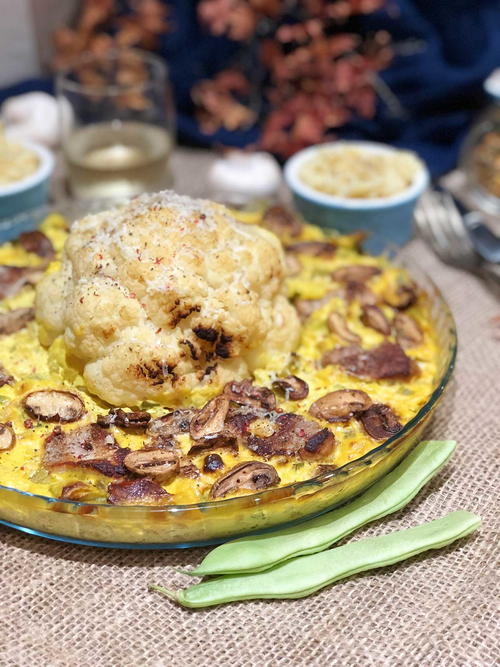 Creamy Cauliflower with Pork Medallions Turmeric and Mushrooms
"This creamy dish consists of cauliflower, beans, mushrooms and pork medallions, in a nice and creamy sauce. It is super delicious or outrageously delicious just like my son said, and...oh yes, he is so right! For now, let me share this beautiful recipe. It's creamy, it's rich but not too rich, it's yellow but not too yellow. It's simply divine but not too close to divinity. It is a gluten-free dish, simply beautiful, warming, comforting and truly rewarding. If you are a vegetarian, simple, just ignore one ingredient in there, the pork medallions of course, the rest is all yours. I have used flat beand because that is what my fridge had to ofer but feel free to change the veggies to whatever you have or fancy."
Notes* Pork medallions can be easily replaced by any chicken cut or even beef. It is just a matter of how you cook the meat. If using chicken, this needs cooking thoroughly than pork or the beef. If choosing beef, It's paramount what cut you choose.
Needs to be either a roast that could be added as a side or some filet that gets cooked accordingly. This creamy dish goes fabulously well with no meat at all making it a lovely and super tasty vegetarian dish.

* The 200g orzo is the dry weight
Serves4 people
Ingredients
1 cauliflower head organic approx 700g
1 pork fillet approx 500-600g
1 onion organic
1/4 leek organic
1 tsp salt Himalayan pink
1/3 tsp pepper freshly ground
1/2 tsp turmeric
200 g orzo boiled
250 g creme fraîche full or half fat
100 g Philadelphia cheese
Prepare all the ingredients, cut the pork fillet into 2cm thick medallions, set them on a plate seasoned well with salt and pepper. Wash, chop onion and the leek, wash and snap the beans, peel, wash and chop the parsnip, place all vegetables on a plate in separate bunches.

Blanch the cauliflower into water with salt for literally 3-5 min (depending on size). Set aside when ready. Use this water to cook the orzo. Cook according to pack instructions. Needs cooking for about 8 mins.

In a pan, over medium heat, add 1/2 tsp coconut oil/ oil or butter (whatever you like) or water and soften the onion for 3-4 minutes. I added some water.

Add the parsnip, beans, leek and the garlic. Season with salt and pepper and cook covered for a further 2-3mins. Add a drizzle of full fat milk or water so it doesn't stick. You can add the mushrooms here too or see step 6.

In a separate pan which is set on high heat, sear the pork medallions with a little butter or coconut oil for literally 2 min on each side. Set aside when ready. Preheat the oven at this point at 180-190C/350-375F.

In the same pan you seared the pork medallions shallow fry the mushrooms for 3-4 mins with 1 tsp of olive oil and the nutmeg. This step applies if you did not add the mushrooms at step 4.
Your Recently Viewed Recipes
Join our community of 5 million cooks!
Get free recipes, exclusive partner offers, and more.
Thank You for Signing Up!
There was an issue signing you up. Please check your email address, and try again.