Le Creuset Stainless Steel Nonstick Fry Pan Review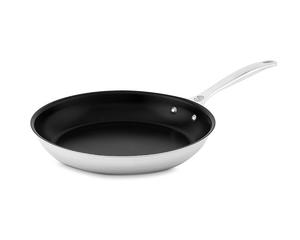 Le Creuset Nonstick Fry Pan Review
Gifted by: Le Creuset
www.lecreuset.com
Reviewed by Arielle Matlin, Editor, RecipeLion.com
The Le Creuset Stainless Steel Nonstick Fry Pan is a durable, versatile, and handy piece of cookware that you will use nearly every day. It has all the great features of a nonstick pan while also being constructed using stainless steel. The 8 inch pan is perfect for sauteing vegetables, simmering a sauce, or searing meat.
I love that this fry pan combines the benefits of stainless steel and nonstick coating. The stainless steel surrounds an aluminum core and has titanium infused to prevent discoloration and rust. This Tri-Ply Stainless Steel construction keeps heat distributed evenly so your food cooks perfectly. The material is also incredibly durable and the pan can even be put in the dishwasher!
The nonstick coating allows for more enjoyable cooking experience. Food releases easily while cooking and you won't have to do any heavy scrubbing. It also eliminates the need for using much cooking oil, keeping food lighter and less greasy.
I love the handle on this fry pan. It fits comfortably in any hand and allows you to easily maneuver the pan. It also features the signature Le Creuset emblem adding to the sleek design of the pan.
At 8 inches across, this is a perfect frying pan to use for making eggs, vegetable side dishes, and sauces. The size also means it is easy to lift and flip food using the handle for leverage. You can store the pan in a cabinet or on a pot rack using the hole at the end of the handle.
Your Recently Viewed Recipes