Swiss Diamond Prestige Chef Knife Review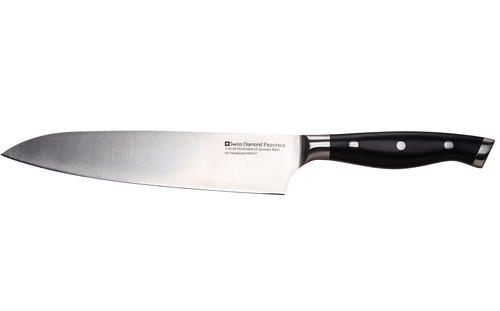 Swiss Diamond Prestige Chef Knife Review
www.swissdiamond.com
Reviewed by , Editor, RecipeLion.com

Swiss Diamond is known for their high-quality cookware, but now they are producing knives with the same durability and attention to detail. The chef's knife has an 8-inch stainless steel blade that will help you slice, chop, and dice all of your recipe ingredients. This knife not only works incredibly well, it also has a sleek look featuring a full tang and black handle. 



Just like cookware, not all knives are made equal, and this Swiss Diamond knife proves that. The quality of the knife is immediately clear upon first glance, and after holding it in your hand, you will understand why. Only high quality materials are used in the construction, making it incredibly sharp and balanced. 



The 8 inch long blade is made using high-quality German steel and is forged from a single piece of steel. The steel actually goes through an 8 stage process for grinding and sharpening. This makes it one of the most strong and durable knives I have ever used. 



The curvature of the blade is what separates it from the other knives in their prestige collection. It makes the standard rocking motion for chopping easy to do. This makes it an ideal knife to use on onions, potatoes, herbs, and much more. The design is truly meant to be all-purpose. 



The handle is one of my favorite aspects of the chef's knife. It is curved in a way that makes it extremely ergonomic. I have very small hands, but still found it easy to hold and control. 



The size, strength, and ease of use make this a great everyday knife. Whether you hardly ever cook, or you are a seasoned chef, you will find this a great addition to your kitchen arsenal.
Your Recently Viewed Recipes