How to Improve Scrambled Eggs
Learn how to make your scrambled eggs better at every step of the process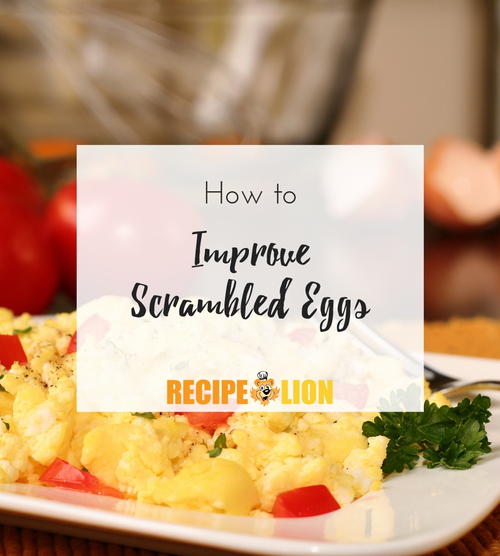 Scrambled egg recipes are easy to learn and, usually, not too hard to master either. Unfortunately, few people take the time to learn how to make scrambled eggs in the way that they enjoy best.

There are a million ways to do scrambled eggs. None of them are perfect for everyone's taste buds, or for their hectic morning schedules. Here, you'll learn some of the best ways to easily spice up your routine breakfast and make sure your scrambled eggs are never boring again.

The best part is, you'll be able to mix and match these nuggets of advice around to figure out the type of scrambled eggs you like the most. It doesn't matter if you like your eggs creamy, cheesy, tangy, salty, fluffy, runny, or spicy, you'll find something to add some flair to your morning.
Improving scrambled eggs' texture
None of these methods of changing the texture and consistency of your morning eggs are the right way to go, but they all can add to your personal breakfast experience before you even start cooking.
Whisk in cream cheese instead of milk for creamy, rich eggs.
Whisk in yogurt instead of milk. It will make your eggs a bit tangy. Be cautious at first, though, you can add too much.
Whisk in buttermilk instead of milk. This country-style add-in is delicious. Aim for about 1/2 Tbsp per egg.
Whisk your eggs more thoroughly if you like them extra fluffy.
Add salt before putting your eggs on the stove. This will help your eggs stay moist.
Add extra liquid (like milk) if you want lighter, moister eggs.
Try whisking in club or baking soda to make your eggs fluffier. For a guideline, try 1 tbsp of club soda for every two eggs or 1 tsp of baking soda for every four eggs.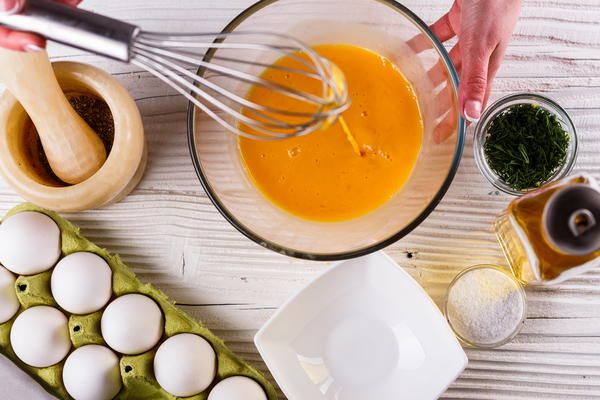 Adding seasonings and sauces to scrambled eggs
Now that you have a solid foundation for your scrambled eggs, you can move on to the exciting part. There are so many ways to spice up your eggs to match your flavor cravings. Seasonings and sauces are the simplest, quickest, and most versatile. Take your egg game beyond salt and pepper with this variety of options….
Add Italian seasonings like oregano, basil, thyme, sage. This is a super easy way to add flavor to your eggs in just a few seconds, and it meshes well with a lot of the other flavors in this article.
Add sweet flavors to give your eggs a delightful twist. Try nutmeg, ginger, cinnamon, or honey.
Add hot sauce to your cooked eggs if you like that extra fire in the morning.
Add a salty sauce like Worcestershire sauce or soy sauce.
Add ketchup. The tomato flavor meshes really well with cheesy eggs. If it sounds gross, just remember that pizza's success is clearly built on the same tomato-and-cheese flavor combination.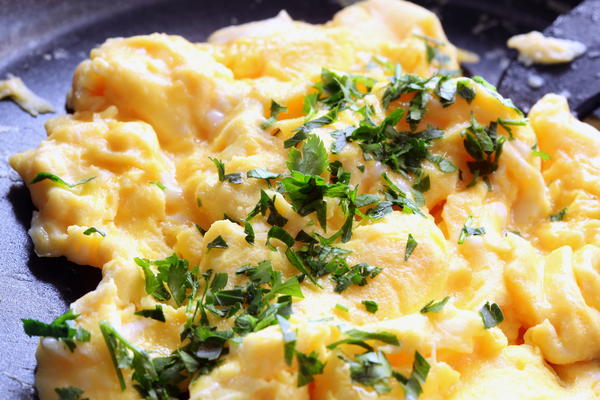 Best ingredients to add to scrambled eggs
So by now, you have the tools to make scrambled eggs that are the perfect texture for you and have a flavorful kick. Congratulations, your eggs are no longer boring.

In case you want to go to the next level and sink a bit of extra effort into your eggs, though, here are some common ingredients and flavor combinations that can you can add to scrambled eggs.
Butter and onions: Taking a few minutes to quickly sauté some onions before you pour in your whisked eggs is a very simple way to add a lot of flavor.
Bacon: You're probably already eating bacon alongside your eggs; try putting bacon bits in the egg itself. Bacon goes with almost anything, too, so feel free to mix and match it in with the other options
Seafood: salmon, shrimp, or, if you're feeling very decadent, lobster are all great choices. 
Beans: refried beans make a great combo with scrambled eggs and can help you pivot toward breakfast burritos for those mornings you feel like treating yourself.
Spinach: like onions, spinach can be sautéed and added to egg for great results and little hassle.
Tomatoes: cherry or sun-dried tomatoes work especially well.
 
How to properly cook scrambled eggs
Again, there is no one right way to cook scrambled eggs. You probably have a texture preference, though, and how you handle eggs in the brief amount of time it takes to scramble them has a huge impact on that texture.
For light, fluffy, and dry eggs with big curds: use a medium heat and stir/fold your eggs fairly infrequently. Allow bigger folds of egg to form. If you like diner-style scrambled eggs, you'll like this method.
For soft and moist eggs: cook over low heat and stir nearly continuously. Break up bigger curds with your spatula when you see them. The result will be balanced, creamy eggs.
For fancy French scrambled eggs: use a very low heat and a whisk and saucepan instead of the standard spatula and pan. Whisk constantly. The eggs will cook very slowly and, if you're whisking thoroughly enough, all visible curds will be broken. You'll be left with a super creamy egg that's great for spooning as a topping onto toast.
Here are a few bonus tips for doctoring up your eggs while they're cooking.
Use your bacon grease: if you're making bacon with your eggs, you can use the bacon grease to cook them in. This will add a smoky, meaty flavor and a sprinkling of tiny leftover bacon bits to the eggs.
Lower your heat: if your eggs are coming out dry, it might be because your flame is too high.
Take your eggs off the burner before they're fully done: they'll always cook a little extra after you take them off the pan, so if you wait until they're completely ready before you take them off, they'll actually end up overcooked and dry.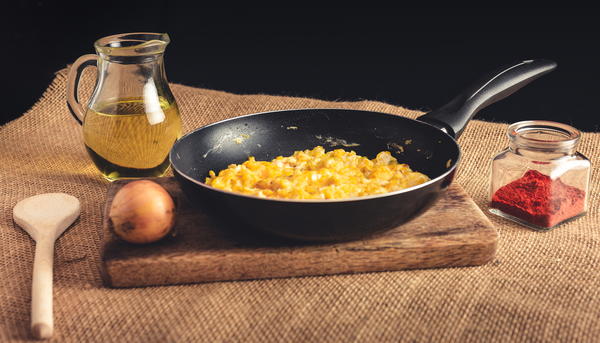 Time to make that amazing breakfast...
Now that you have all these ideas, are you looking for recipes for fabulously tasty scrambled eggs? Or maybe you're hoping to try your hand at some similar breakfast dishes? Either way, these recipes have you covered.
Your Recently Viewed Recipes
Join our community of 5 million cooks!
Get free recipes, exclusive partner offers, and more.
Thank You for Signing Up!
There was an issue signing you up. Please check your email address, and try again.