How to Cut a Pineapple
The sweet, juicy flavor of fresh pineapple simply can't be beat, but its pokey skin and large green top can be intimidating to cut! That is, until you learn how. With this easy step-by-step tutorial for How to Cut a Pineapple, you'll learn how to easily cut up a pineapple so you're left with beautiful, sweet chunks that are ready to serve, toss in a fruit salad, or include in any recipe. Once you learn how to cut pineapple, you'll never want to buy the canned stuff again.
You want to start with a pineapple that has a golden yellow color to it and smells sweet at the base. If it's not yet ripe, there is a trick to speed up the process! Turn the pineapple upside-down and let it sit on your countertop that way. You can prop it up against an appliance so it's secure. This allows the sugars to flow from bottom to top, ripening the fruit.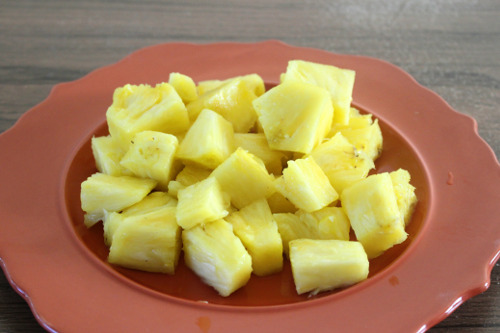 Once you're ready to cut, follow the steps below for how to cut a pineapple the right way! Plus, don't forget to watch our video tutorial!
How to Cut a Pineapple
1. Start by placing the pineapple on its side on your cutting board. Using a sharp knife, slice off about a half inch of the top, as well as a half inch of the bottom.
2. Stand the pineapple upright and carefully cut away the skin, from top to bottom, in sections. Cut off just enough so that you no longer see the brown eyes. Once you're done, use your knife or a peeler to carve out any remaining pieces of skin.
3. Once the skin is removed, cut the pineapple straight down the center lengthwise.
4. Slice each half in half again, so you're left with quarters.
5. Next, remove the hard core that runs down the center of the pineapple. Stand each quarter up and cut straight down to remove the hard core. Discard the core pieces.
6. Now, you're ready to slice the pineapple in any way you choose. Cut lengthwise first, then in chunks.
That's it! Just a few easy steps and you'll have a perfectly cut pineapple in minutes.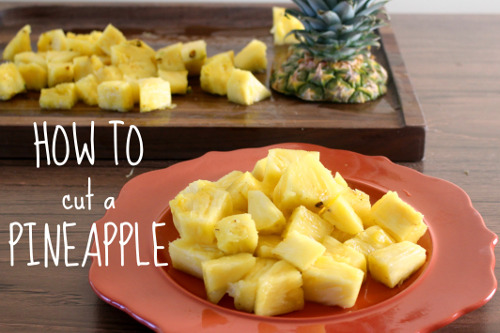 You Might Also Like:

Your Recently Viewed Recipes
Join our community of 5 million cooks!
Get free recipes, exclusive partner offers, and more.
Thank You for Signing Up!
There was an issue signing you up. Please check your email address, and try again.