12 Cheap Meal Prep Recipes (Plus Tips and Tricks)
Meals can be hard with little time or money, but these cheap meal prep recipes are coming to the rescue!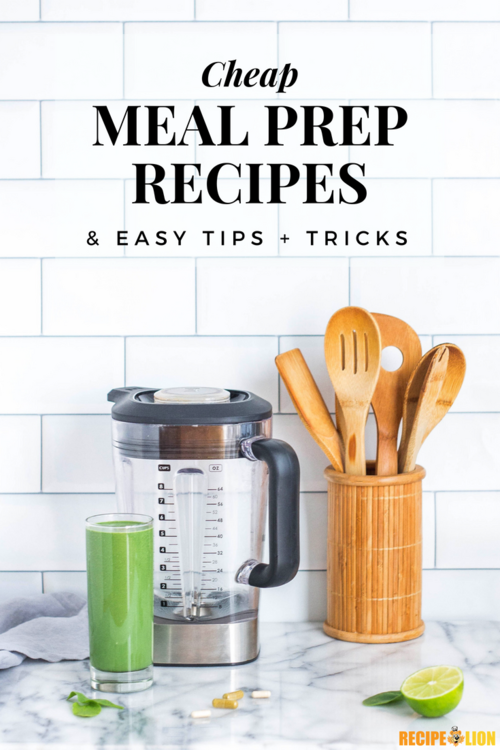 One of the disheartening things about adulthood is realizing how much food really costs. As a child, delicious dinners just magically appear on the table; as an adult, you realize how much time and money goes into a good dish. It can be exhausting to think up new tasty, budget-friendly meals and prepare them day in and day out!

That's where meal prep comes in. Meal prep plans are truly a godsend for any busy would-be chef. They can save you money, help you hit your health goals, and cut your morning routine in half.

The concept is simple: before your week begins (for many families this is Sunday, but any day works!), you make a meal prep menu full of cheap meal prep recipes for the week. Cooking all of your lunches (or dinners!) in advance, you seal them up in refrigerated containers so that for the rest of the week, all you have to do before work is grab and go! The best part? You get to eat home-cooked meals every single day!

Lunch meal prep for the week is an excellent practice for college students and people who want to save time and money or manage their health and weight. If you're buying lunches every day, that could add up to $50-$75 a week, but with meal prep, you could cook for two people for half of that price! Also, when you have cut, prepared veggies in your fridge, you'll be far more likely to actually eat them instead of turning to the gas station for chips or cookies. Seriously, if you have never tried meal prep before, you need to give it a shot!

So, if you're nervous about how to get into meal prep--don't be! This list of Cheap Meal Prep Recipes will walk you through your cheap meal prep grocery list, meal prep containers, meal prep ideas, healthy meal prep recipes, and our very best meal prep tips. You'll be a pro in no time!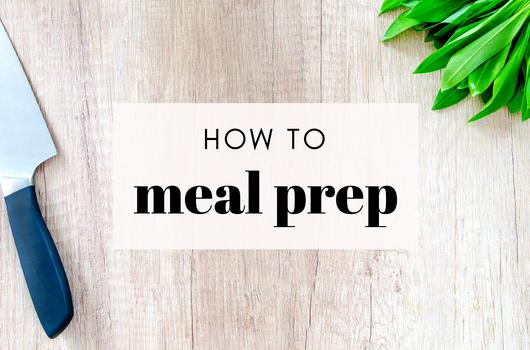 How to Meal Prep
First of all, let's say this: all of these meal prep tips and tricks are optional. We know that's an odd thing to say at the top of a tutorial, but it's true! The only required steps when meal prepping are cooking and storing. Nevertheless, we personally find the following bits of meal prep advice extremely helpful, but if any of these suggestions don't work for your life, you can feel free to disregard.
For the easiest possible meal prep experience, planning is key! After all, it takes a bit of foresight to make lunch meal prep for the week. First of all, if you have nutritional goals, sort them out before you go grocery shopping for your healthy meal prep recipes. You can easily figure out the number of calories in each meal prep by dividing by the number of servings. So if you're prepping for the work week, you'd divide the overall amount of calories by 5. You can see how it is much easier to adhere to weekly healthy goals thanks to meal prep!

A great option to stay healthy is to download a calorie app. MyFitnessPal and Lose It! are two of the most popular choices with meal preppers right now. When you finish your meal prep, log in the amount of calories and nutritional value per meal onto your app, and it will calculate how you're doing for the day and for the week.
 
Next, consider what meal prep recipes you're in the mood for. Remember, you're going to be eating this meal for a couple days in a row. If this wouldn't bother you, great! Cook away. However, if repetition rankles you, then you should vary the small things that you do have control over. For example, if you're making chicken, rub half of it in different seasonings than the first half, or prepare cans of different vegetables so that you could have corn one day and green beans the next.
 
In our personal experience with how to meal prep, it's a great idea to cook in this order: meats, carbs, veggies. Make sure to keep timers or write down lists of how long everything has been cooking! And here's one of our best meal prep tips for you: the oven is your best friend. Meal prep is supposed to be easy, and if you bake your meats, you don't have to watch them. Then the oven is already hot and ready to roast some delicious veggies. If you put each item on top of foil in the oven, you won't even have to wash the pan!
 
Lastly, package your meals and label, label, label! You're going to want to remember how old your meal preps are and what's inside them. You can take your choice of meal prep containers. The seal should be solid. If you can smell the food from outside the container, that means air is escaping. This isn't harmful as long as the food is refrigerated, but it can mess with texture a bit. Sealable glass containers are ideal, but you can be just as successful with $1 plastic containers from Dollar Tree.
In general, 
anything you meal prep should be good in the refrigerator for a max of five days.
 For more information, follow this hand-dandy
FDA food storage chart
 (click to enlarge):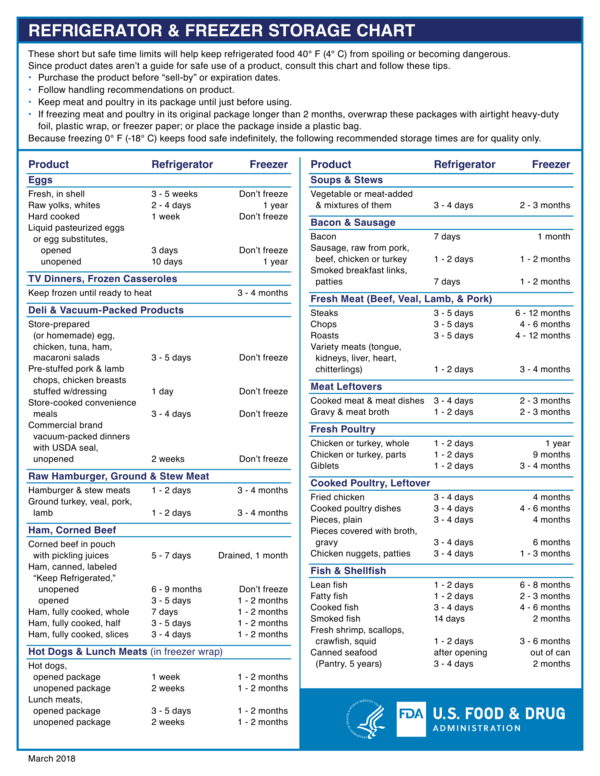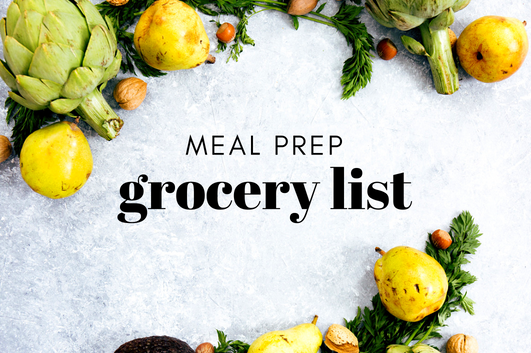 Cheap Meal Prep Grocery List
Each of our choices for Cheap Meal Prep Recipes requires different ingredients, but in general, there is a cache of items that would do you well to have around the house. While you don't need to buy them all at once, it's good to pick some up as you progress in your meal prep journey. And remember: frozen is your friend! A 10-pound bag of frozen chicken breasts will save you massive amounts of money and time, and they're just as good as fresh.
Whenever possible, use frozen vegetables, as a large bag of them is extremely inexpensive, and they taste just as good as fresh veggies. But some fruits and veggies are hard to find frozen, such as onions, lemons, limes, potatoes, apples, bananas, tomatoes, and carrots. You could either pick those up at the beginning of the week according to your cheap meal prep recipes, or you could cook around whatever happens to be on sale.
Spices 
Salt
Pepper
Turmeric
Cardamon
Cumin powder
Cumin seeds
Chili powder
Garlic powder
Ginger powder
Smoked paprika
Cayenne powder
Onion powder
Dried thyme
Dried oregano

Pantry

Olive/vegetable oil
Cornstarch
White/brown sugar
All-purpose flour
Brown basmati rice
White basmati rice
Chicken stock
Pasta on sale
Beans on sale
Lentils
Honey
Quinoa


Fridge
Garlic (cheaper in squeeze bottle)
Eggs
Ginger (cheaper in squeeze bottle)
Soy sauce

Freezer 
Frozen meat on sale
Frozen veggies on sale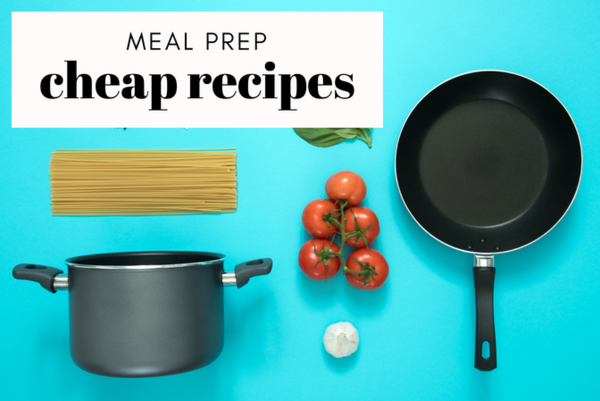 Cheap Meal Prep Recipes
This is surely the moment you've been waiting for. These are our 12 Favorite Cheap Meal Prep Recipes! They're easily some of the best meal prep recipes we have around. These simple, healthy meal prep recipes will taste great, refrigerate well, and cost less than your current lunches. How can you go wrong with this meal prep menu?

Rice And Vegetable Stuffed Peppers: As far as stuffed bell pepper recipes go, these Rice And Vegetable Stuffed Peppers are some of our top contenders. This flavorful lunch will be super quick to make on your meal prep days.

Lemon Herb Roast Chicken with Pan Gravy: Moist and juicy with a simple pan gravy, this savory roast chicken will be your go-to recipe for easy weeknight meals.

Spice-Roasted Chicken and Pears: The easy chicken recipe is infused with spices like whole cloves, ginger, and cinnamon sticks.

The Best Layered Burrito Bake: This easy meal prep recipe is made with some of the cheapest ingredients around, like rice and beans.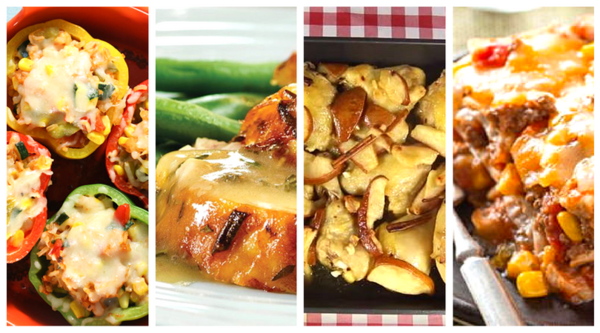 Homestyle One Pot Goulash: This one-pot recipe minimizes the cleanup you'll have to do after you're done enjoying your meal, because let's face it: no one wants to do a ton of dishes after cooking!

Tin Foil Hobo Dinners: This recipe for Tin Foil Hobo Dinners is a great cheap lunch idea. Simply pack all the ingredients in tin foil pouches and grill for 30 minutes!

4-Ingredient OMG Chicken: If you love budget-friendly meals as much as we do, you're sure to go crazy for this classic chicken dish that's cheap in cost but rich in taste.

Magic Slow Cooker Meatloaf: This is the perfect Sunday meal prep recipe. Simply mix the ingredients together in the morning, place them in the slow cooker, set it and forget it!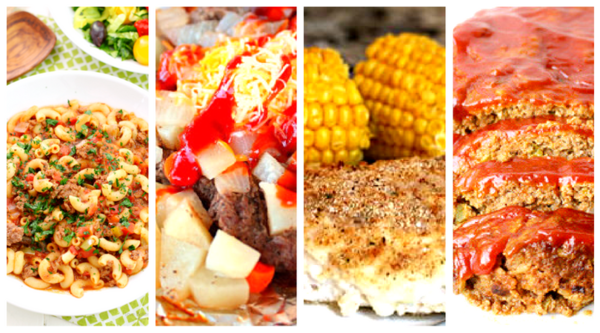 Glorified Pork Chop Casserole: With onion, carrot, garlic, long grain rice and a brown gravy sauce in the mix, this is one of those pork chop casserole recipes that's anything but ordinary.

"Hamburger" Stroganoff From Scratch: This recipe for Stroganoff is completely made from scratch, which gives it a great old-fashioned feel that makes it that much more delicious to eat!

Creamy Ranch Chicken & Rice Supper: This is one of those easy chicken recipes that shows you how just a few simple ingredients can come together to create one of the tastiest meals of all. Yum!

Cheesy Scalloped Pork Chops: Full of plenty of flavor from cheese, poultry seasoning, cream of mushroom soup, and concentrated chicken broth, this dish will please just about everyone!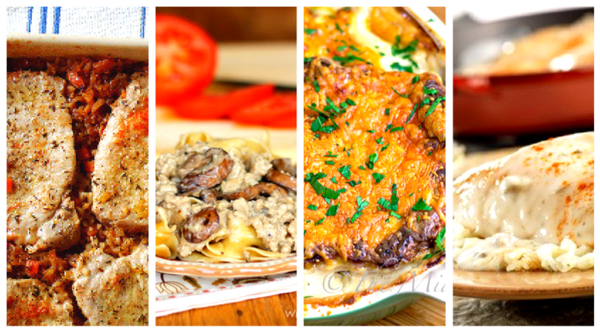 What's your go-to lunch? Let us know in the comments!
Your Recently Viewed Recipes
Join our community of 5 million cooks!
Get free recipes, exclusive partner offers, and more.
Thank You for Signing Up!
There was an issue signing you up. Please check your email address, and try again.