Tender Beef Brisket Recipe
You'll wonder why you didn't make this easy beef brisket recipe sooner.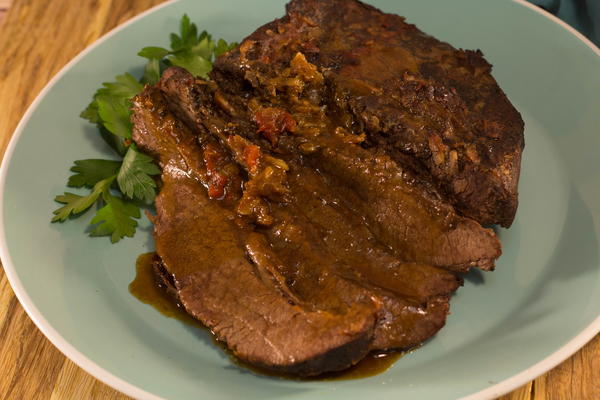 Tender Beef Brisket Recipe
You can create Tender Beef Brisket for a hearty, wonderful meal by following this easy recipe. You'll love the results of this beef brisket recipe. It's perfect for a special occasion or just a regular week night. With just a few simple ingredients, you can create the perfect beef brisket that's tender, juicy, and full of flavor. Plus, this recipe takes just minutes to throw together! You just mix together the ingredients and throw it into the oven for a few hours. It is the perfect dish to prepare for a Sunday night dinner, and it can easily feed your entire family. Everyone at the dinner table will be blown away by your skills in the kitchen when you present this fantastic dish to them. The Tender Beef Brisket recipe is a great new dish to try for dinner tonight.
Serves8
Ingredients
1 3-pound piece beef brisket
1 packet French onion soup mix

3

/

4

cup water

1

/

2

cup ketchup
1 teaspoon fresh minced garlic
1 tablespoon minced parsley

1

/

2

teaspoon fresh ground black pepper
1 tablespoon vegetable oil
1 tablespoon flour
minced fresh parsley
Easy Beef Brisket Recipe
Instructions
Preheat oven to 350 degrees F.

Spray a 9 x 13 inch bake pan with cooking spray.

In a medium bowl, stir together all seasoning mixture ingredients.

Wipe brisket dry and lay it into the bake pan, tucking in the ends if necessary to fit into the pan. Pour the seasoning mixture over the meat, turning to coat both sides.

Cover the pan with foil and roast for about 3 hours, to an internal temperature of 200 degrees F.

Remove meat to a cutting board and let rest, covered with foil, while making the gravy.

Pour juices from the bake pan into a small saucepan and place over medium heat until it comes just to the boil.

Combine oil and flour in a small bowl until completely smooth, then add to the simmering juices. Cook and stir until lightly thickened, about 3 minutes.

Cut brisket across the grain (crosswise) into thin slices. Garnish with parsley and serve with the gravy.
Your Recently Viewed Recipes