Beef Lasagna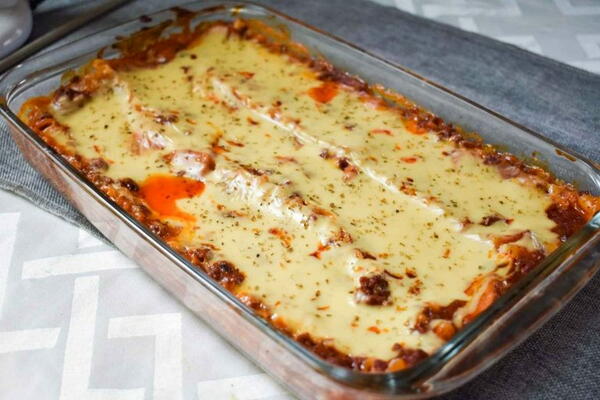 Beef Lasagna
"Beef Lasagna is layers of lasagna sheets with tomato-based beef meat sauce and cheese sauce, baked in the oven to perfection. Cheese sauce from bechamel sauce, made from scratch, poured all over the top, for a more cheesy, gooey, and scrumptious lasagna in every bite. Lasagna, or Lasagne, was actually derived from a Greek word 'Laganon', which is the first known form of pasta. So, we can actually call it, the mother of all pastas. Haha! It's surprising to know that this pasta actually originated in Ancient Greece a very long time ago. "
NotesYou can also transfer some to a microwaveable container and keep it in the fridge for future consumption. If you do not want the bay leaves in the lasagna, just remove it from the sauce when the sauce is cooked.
Serves10
Ingredients
12 lasagna sheets
700 grams ground beef
1 can mushroom sliced into pieces and stem
1 teaspoon minced red bell pepper
2 bay leaves
1 beef cube
Salt
Ground black pepper
Oregano dried leaves
1 white onion finely diced
2 tablespoons Worcestershire sauce
2 clove minced garlic
2 tablespoon tomato paste
1 cup water
4 cup Sweet-style spaghetti sauce
Cooking oil
Hot water
Cheese Sauce
2 cup fresh milk
1 1/2 cup water
2 tablespoon all-purpose flour
1 stick unsalted butter
2 teaspoon garlic powder
2 teaspoon white pepper powder
1/2 tablespoon brown sugar
1/2 teaspoon iodized salt
1 teaspoon nutmeg powder
1/3 cup Quickmelt cheese
4 slice of Mozzarella cheese
1/2 cup Monterey jack cheese grated
Cheddar Cheese
Instructions
Cook the Lasagna Sheets. In a wide rectangular container where you can fit all 12 lasagna sheets (or you can do this in batches), place them on top of each other creating a pyramid type structure. Pour boiling water until lasagna sheets are completely submerged. Cover the container to lock in the heat. Check after 5 minutes, and using a spoon or fork, make sure they do not stick to each other. Cover again for another 5 to 7 minutes. If one container cannot fit all 12 sheets, just use another container to do the process.

Prepare the beef lasagna meat sauce. In a hot pan with cooking oil, sauté onions and garlic until onions become softer. Then add red bell pepper, and stir. Add the mushrooms, and season with salt and pepper. Cook until mushrooms shrink in size and turn into a darker brown color. Add the ground beef, and season with salt, pepper, Worcestershire sauce, and oregano. Cook until it all turns into a darker brown color. Add the tomato paste and mix well with the meat for a minute. The tomato paste aroma and smell will come out, which means the tomato paste is cooking properly. Add water and mix it well. Let it simmer for another minute without covering the pan. Add the spaghetti sauce, beef cube, and bay leaves. Let it simmer under low fire for 8 minutes, stirring occasionally, to make sure the meat will not stick to the pan.

Prepare the cheese sauce. In sauce pan under very low heat, add butter and let it melt. Add the salt, white pepper, garlic powder, nutmeg, and brown sugar. Mix it well for a minute. Add the all-purpose flour and mix it with the butter for another minute or two. Once the flour is well incorporated to the melted butter, add the water and fresh milk. Mix it constantly to avoid any lumps. Once the sauce starts to simmer, add the cheese, and mix it well into the sauce until it is melted away. Reach a batter like consistency. When you stick a spoon to the sauce and remove it, some sauce should still remain on the spoon. That's when you know it's the right cheese sauce consistency. Turn off the heat.

Assemble the beef lasagna. On a rectangular baking dish, add some of the meat sauce at the bottom of the dish. Spread it all over the dish. Add a layer of the cooked lasagna sheets, covering the bottom of the dish. Spread another layer of meat sauce all over the lasagna sheets, then add some of the cheese sauce. One or two spoons of the sauce should be enough per lasagna sheet. Add a layer of grated or shredded cheese if you want. Then cover with another layer of lasagna sheets, meat sauce, cheese sauce, then repeat. The last layer should be the cheese sauce, and must cover almost all of the surface of the lasagna. Add more cheese if you must. Preheat oven at 180 degrees Celsius for 5 minutes, then cook the lasagna for 20 minutes.

Serve! Once the Beef Lasagna is cooked, take it out from the oven and let it rest for 10 to 20 minutes minutes, before you slice into it. Serve while warm and enjoy!
Your Recently Viewed Recipes
Join our community of 5 million cooks!
Get free recipes, exclusive partner offers, and more.
Thank You for Signing Up!
There was an issue signing you up. Please check your email address, and try again.