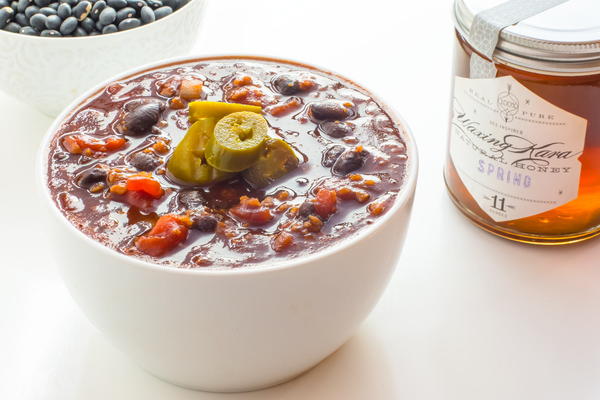 Spicy Sweet Honey Chili
"Crafted with a mix of beans, spices, honey, and…beer, this Sweet Spicy Chili is a nutrient dense and yummy meal. This recipe is vegan, although you could definitely swap out the veggie crumbles for ground turkey, beef, or shredded chicken! Add in your favorite toppings, like avocado or shredded cheese, to make this meal something special. If you want something equally as filling, but more traditional than our Sweet Spicy Honey Chili, try our Turkey Chili. Turkey is lean, high in protein, and (if bought from a solid company) more environmentally friendly than beef or pork."
NotesCalories: 320kcal | Carbohydrates: 58g | Protein: 12g | Fat: 4g | Sodium: 474mg | Potassium: 917mg | Fiber: 11g | Sugar: 29g | Vitamin A: 2390IU | Vitamin C: 14.6mg | Calcium: 90mg | Iron: 5.7mg
Serves6
Ingredients
1 tablespoon olive oil
1 medium onion chopped
2 cloves garlic cloves minced
1 (12-ounce) dark beer such as stout
1 teaspoon no-beef bouillon
1 (6-ounce) tomato paste canned
1 (16-ounce) black beans canned
1 (16-ounce) chopped tomatoes petite canned
2 tablespoons chili powder
1 teaspoon ground cumin
Instruction
Place the olive oil in a pot over medium heat. Add the onions and cook until onions are tender, about 5 minutes. Add the minced garlic and cook for about a minute.

Pour the beer into the pot, followed by the bouillon and tomato paste. Stir to combine.

Add the black beans (liquid and all), full can of tomatoes (including liquid). Stir to combine.

Next add the chili powder, cumin and paprika. Stir to combine.

Finally, add the veggie crumbles and give that a stir. Then pour in the honey and stir again.

Bring the pot to a boil and reduce heat to simmer. Continue simmering until the liquid cooks down and you achieve a desired consistency, around 10 minutes or so.

When ready, remove from heat and allow to cool for a few minutes before pouring into serving bowls and topping with jalapeño slices.
Your Recently Viewed Recipes