21 Meaty Slow Cooker Recipes for Dinner
21 Meaty Slow Cooker Recipes for Dinner Free eCookbook
Slow cook your way to amazing dinner tonight!
With this free eCookbook, 21 Meaty Slow Cooker Recipes for Dinner, you will receive a great number of amazing slow cooker recipes. If you are looking for something easy for dinner tonight, look no further than this collection. Discover some great slow cooker meals, including slow cooker chicken, slow cooker pork, and even slow cooker beef recipes. Your family is sure to love these awesome dinner recipes, and you will be happy with how quick and easy they are.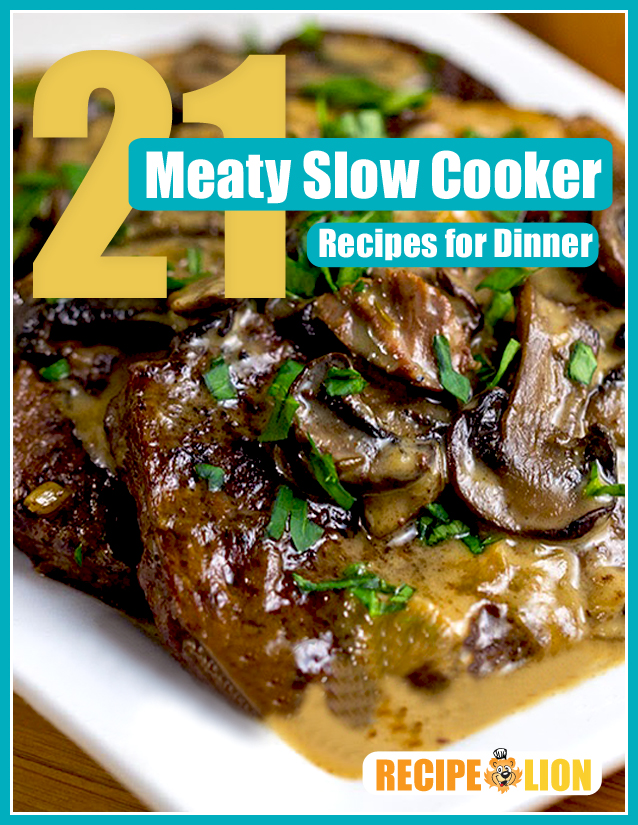 Download your free copy of 21 Meaty Slow Cooker Recipes for Dinner tonight!
21 Meaty Slow Cooker Recipes for Dinner Table of Contents
Note from the Editor
Dear Cooking Enthusiast,
Whoever invented the slow cooker was a genius. This cooking appliance allows you to continue on your day, doing all your chores and having fun while your meal cooks happily. The recipes gathered in this amazing collection will show you some of the best ways to utilize your slow cooker. From awesome slow cooker chicken recipes to slow cooker pork recipes, these dinner recipes are sure to have your family full and happy without keeping you stuck in the kitchen.

Take full advantage of this new eCookbook, 21 Meaty Slow Cooker Recipes for Dinner, by making all the great recipes included. You'll discover some really great dinners that are sure to become new family favorites. Since all of these recipes are created in your slow cooker, you will have an easy time making the dishes as well as a super easy clean up. Print out this awesome eCookbook so that you can refer back to it while cooking and again weeks from now when you want to create another recipe from this collection.
Happy slow cooking!
Sincerely,
The Editors of RecipeLion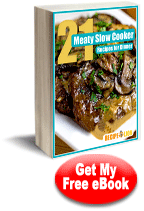 Download your free copy of 21 Meaty Slow Cooker Recipes for Dinner tonight!
What's Inside this eCookbook
Slow Cooker Beef Recipes
Perfect Slow Cooker Swiss Steak (pg. 5) - A mushroom sauce adds great flavor to this beef recipe, and using blade steaks ensures that they don't fall apart after a long cooking period.
Incredibly Simple Slow Cooker Salisbury Steak (pg. 8) - Cooking Salisbury steak in your slow cooker means you can practically let the machine cook dinner for you! This easy dinner recipe requires just a few minutes of preparation time.
Slow Cooker Melt-In-Your-Mouth Short Ribs (pg. 10) - The name says it all...short ribs become exceedingly tender when slow-cooked in a flavorful combination of French onion soup, ale, garlic, brown sugar and seasonings.
Slow Cooker Creamy Beef Stroganoff (pg. 12) - Beef slow cooks to tenderness in a delicious creamy mushroom sauce that will have you eating bite after bite. The only thing you need to worry about is making enough so you can have some for leftovers the next day, and trust us, you're going to want leftovers.
Slow Cooker Pork
Stupid Pork Chops and Gravy (pg. 17) - This budget-friendly meal proves that your ingredients list doesn't have to be long in order for your meal to taste great!
Slow Cooker Pork Roast and Gravy (pg. 18) - This pork roast recipe is perfect for Sunday dinner or a weeknight meal. It's a full meal of pork, carrots and potatoes that all cooks together, so you can feed the entire family with very little effort.
Slow Cooker Honey Glazed Ham (pg. 23) - Cooking a ham in the slow cooker is great because you can easily lift off the lid for basting and it stays super moist.
Slow Cooked Chicken Dinner Recipes
Dump and Go Cowboy Chicken (pg. 25) - This recipe couldn't be easier to make. All you need are a few basic, Southwestern-inspired ingredients like black beans, corn and tomatoes and you're ready to start cooking.
Slow Cooker "Rotisserie" Chicken (pg. 29) - No rotisserie? No problem. Simply spice a whole chicken, place it in the slow cooker, and let it cook all day. This is one slow cooker dinner you'll want to make again and again.
Dump and Go Hawaiian Chicken (pg. 31) - Chicken is a slow cooker dinner recipe for chicken in a deliciously sweet Hawaiian sauce. With ingredients like pineapple, mandarin oranges, soy sauce, ginger and more, this chicken dish is bursting with flavor.
...and more!
Need Help Downloading?
You can easily download and print out each eCookbook for easy reference while cooking.
For help downloading our eCookbooks, see our help document here.
Don't Miss our other Free eCookbooks
If you enjoyed this free eCookbook, you won't want to miss any of our other downloadable recipe collections. You can browse our entire library of free eCookbooks here.
Sign Up for our Free Newsletter!
With your free copy of 21 Meaty Slow Cooker Recipes for Dinner (as with all of our free downloadable eCookbooks) you can also subscribe to our free Quick and Easy Recipes newsletter to get free recipes delivered to your email inbox every week. Become a part of the RecipeLion community! By subscribing you will receive:
Six weekly emails with free recipes, tips, collection pages, videos and more + a weekly wrap-up.
Chances to win cookbooks and food products from our weekly giveaways and contests.
New recipes and eCookbooks made available to you throughout the year.
Access to our recipe large collection full of over 40,000 recipes, including budget friendly and quick and easy recipes
The opportunity to share ideas and help others in the recipe and cooking community.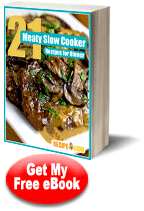 Download your free copy of 21 Meaty Slow Cooker Recipes for Dinner tonight!
Your Recently Viewed Recipes
Join our community of 5 million cooks!
Get free recipes, exclusive partner offers, and more.
Thank You for Signing Up!
There was an issue signing you up. Please check your email address, and try again.