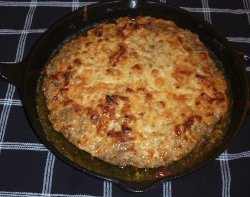 Meatloaf is a classic comfort recipe that has stood the test of time. Ma's Skillet Meatloaf is a great take on an old fashioned recipe. Topped with a creamy Dijon mustard gravy, every bite is simply incredible. Serve with your favorite sides and treat your family to one of the best meatloaf recipes. You'll want to make your meatloaf in a skillet every time.
Ingredients
1 chopped garlic clove
1 chopped celery stick
1 chopped medium onion

1

/

4

cup chopped olives or olive tapenade
1 tablespoon juices from olives
2 tablespoons chopped cilantro
2 tablespoons chopped fresh oregano leaves
2 teaspoons Dijon mustard
1 teaspoon sour cream or yogurt
1 pound extra lean minced beef
1 pound extra lean minced pork or lamb

1

/

3

cup bread crumbs
1 teaspoon Hungarian paprika

1

/

2

teaspoon cinnamon

1

/

2

teaspoon cardamom (optional)

1

/

2

teaspoon ginger
For the Topping:
2 tablespoons sour cream
1 teaspoon Dijon mustard
1 tablespoon dry tomatoes preserved in olive oil
1 cup grated mozzarella cheese
Instructions
Preheat oven to 400 degrees F.

Mix all meatloaf ingredients together. Transfer to 10in or 12in oiled cast iron skillet.

Mix all sour cream, Dijon mustard and dry tomatoes. Cover all the surface of the meatloaf. Sprinkle the cheese on top.

Pop to preheated oven to 45 minutes if you use 12in skillet and 50 minutes if you use 10in skillet.

Remove from the oven and serve hot. Enjoy!
Your Recently Viewed Recipes