Best Vegan Tacos Recipe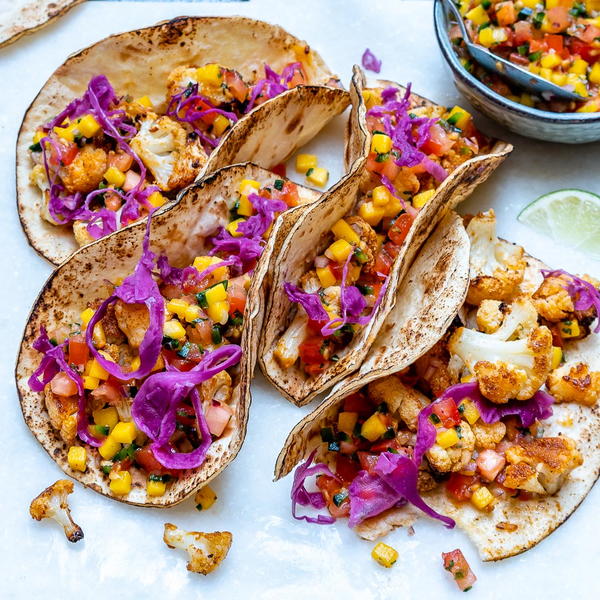 Best Vegan Tacos Recipe
"How to make vegan tacos that taste better than their meat-loaded peers. 1. You can make vegan tacos with any roasted or grilled veggies. One of the reasons why I call it the best vegan tacos recipe is flexibility. You are not bound to one or two ingredients which you might not even like that much. You can choose your favorite veggies, and here are the ones that fit best: Sweet Potatoes Carrots Broccoli Butternut Squash Brussels sprouts Mushrooms The trick is to cut them into bite-sized pieces and season generously. 2. If you can, make the vegan tacos with fresh tortillas. I can't stress this enough. Fresh tortillas are much better than store-bought. You can warm them in the microwaves or in the oven until they are easily foldable. Then stuff them with your favorite veggies, but don't overdo it because they will scatter all over the place and get messy when you'll eat the meatless tacos. 3. It's not a taco without salsa If you want to make the best vegan tacos, you need to top them with a delicious homemade salsa. This is very easy to make and you have plenty of options to choose from. Here are the ones I like best: Tomato salsa, also known in Mexican cuisine as Picco de Gallo. It's made of fresh tomatoes, onion, jalapenos, coriander, a squeeze of fresh lime and a few drops of olive oil. Green salsa dip. This one is almost the same as the above. The only difference is that you need to use tomatillos instead of tomatoes. Everything else stays the same. Fruity salsa (my favorite). This one has a sweet citric flavor and the best fruits to use are mango, pineapple, kiwi, peach, and avocado. And if you really want to make the best vegan tacos recipe you need to add guacamole. This one is easy to make as well and such a great flavor booster. All you need is ripe avocados, salt and a bit of lemon juice to help balance the taste. Easy, right? Of course, you can add more ingredients if you want, like chopped cilantro, chiles, onions or tomatoes. These will certainly be an improvement but if you don't want to spend much time on it, just stick with the first version as you can't go wrong."
Serves4 Servings
Ingredients
1 cauliflower head chopped into bite-size pieces
2 tablespoons olive oil
1 teaspoon ground cumin
1 teaspoon ground coriander
1 teaspoon smoked paprika
sea salt and fresh ground black pepper to taste
12 tortillas
1 cup pickled red cabbage (optional)
INGREDIENTS FOR MANGO SALSA
1 cup diced mango
Preheat the oven to 360 degrees F / 180C and place the cauliflower on one large baking sheet.

Add oil, cumin, paprika, coriander, salt, and pepper, then toss to combine.

Roast for about 20 minutes or until golden brown and tender.

Meanwhile, in a small bowl add all salsa ingredients. Mix well to combine, then set aside.

Warm up tortillas in the oven directly on the hot oven racks until pliable.

Add a generous portion of cauliflower into each tortilla and top it with mango salsa.
Your Recently Viewed Recipes
Join our community of 5 million cooks!
Get free recipes, exclusive partner offers, and more.
Thank You for Signing Up!
There was an issue signing you up. Please check your email address, and try again.