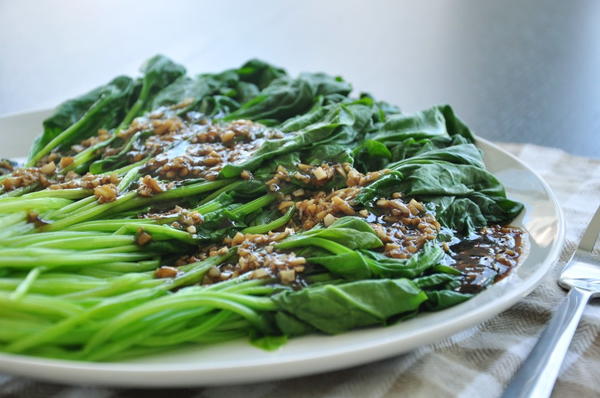 Garlic Dressing Spinach
"Let's talk about spinach for a second. We all know that Popeye becomes super strong whenever he eats spinach. Did you know that by eating spinach, he might also protect himself against cancer, bone problems and stress related problems? After all, spinach is one of the healthiest vegetables in the world. There's a certain way of cooking spinach which can help get rid of its acids but retain its richest nutrients. Boiling is the way to go because it allows the acids to leach into the water. That's how we are going to cook spinach in this recipe. My mom cooks spinach in this way in Shanghai and I cook it in the exact same way in the US. I hope you give it a try too. It's the kind of dish that you won't get tired of eating… Let's dive in."
NotesThis recipe works perfectly well for any other green vegetables as well. The oyster sauce garlic dressing is also a great fit for vegetable blend.
Serves4 People
Ingredients
1 bunch of spinach, about 1 pound
5 cloves garlic, finely chopped or minced
2 teaspoons olive oil
3 tablespoons oyster sauce
3 tablespoons water
Bring a large pot of water to a rapid boil. Add the cleaned spinach into the boiling water and boil for 1 minute. Do not cover the pot with lid when cooking spinach as it helps to release more acids with the rising steam.

Transfer the spinach from the pot to a serving plate. Press out the liquid with a fork. Make sure it's fully drained.

For the garlic dressing, warm up the olive oil in a pan with medium high heat and add the finely chopped garlic and sauté for 2 minutes or until the garlic is just turning brown and you can smell the garlic scent.

Add the oyster sauce and water into the pan and stir until everything is evenly laid out.

Remove the dressing from the heat and slowly place it onto the spinach. Done and serve!
Your Recently Viewed Recipes