Complete Roasted Turkey Breast Dinner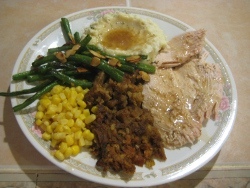 It's Thanksgiving dinner made easy with this recipe guide for a Complete Roasted Turkey Breast Dinner from Janet Roof. This guide has all of your favorite Thanksgiving recipes, including mashed potatoes, green beans, gravy and, of course, turkey.
Notes
To see exactly how Janet makes this complete Thanksgiving dinner, watch this time lapse video tutorial:
Serves8
Ingredients
7 pounds turkey breast

1

/

2

pound sausage
7 large potatoes
1 pound fresh green beans
2 sticks butter

1

/

2

cup almonds, sliced
1 large onion
2 sticks celery
Salt and black pepper
Gravy Master
4 tablespoons olive oil
Paprika
2 boxes instant stuffing
3 cups water
8 tablespoons butter
3 tablespoons corn starch

1

/

2

cup sour cream
2 cans corn
Instructions
Preheat oven to 350 degrees F.

Begin by washing the turkey breast in cool water. Place breast on rack in roasting pan add enough water to pan to fill half way while adding 1 tablespoon gravy master to water. Rub olive oil all over the skin of the turkey breast. Sprinkle paprika all over the olive oil drenched turkey skin. Cover turkey breast and roasting pan with foil wrap, making sure to make a tent over the turkey breast, keeping the foil off the skin.

Bake for about 2 to 3 hours, or until automatic timer popper pops from the breast. Once the timer pops, remove the foil wrap and cook an additional 10 to 15 minutes until turkey skin is golden brown and crisp.

Rinse green beans under cool water and trim the ends from both ends of the green beans and set aside.

Peel potatoes and cut into quarters, place them in the colander. Rinse celery under cool water and trim the ends from both ends of the celery.

Rinse cut potatoes under cool water and place in a large pot of water and set aside.

Dice celery and onion and fry in large frying pan with 1 tablespoon olive oil, fry until mixture is golden brown. Remove fried celery and onion to a large mixing bowl and set aside.

Use the same frying pan used for the celery and onions to fry the sausage. Fry sausage until it is completely cooked, do not undercook sausage.

While the sausage is frying, empty corn into a small pot and add 2 ablespoons butter and a dash of salt and pepper to the corn and set aside.

Drain fully cooked sausage on a paper towel and cool slightly. Keep sausage grease in the large frying pan for later use on the almond green beans. Dice cooled sausage into small edible pieces and put in large mixing bowl with fried celery and onion. Once all the fully cooked sausage is diced and added to the fried celery and onion, mix until combined and set aside.

Prepare instant stuffing as instructed on the manufactures packaging, this box mix instructs to add 3 cups of water and 8 tablespoons for the two boxes in this recipe. In a large pot bring water and butter to a boil. Once the mixture boils, add the 2 stuffing mixes and stir until fully combined and saturated, cover pot and set aside for 5 minutes and add to large mixing bowl of sausage. Stir until completely combined and set aside.

Line a small roasting pan with foil wrap and transfer the sausage stuffing mixture spreading it out evenly throughout the pan and bake during the last hour of turkey breast cooking time.

Bake stuffing until top is crisp and golden brown.

Bring large pot of sliced potatoes to a boil, reduce heat and low boil potatoes until a fork can be inserted easily through the thickest potato in the pot. Strain boiled potatoes and return to large pot. Add 1 stick softened butter and 1/2 cup of sour cream and a dash of salt and pepper to potatoes and using an electric mixer, mix on medium speed until potatoes are whipped smooth and creamy and set aside. If potatoes seem too dry, you may add more sour cream.

Heat sausage grease frying pan, add 3 tablespoons and a dash of salt and pepper to the grease until heated and add green beans and almond slices. Stir green beans constantly until fully cooked and transfer to a serving bowl and set aside.

Bring corn to a boil and simmer until fully heated.

Remove turkey breast from oven once it is fully cooked, transfer to a carving plate and set aside. Place a small colander inside a small pot and strain the pan drippings from the roasting pan for gravy.

Bring gravy mixture to a boil. Mix 3 tablespoons corn starch with 1/2 cup cold water and add to the gravy along with a dash of salt and pepper. The longer the gravy boils the thicker it will become.

While the gravy is boiling, carve the turkey breast and remove the stuffing mixture from the oven and serve.
Your Recently Viewed Recipes
Join our community of 5 million cooks!
Get free recipes, exclusive partner offers, and more.
Thank You for Signing Up!
There was an issue signing you up. Please check your email address, and try again.