18 Perfect Pumpkin Recipes, Plus Best Pumpkin Casserole
Autumn is the perfect time for pumpkin recipes; so naturally, we've compiled a collection of 18 perfect pumpkin recipes for you! Whether pumpkin pie recipes are what you're after or pumpkin bread recipes — or something a bit more unique (like pumpkin casserole!) - we've got your back.

Not only are pumpkin recipes delicious, it's also chock-full of Vitamin A and Vitamin C and is very low in cholesterol and sodium. There are so many wonderful ways you can use pumpkin in your every day cooking, it's not just for dessert! Whether you make pumpkin soup, pumpkin cake or even this awesome Best Pumpkin Casserole recipe; one thing's for sure you'll never think of pumpkin recipes in the same way again. So make the most of your fall and holiday season with these great pumpkin recipes.

We've got lots of recipes for pumpkin for you to peruse, so let's get started... plus don't forget to check out the bonus pumpkin recipes at the bottom, including Amish pumpkin cinnamon rolls and pumpkin casserole!
Table of Contents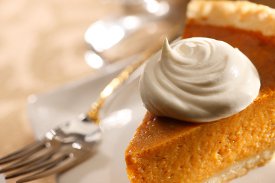 Healthy Pumpkin Pie — Finally, a pumpkin pie recipe that has all the flavor, but not all the fat of your typical recipe. Make this yummy pumpkin pie recipe any time - use canned pumpkin if fresh is not available — and enjoy a sweet treat that's practically good for you!
Lactose-Free Dairy-Free Pumpkin Pie — At last, a pumpkin pie recipe that is dairy-free and lactose-free, but not flavor-free! This recipe is so good, nobody will know except for you that it has no dairy. Bake it for all your friends that have a lactose intolerance - they will be so grateful!
Microwave Impossible Pumpkin Pie — Everyone has a favorite pumpkin pie recipe, but not everyone has an EASY favorite pumpkin pie recipe! This one is done in the microwave, and you'd be surprised how good it really is. I know I was - and pleasantly so. Try it today!

Party Pumpkin Pie — What's a party without sweet treats? This pumpkin pie recipe is just divine! Mix it up at your next party - instead of serving the usual cake and cookies, bake this delicious pumpkin pie recipe. Your guests will be lining up for seconds!
Crockpot Pumpkin Bread in Jars — This yummy pumpkin bread recipe is perfect for Fall! Canning season is well underway, and you can make this wonderful bread ahead for holiday gifts that will delight anyone who receives them.
Cranberry Pumpkin Bread — Two of the best fruits and vegetables around are cranberry and pumpkin, so this pumpkin bread recipe is a wonderful marriage of the two. Not only that, but it's easy to make as well! Mix the wet, mix the dry, combine, - then just bake and eat!
Yogurt and Pumpkin Bread — This pumpkin bread recipe is so moist and delicious, you'll hardly believe it! The secret is the yogurt. It gives this pumpkin bread the perfect blend of moistness and acidity, and balances the sweetness of the raisins and sugar quite nicely.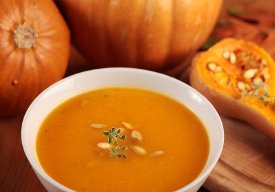 3 Sisters Soup: Corn, Pumpkin and Bean — Make this hearty winter squash soup and serve with a warm loaf of crusty bread for a simple, tasty stick-to-your-ribs meal. Among pumpkin recipes soup is one of the best, as soup can make a hearty meal or a wonderful meal-starter.
Zesty Cream of Pumpkin Soup — There's something unexpected about cooking pumpkin recipes with curry powder, but it works beautifully in this zesty Fall soup. The combination of curry powder and walnut oil give this delicious soup a unique flavor that is sure to become a favorite.
Abobora Refogada - Brazilian Stewed Pumpkin — This is one of the more unusual pumpkin recipes I've seen, and is sure to be unlike anything you've ever eaten before. Serve stewed pumpkin at your next dinner party and astonish your guests!

Armenian Pumpkin Stew — Enjoy spice-laden Armenian Pumpkin Stew for a true taste of the Caucasus. This recipe serves 4-6, and when you talk about pumpkin recipes soup is at the top of the list of tasty ones!
Creamy Pumpkin Polenta — Polenta is such a wonderful dish, and the addition of pumpkin makes it extra creamy and tasty. The pumpkin also bumps up the fiber and vitamins A and C, so whip up a batch today! It will probably become one of your favorite pumpkin recipes.
Healthy Pumpkin Pancakes — Pumpkin isn't just for Halloween recipes, it's great in food year-round! These pumpkin pancakes will give you a healthy start to your day, but they are still moist and delicious! This will surely become one of your most-loved pumpkin recipes.
Low-Fat Lemony Lentils with Pumpkin — A great low-fat side dish, the pumpkin and lemon juice add layers of flavor to often bland lentils. This is a great fall side to serve with fish or use as a vegetarian main course.
Bisquick Pumpkin Cake — In need of some easy picnic dessert recipes? Try this Bisquick Pumpkin Cake recipe. Homemade Bisquick recipes and very easy dessert recipes are combined in this delicious recipe.
Almond Pumpkin Charlotte — Almond Pumpkin Charlotte This is a rich a decadent desserts recipe that all will love. This might be one the most flavorful pumpkin cake recipes you have ever tried. Ladyfinger cookies and whipped cream makes this a visually appealing dessert recipe too.
Afghan Fried Pumpkin — Fried pumpkin with yogurt is one of the more unique recipes for pumpkin and is sure to have your friends talking. Make this Afghan Pumpkin recipe tonight.
Amazing Pumpkin Spice Cookies — Easy Halloween recipes are always fun to make, and these pumpkin spice cookies are no exception. The cookies are great for the chilly weather. Now that Halloween is coming around the corner, this is a perfect recipe for you to have in your cookbook.
Bonus Pumpkin Recipe
Best Pumpkin Casserole - The perfect fall dish, pumpkin recipes are fun and easy to make. My family voted this recipe the Best Pumpkin Casserole, it makes a great entree or side dish.
Your Recently Viewed Recipes